Tribute to Felipe, 'King of Kings'
The recognition of the League, and of Spanish basketball, came with the premiere of Rey de Reyes, an audiovisual project produced by the ACB and Movistar +.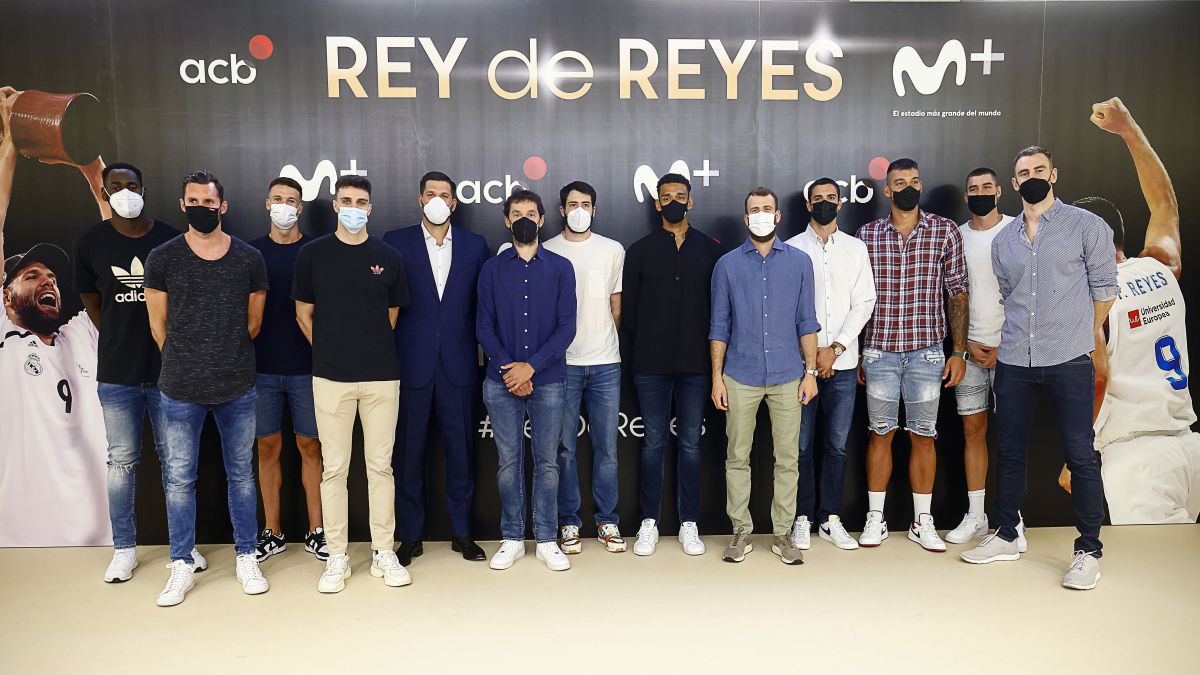 On Thursday Felipe Reyes officially announced his retirement in a beautiful event organized by Real Madrid in his sports city, with the presence of Florentino Pérez and the club's staff, all the workers of the basketball section, a part of the staff and the player's relatives. This Friday, a few hours later, it was the ACB that paid tribute to a legendary career, which has lasted 23 seasons in which it has played 1,565 games and has won 24 club titles and 10 medals with the National Team.The recognition of the League, and of all Spanish basketball, came with the premiere of the Rey de Reyes report, a unique audiovisual project produced by the ACB and Movistar + that recounts his career with narrations from very close protagonists. The event, which took place at the Telefónica de Madrid Auditorium with the welcome of Antonio Martín, president of the ACB, and Ignacio Fernández-Vega, Movistar + sports director, was attended by family, friends and great names in basketball on a very emotional night .
Rudy, Garuba, Abalde and Alocén, all of them this season in Madrid with the captain, were together with their former teammate, who apologized for not having been able to attend the event on Thursday in Valdebebas. And repeated Sergio Rodríguez, his friend for so many years at Estudiantes, Madrid and the National Team. Other great players didn't miss it either, some international teammates like Abrines, Claver and Willy Hernangómez. Juancho was also there, with whom he did not coincide because the last Kings championship with Spain was in 2016, the Rio Games. There were no more friends like Pablo Aguilar, De Miguel, Gonzalo Martínez and Miso, nor Pepu Hernández, who directed him in the National Team and the Students. The collegiate club was represented by José Asensio.
Up to 12 members of the current National Team, already concentrated in Madrid to prepare for the Games, covered Felipe, as well as coach Sergio Scariolo, who in 2001 was very close to signing him for Madrid three years in advance. Farewell to the great captain.
Antonio Martín, president of ACB
"We were all very clear from the beginning that he deserved this recognition. All the players who have such an extensive career and with so many trophies deserve something like that, but Felipe much more. He has that ability to compete, that nerve ... It represents everything a basketball player should have. But, in addition, he is perhaps the most generous player I have ever met. That is why he is a great captain and a great companion. You always talk about achievements, but you have to talk about how they are achieved and that way of being is what has made Felipe someone that everyone talks well about. If it is always necessary to recognize players of this type, in the case of Felipe with much more reason ".
This is Rey de Reyes
The report, which will be broadcast soon on Movistar +, recounts the professional career and personal life of Felipe Reyes through the narratives of those who have lived it more closely: his family, friends, colleagues, coaches ...
From his debut in 1998 until his retirement, he chronologically details his great moments, his titles in Estudiantes and Real Madrid, his successes with the Spanish National Team, his relationship with his family, the birth of his two children, his records and everything that has become a legend of Spanish basketball.
Former teammates such as Álex Mumbrú, Juan Carlos Navarro, Carlos Jiménez, Pau Gasol, Sergio Llull and Sergio Rodríguez give their vision of the little one of the Kings saga, as do two coaches who know him perfectly, Pepu Hernández and Pablo Laso, the technicians with whom he started and ended his great career.
Felipe will also be known off the slopes, with the testimonies of his mother and his three brothers, especially Alfonso, with whom he debuted in 1998 with Estudiantes. Likewise, his wife Kirenia Cabrera and his friends make a perfect X-ray of his personal life.
Photos from as.com