Tiago Ferreira and Naima Madlen repeat victory and are more leaders
The Portuguese won again, standing out, while the German beat her direct rival Silvia Roura in the sprint.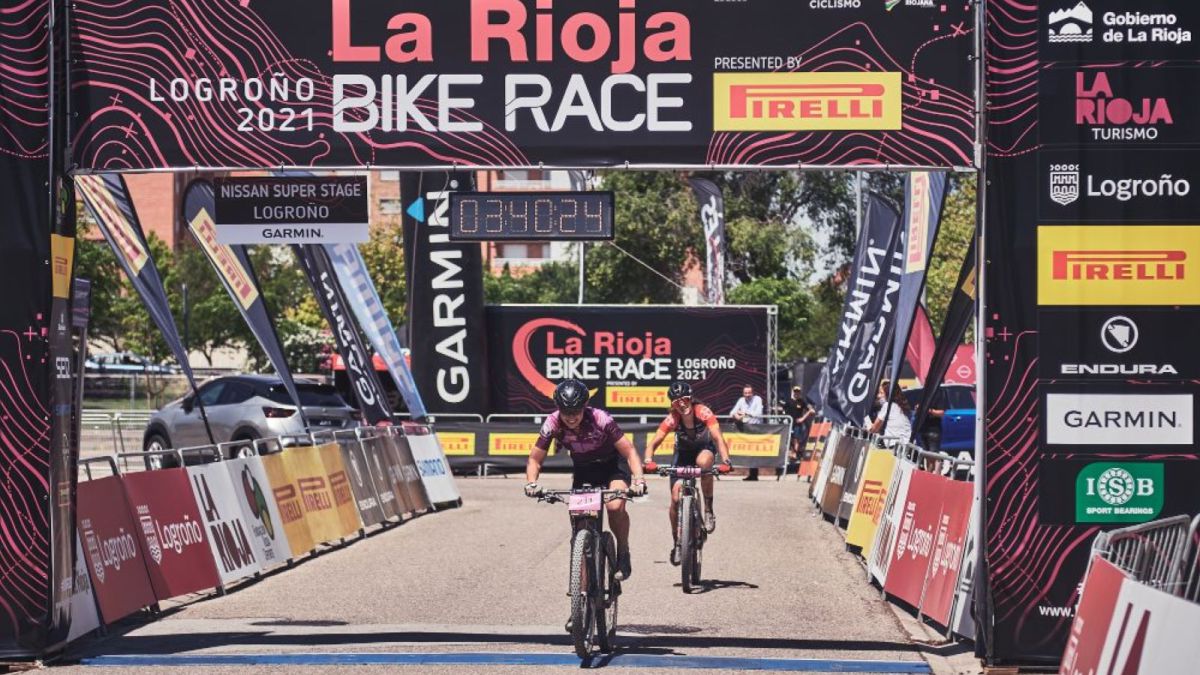 Tiago Ferreira (DMT Racing Team by Marconi), in the men's category, and Naima Madlen (Tuspo Weende EV), in the women's category, have won again in Logroño and are more leaders of the La Rioja Bike Race in the absence of a single stage. As he did yesterday, the Portuguese has won alone after a very solid race, while the German has suffered a little more to overcome Sílvia Roura (BMC TBellès by Kalas) in a highly contested stage between the two riders who meet has decided on the final sprint.
Aware of the two long and stretched climbs that he had ahead of him, Tiago Ferreira has once again given an exhibition and has set his pace from the first bars. Thus, at the first checkpoint at kilometer 15, he was already riding alone with almost three minutes ahead of his teammate Wout Alleman. New monologue from the Portuguese, who has perfectly managed his advantage and has been able to enjoy the trails on the Senda de Las Ruinas.
The DMT Racing Team by Marconi has once again been the protagonist, taking the top three places on the podium with Ferreira, Wout Alleman and today, in third position, the young Vinzent Dorn. After the victory, Ferreira explained how he experienced the stage: "Physically I was very good, and I already knew that the stage would be technical and that I had a long climb ahead where I could get more time difference and advantage. My teammates attacked and tried to force the pace, but they couldn't reach me. In the end, I have decided to attack and go solo. On the climbs, I have pushed to avoid taking risks on the descents, so the objective of the day, which was to remain the leader, I have fulfilled it. "
In the female category, things have changed a bit with respect to Stage 1. Not in the final result but in the form. And it is that, throughout the stage, Naima Madlen and Sílvia Roura have been exchanging positions, pulling between the two to open the maximum possible gap. But neither of them has managed to outrun the other. Madlen pressed on the climbs, while Roura did the same on the descents. In this way, the two have arrived together in the final meters and the victory has been decided on the sprint right in front of the Palacio de los Deportes in La Rioja. Madlen has thrown it before and closed the gap on the last spin. With this result, everything is open for tomorrow since they are only separated by 1 minute and 4 seconds. The emotion is served. "Today's stage has been a challenge because it has been tough since in the first points of the stage we found the terrain with loose stone. Silvia worked very well and at the end of the stage we had a nice and disputed fight to get the stage in a final sprint. I'm looking forward to participating in tomorrow's stage and enjoying it as much as today's ", Naima Madlen herself commented at the finish line
Photos from as.com