Tiago Ferreira and Naima Madlen are the first winners
The two used a similar strategy, to attack early and maintain the differences to hang the yellow jersey.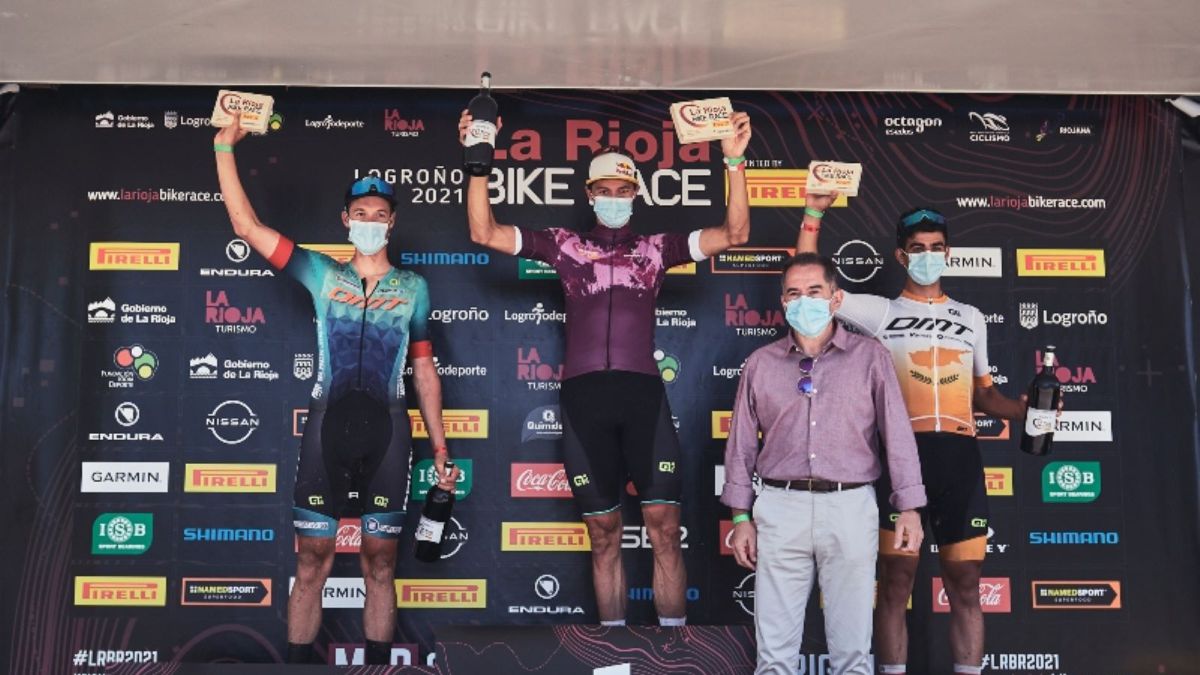 He arrived as the main favorite and has made this clear since the start of the seventh edition of La Rioja Bike Race. Tiago Ferreira, European and World champion, has won Stage 1 with solvency and authority. He was accompanied on the podium by his colleagues from the DMT Racing Team by Marconi, Wout Alleman and Andreas Miltiadis. In the women's category, the winner was Naima Madlen (Tuspo Weende eV) ahead of Sílvia Roura (BMC TBellès by Kalas) and Agnieta Francke. A day that has been marked by the sun and by the good weather that the 600 participants who have taken the start have enjoyed.
Tiago has set the pace from the start and already on the first slope he has decided to open a gap. It was not until the first long climb of the day to Monte de Zenzano (which for the first time received the La Rioja Bike Race riders) that he opened important differences. The Portuguese shot alone, without risking the descent, and reached the finish line a minute and a half ahead of his teammate Wout Alleman who tried to cut the gap without success. Andreas Miltiadis entered third in more than six minutes.
The Portuguese is the first leader of the event and at the end of the stage he was very satisfied with the result. "The idea I had was to attack on the first slope and open a gap and then be able to manage the advantage in the longest pass, which is what suits me best. I am physically fine. It's less than a week since I competed in the European championship and I'm still in a good moment, so I have to take advantage of it ". Ferreira has also made it clear that he wants to keep the leader's jersey until Sunday.
In the female category, Naima Madlen has raised a stage similar to that of Ferreria, but the differences in the finish line have been smaller. At the beginning, all the elite runners were grouped together and waiting to see what their rivals did. It was just before the first refreshment station, at kilometer 28, when Madlen decided to impose her rhythm and released Roura and Francke.
Sílvia Roura tried to cut distances on the descent, but she never got to connect with Madlen despite seeing her at some final points of the route. In this way, Naima Madlen is the leader with 1 minute and 2 seconds over Sílvia Roura and with 2 minutes and 32 seconds over Agnieta Francke.
At the end of the stage, the new leader of the test has expressed that the stage is "perfect" and that she is "very happy to be here and to be able to start like this". "I knew it was a race with long climbs and that it was about setting a pace. In this sense, I had to find my own rhythm and I think I have done quite well. I have felt good and I hope to continue fighting in the remaining stages. "
Classifications
STAGE 1 - La Rioja Bike Race presented by Pirelli - Elite Men
02: 45: 31 Tiago Ferreira DMT RACING TEAM BY MARCONI
02: 47: 01 Wout Alleman DMT RACING TEAM BY MARCONI
02: 52: 05 Andreas Miltiadis DMT RACING TEAM BY MARCONI
STAGE 1 Classifications - La Rioja Bike Race presented by Pirelli - Elite Women
03: 42: 45 Naima Madlen TUSPO WEENDE E.V
03: 43: 47 Sílvia Roura BMC TBELLÈS BY KALAS
03: 45: 17 Agnieta Francke INDEPENDENT
Photos from as.com