"Changing the rainbow for yellow is not so bad"
World champion Julian Alaphilippe achieved his sixth Tour win on the opening day of 2021, which also earned him the lead.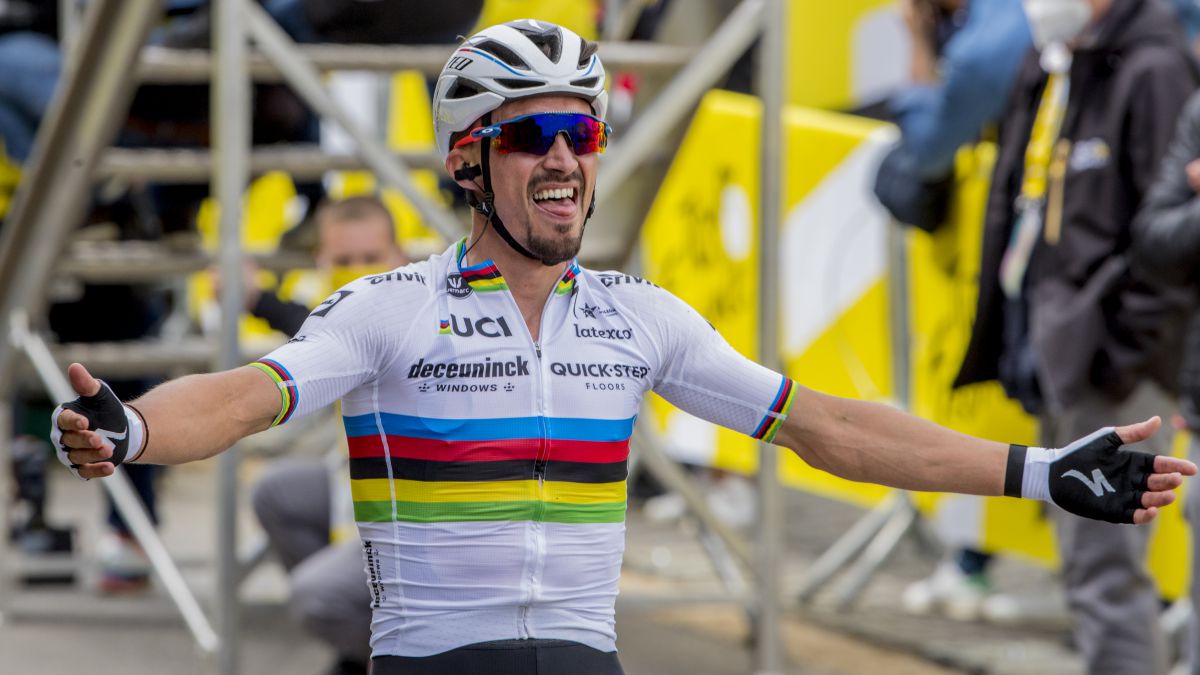 Julian Alaphilippe defined the first week of the Tour as "hyper important". The world champion knew that he would have "good opportunities at Landerneau and the Brittany Wall the first two days to seek victory and draw differences in the face of the general". There was no uncertainty. The 29-year-old Frenchman achieved his sixth victory in the Grande Boucle with a tremendous attack on the ascent to La Fosse aux Loups, on the opening day, which meant the "extra prize of the yellow jersey": "Winning in rainbow dress in the first stage of the Tour and achieving the lead is an incredible thing. I don't think it's bad at all to change one jersey for another, and if I lose first place I'll continue in arcobaleno… so there are many worse things ".
Alaphilippe entered the finish line with his thumb in his mouth as a dedication to his first son, Nino, the fruit of his relationship with Marion Rousse, a professional ex-cyclist and commentator: "On June 14th our baby arrived. My thoughts go to them, I hope they feel happy and proud ". Nobody has celebrated more successes than the Deceuninck leader in the last four editions of the gala round, six: "I knew I had to accelerate in the hardest part. It was too demanding a climb, in which I squeezed out every last drop of sweat, but I wanted to win and we had planned that I was going to attack. "
The Belgian squad set a high pace to wear down their rivals: "My teammates did a magnificent job, they wrapped me up and threw me, and in the first round I had spectacular luck when I stayed on my feet with hardly any blows. We started with the idea of eliminating riders faster than me, such as Van der Poel, Van Aert or Colbrelli, and if he had an advantage, the better ". Now he has 14 seconds over Primoz Roglic and 18 "over the rest of the surviving title contenders, among which he figures, but refuses to include himself:" As in 2019 (the fifth finished in that classification), I will go day by day to see where finished. For now, the Wall of Brittany favors me and I would love to repeat the triumph to keep the yellow for more days. "
The target meant raising his particular resume to three this season, after a stage in the Tirreno-Adriatico and his third Walloon Arrow. The Deceuninck has 100 notches in large and 33 in the course, the top scorer among the World Tour structures. Alaphilippe summed up the sentiment of the Wolfpack, La Manada, as they call themselves: "We always want more. We are driven by the ambition to win in each competition we enter. That is why we are so successful. "
Photos from as.com