Spain runs out of World Cup
They fall to Russia and finish their Eurobasket out of the top six places, which gave a place for the qualifier. The Olympic champion will go ... but there is the USA.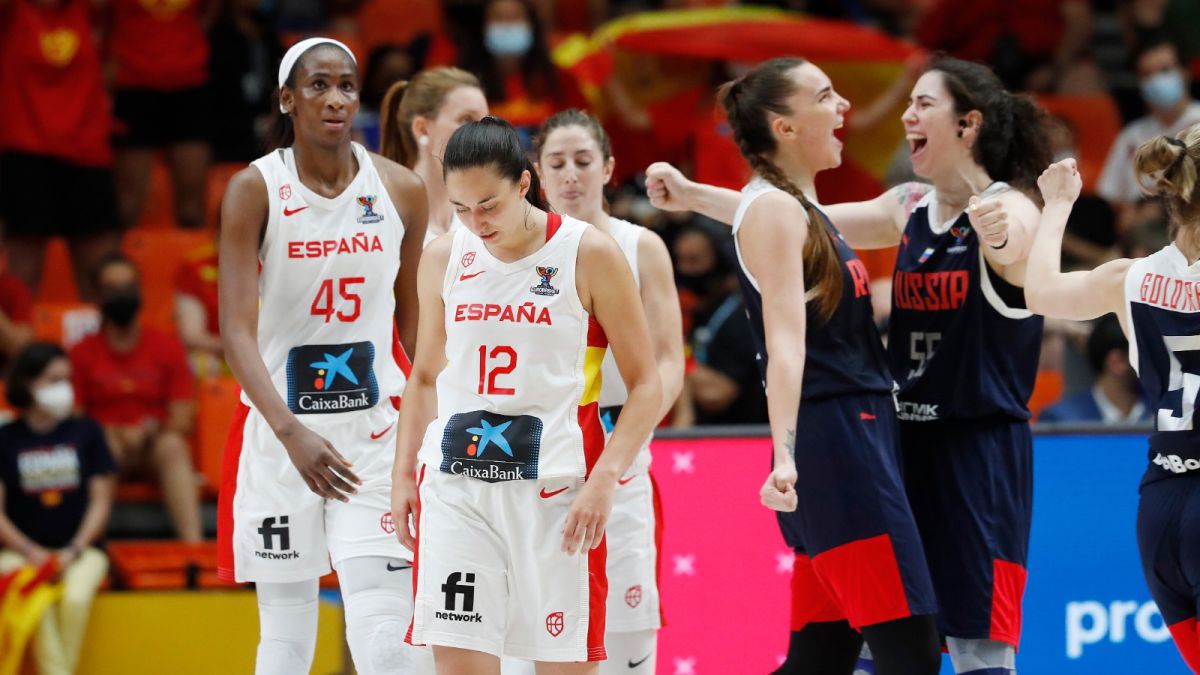 A ticket for a Premundial does not shine as bright as a medal, but Spain needed to say goodbye to Valencia with a good taste in their mouths and a place to continue fighting among the best next year. Although it will not be like that (74-78). The National Team did not fail in a World Championship since 1990 and it is unfair that it was left out due to a missed free kick, to make matters worse, by Critina Ouviña, who has been the heart of this team in a Eurobasket full of shocks, with two positive six days before the start of the championship, a cruel debut against Belarus and a fatal quarterfinal crossing.
Spain had 48 hours to forget Serbia's bad drink and focus on Russia, a sleeping giant that is slowly waking up with Maria Vadeeva and Raisa Musina, both from the generation of '98. They lack soul, but they have plenty of quality. Vadeeva, the third most valued player of the entire championship, went into halftime with only 4 points (2/7 in shots). Musina, on the other hand, wore 9.
Spain reached the top ten with two free throws by Raquel Carrera (31-21, min. 18), but Kurilchuk reduced the National Team's income to only three with a triple (33-30). With that result the break was reached. It was time to continue suffering.
Carrera started in place of Laura Gil, who finished the match of Serbia touched. Bad news for the National Team, which in this championship has been somewhat short of inside play. With Ginzo in a testimonial role, Mondelo has played with only three centers (Gil, Ndour and Carrera) plus the wild card of María Conde. Astou returned to sign a great first quarter (8 points), but the Selection was not fine in the three-point shots. She came to the quarterfinals as the best of the championship, but at halftime she had not yet counted a single target (0/6) .
The first came from Leo Rodríguez's wrist (0/9 was Spain) when Russia had taken the lead. Musina tied at 39 and with two free throws put his two up. The Kursk forward closed the third period with 19 points (10 in that quarter). Russia already surpassed Spain in the rebound (30 to 22) and had caused many failures of its rival (9 losses in that quarter), but the National Team continued to fight.
Spain took the reins with two triples from Ouviña, the second with a possible unmarked foul (57-55), but Shilova entered the match and Vadeeva set the maximum for Russia throughout the match (59-62). Astou, with foul problems most of the game, brought some freshness to an exhausted team. Glonti, with a triple, made it 64-67 with 1:45 left and Cazorla tried to equalize the game from the same distance, but neither of his two shots entered and a shot from Vadeeva under the basket. 64-69 with just over a minute to go. Problems for Spain, who never threw in the towel. Neither when Ouviña sat down for a blow nor when Russia got 7 up in the last minute (64-71). A 2 + 1 by Cazorla and a triple by Leo Rodríguez left the scoreboard with a hopeful 70-73 with 27.9 seconds remaining.
Spain leaves Valencia empty-handed and with the punishment of being left out of the World Cup. She would have one last chance: finish as Olympic champion, but that privilege seems reserved for the US.
Photos from as.com