Rossi: "They push me to ride my team's Ducati"
Although he says that "it will be very difficult" to see him on the Ducati, he leaves his future open: "I have not decided anything yet. I will think more in depth during the holidays."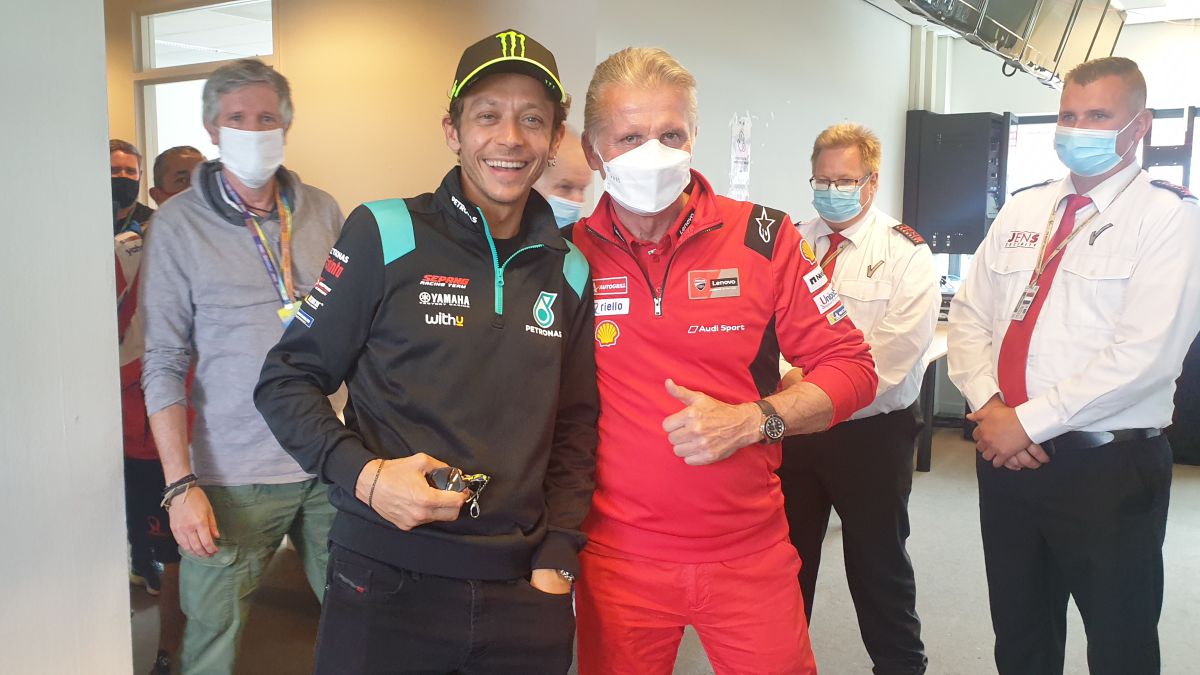 There will be eight Ducati on the MotoGP grid starting next season. Valentino Rossi's squad, Aramco Racing Team VR46, with Pablo Nieto as team manager, has signed for three seasons with Borgo Panigale's house and five with Dorna to be in the queen class until at least 2026. Now the next is expected year its pilots are Luca Marini and Marco Bezzechi, except that The Doctor decided not to hang up his jumpsuit at the end of this season, aged 42, and race within the structure of his own team. Saudi prince Abdulaziz bin Abdullah bin Saud bin Abdulaziz Al Saud, who leads Aramco, has asked "it would be fantastic if Valentino Rossi competed for the next few years in the team with his brother Luca Marini", and Ducati would also be delighted that this way out.
Whatever happens, Rossi returns to Ducati, where he raced with more pain than glory in 2011 and 2012. Now he explains at Assen the reasons why he has chosen Ducati for his new project: "It is now official that VR46 will have a team in MotoGP We are all very happy and proud with a project that started ten years ago with the Academy, then went through the Moto3 and Moto2 World Championship and now we have reached MotoGP. We are going to compete with Ducati, an Italian motorcycle, with Italian riders and the team will be based in Tavullia. And I think we are going to enjoy it very much. "The most interesting question is whether there are options for him to race for his own team, to which he says: "I haven't decided anything about my future yet, because I think I'm going to think more deeply during the holidays. I also have to talk to Yamaha and the Petronas team. In any case, we want to try to reap better results. The start of the season is far from fantastic, so under these circumstances it will be very difficult for me to continue next year. pushing for me to ride my team's bike, I think it's going to be very difficult ".
On the words of the Saudi prince for him to fly alongside his brother, he says: "We have spoken a couple of times and he is always pressuring me to continue next year. And I know he would like my brother and me to get together, but I always say the same, it will be very difficult for me to ride my team's bike. "
Another important question is to know what your relationship with Yamaha will look like in the future. His response: "My relationship with Yamaha is very good. We have achieved the best achievements of my career together. It would be very good to have a team with Yamaha, but Petronas wants to continue with Yamaha and we decided together that this was the best for all companies. Ducati has always been supportive of our Academy, so I think it's going to be positive. " And when asked if Yamaha will miss him as an ambassador, he says: "I don't know. From my heart I will always be a Yamaha rider because we have shared many moments together."About the alternatives that were on the table, which went through Suzuki or Aprilia as well, in addition to Yamaha, he assures: "We have spoken with different brands, but when you carry out these types of negotiations there are a lot of issues. The price of the motorcycle, the support they are going to give you. In the end, Yamaha and Ducati were finalists and we opted for the latter. We have had a very good relationship with Paolo Ciabatti and Gigi Dall'Igna, and they will make a great effort with many bikes. I think that we have a lot in common, like making the Italian riders grow. " There will be eight Ducati in total, the two from Rossi's team, the Lenovo team (the official one with Miller and Bagnaia), the two from Pramac (Zarco and Martín) and the two from Gresini (Bastianini and Di Giannantonio) .
Y about his continuity or retirement, Max Biaggi has said that Rossi is moved by passion. And about that the 46 thinks: "For me it is clear that this is the case, but not only for me. This is a job that can give you a great life, but here we do not drive just for money or for work reasons. We are here for our passion. I always enjoy a circuit, but the results are also very important to enjoy. This life is very stressful, you have to train a lot and you receive a lot of pressure from outside and also from yourself. Therefore, passion is one thing , but it is also important to be aware of whether you are capable of achieving good results, because as in any sport, it is the results that make the difference ".
Photos from as.com