Rico: "For six million we are not going to sell Djuka; it has more value"
The sports director, who says he does not contemplate the departure of Manu, admits that "in order to make a competitive team, there will have to be some sale.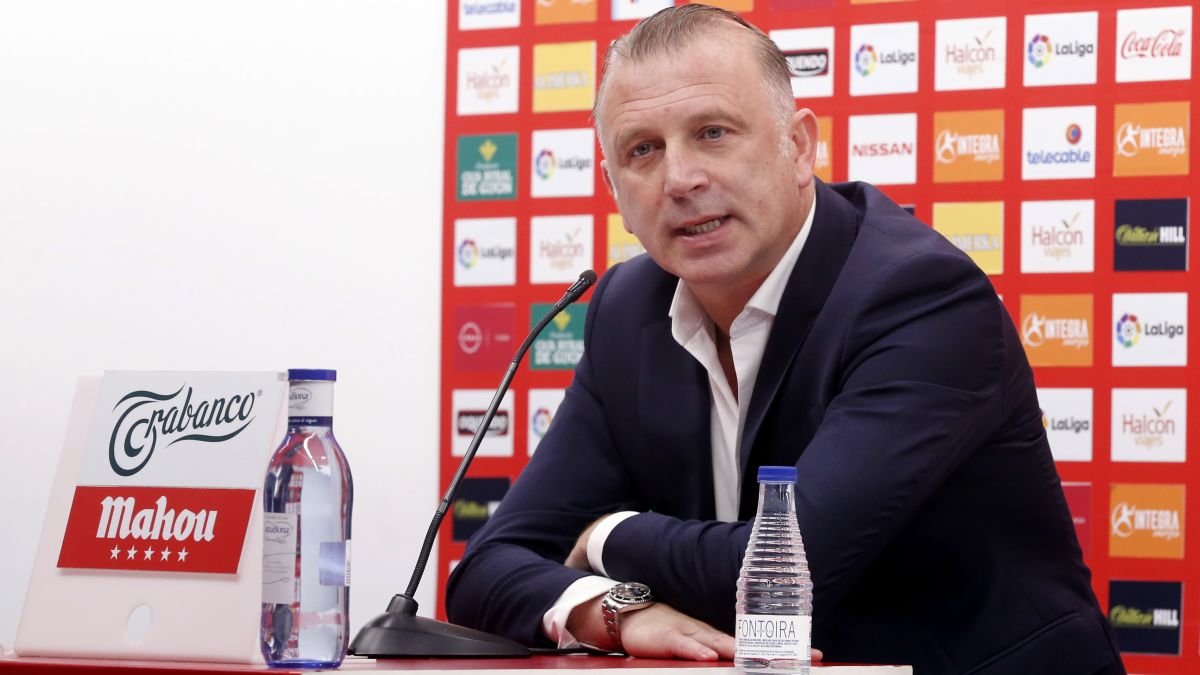 The sporting director of Sporting, Javier Rico, appeared before the media to make a "positive balance" of the season for David Gallego's team and try to explain the main lines of what will be his second project. Rico is clear that "to make a great project, a competitive team, there will have to be some sale" and in that direction the Uros Djurdjevic one is aimed especially with a nuance: "For six million it is not going to be sold to Djuka ".
Javi Rico and the club understand that six million, the figure that a journalist pointed out in one of the questions, "is not the market value" of the second highest scorer in the league. "We will try to get the best possible price," added the rojiblanco sports director who revealed that there have already been movements from other clubs for the Montenegrin. "There have already been offers-interest from other teams," he said.
The other footballer who has all the ballots to leave this summer is Manu García. His contract contemplates this possibility if the player himself avails himself of one of its clauses. However, Rico was blunt in this regard: "I do not value the transfer or transfer of Manu. We are delighted with him and we would love for him to continue. I hope that Manu has the same illusion he had to come, that he keeps it, and everyone continues to grow. together. "
Even the sports director wondered "why does Manu have to be transferred?" and he even pointed out that "I am not going to talk about whether Manu or Djuka has to be transferred; there are still three months left and we will see what decisions we make." However, he once again indicated about the international midfielder that "no one has told me today that Manu wants to go out. He is an exceptional player and he will make us grow for sure. Nothing has come and our intention is that he can continue with us. We are delighted with him, he is an incredible prop and we would like him to continue with us ", insisted a Rico who stated that," to this day no one has asked to leave Sporting ".
A left-back, wingers, a midfielder and a forward are Sporting's objectives in the next market - "which is going to be slow," he added - to reinforce the squad for next season. "We want to sign four-five players", he specified.
Regarding the outcome of the season, Javi Rico believes that "we have been on the shore, in a cruel way, but the team has been fantastic." The reasons for this final result are attributed to the fact that "a little bit of everything happened to us: the other teams also play, the team in the scoring side has been in deficit except for Djuka and some other mistakes. Therefore his personal assessment of the work of the team and the coaching staff is "frankly good" .
The descent of the subsidiary to the fifth category of Spanish football confessed that "it was a risk that we knew we could take". In this sense, Javi Rico assured that "we are going to continue pulling people from home, although very high fees can be paid, such as a decrease". The category will not be a problem, in his opinion. "If the footballer has conditions, talent and projection, we will look at him the same in whatever category he is in," he said. "It came down with people from home, but I prefer that than signing 25-year-old players like other affiliates," he snapped.
Rico had words of appreciation for the professionalism of the three who are not still at the club: Javi Fuego, Cristian Salvador and Carlos Carmona. In the case of the veteran Poleso midfielder, he pointed out that "he voluntarily decided to end his career at Sporting; it was an exclusively personal decision and a renewal offer cannot be made when one personally decides that he wants to leave."
The sporting director of Sporting assured, on the other hand, that Marc Valiente has one more year of contract and that Pelayo Suárez has closed his renewal with the rojiblanca entity.

Photos from as.com