Quartararo: "I have learned a lot from last year"
"Right now I am feeling very good on a mental level, in the box, with the bike, and I have more clarity on the objectives and on a mental level," he says.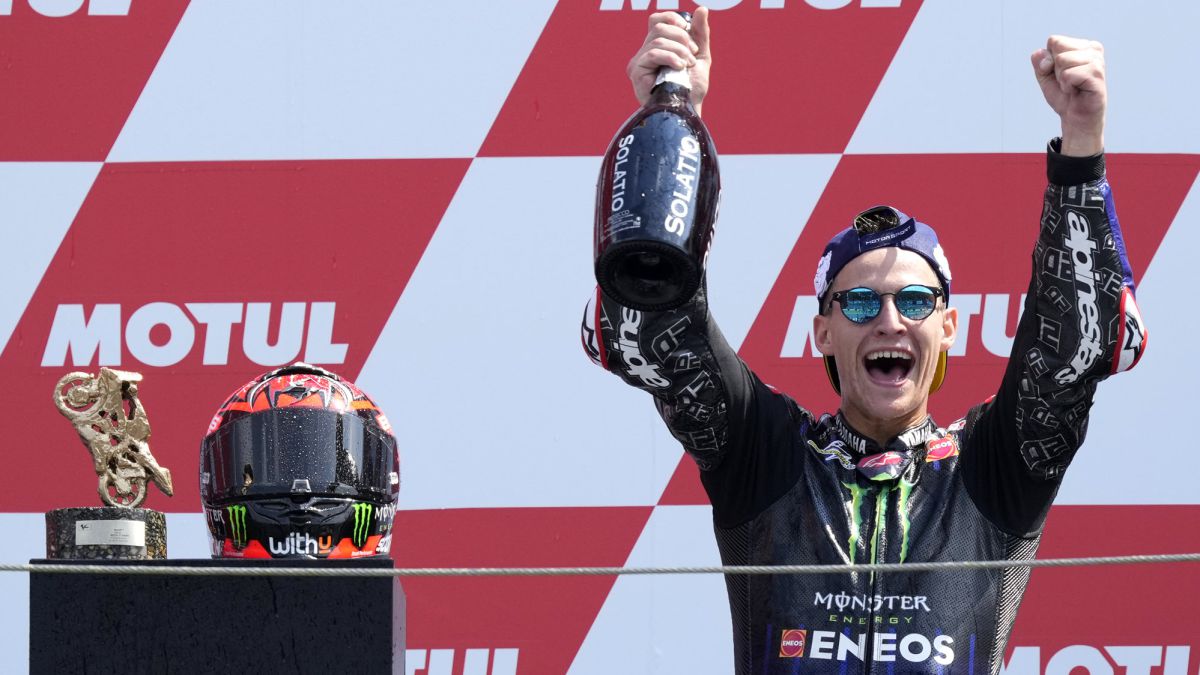 Fabio Quartararo achieved his fourth victory of the season in Assen and he is beginning to look like a champion. He now has a 34-point advantage over Zarco, who was fourth.
-Summary: "To be honest, it was a tough race. When I had Pecco in front of me it was impossible for me to pass him. I have no words to describe how hard it was to pass him. He was always closing the gaps well and at Turn 6 he is always very fast I tried it at Turn 12 on the outside and then I saw that I could beat him on the inside of Turn 13. I never imagined I would have passed there, but it was the perfect place. The race was very hard, because I made a couple of mistakes : the bike moved me a lot from turn 12 until we reached 15, and in turn 6 I leaned too much and almost got behind me. The most important thing is the position in which we finished and that we took 25 points ".
Arm discomfort and race management: "No, they were not compartment syndrome problems, but triceps problems. But in this circuit it is quite normal, because there are many changes of direction and it is very demanding on a physical level. But it was fine. seeing that I was four seconds ahead of Pecco and Maverick, and in a specific area of the circuit, so I wanted to increase the gap and did 1:33 low and close to 1:32. It is true that I am very happy. It was a difficult race, but for me the objective was to fight for the victory and we have achieved it ".
His great form: "It is not easy, but we are able to keep up. In some more races, in others less, but we are there and we have the pace. Last year was not a good season for me, because I had a lot of Ups and downs and I didn't have regularity, but I have learned a lot since then. For me this is fantastic. You can always learn. Last year I did not get the results and I did not take the opportunity to fight for the championship, but I accumulated experience and it paid off. Now I myself am feeling very good on a mental level, in the box, with the bike, and I have more clarity on my goals and on a mental level. "
Better-than-anticipated start to season and pressure: "Honestly, it's not that I had pressure from the team at the start of the season, but that I had more pressure from outside. Even if I tried not to listen to it, you can't completely escape. from the king, from Vale, and unconsciously you receive more pressure, also from the media. Then came the victory in Qatar, where I felt very happy, because from then on I did not have to listen to this type of voices anymore. I hoped the season would go well, because when I won in Portimao that victory was very important on a mental level, since 2020 was a disaster. On the other hand, this year has been incredible. It was a very important moment for me mentally. I expected to have a good start to the season, but not as good as I have had it. "
He does not think he is his only rival: "Maverick had a great pace. For us it is difficult to overtake, but Maverick throughout the weekend has been very fast. For my part, I feel good and I made a perfect start It is difficult to say, because I am in a good moment of my career, I have the extra confidence that I am feeling better and better with the bike. Coming from a difficult race like Sachsenring, when I got here the bike had already worked better since the start. I don't think I'm the only one who can stop, because the Ducati go very fast, Joan too. I don't think I'm the only one who gets in my way. I feel very confident, that means I'm very fast and I want to keep this line to the end ".
Main rival for the title: "It's a question that I get asked a lot, but the truth is that the championship is very open. Everyone is going very fast and I don't want to make a mistake. There are a lot of drivers. But what I want is to focus on myself, which is what I have been doing since Qatar and basically I am trying to get the best of myself in every race. I focus on going race by race, now we have a good advantage in the championship, but at least we have to face the second half season in the same way. That is the main objective, to focus on doing a second part of the season in the same way. "
The summer break: "Everyone knows where they are in the championship. We have already done nine races and for me it is not a 'reset', because I want to maintain this good trend. For me it is the opposite, I will keep everything fresh in my mind. The first week will be on vacation, I will spend time with the family, and from the second week onwards I will return to normal. I have not seen my family in a long time, so I will really enjoy the time I spend with them. "
Photos from as.com