Puig: "Márquez has spent a long time suffering"
"It is a special day. It is a day to thank everyone, especially Marc," said the Repsol Honda team chief about the victory of the Lierdense.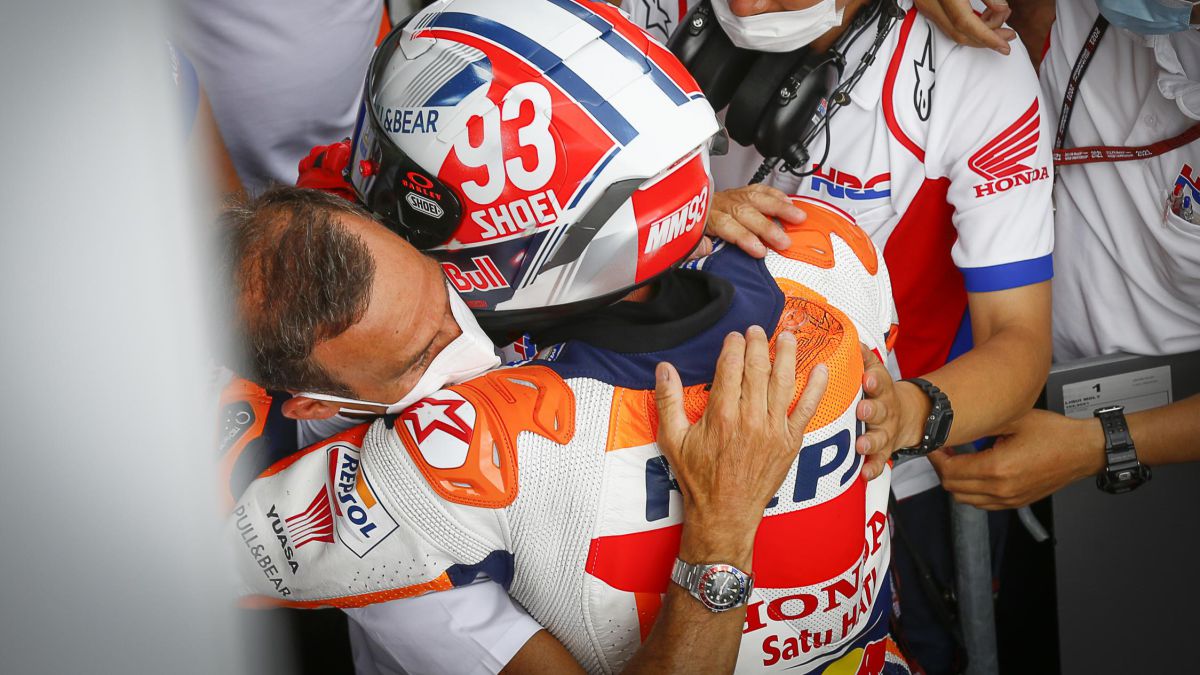 Repsol Honda Team's 'team manager', Alberto Puig, has acknowledged that Marc Márquez's victory this Sunday in the German Grand Prix, 581 days after the last one, has been "very special", especially because the rider from Cervera has spent "a long time suffering and without running", something "very painful" for him.
"Winning here at the Sachsenring is very special. It has been an incredibly important day, but more so for the rider. Marc Márquez has spent a long time suffering, without racing, without results and this is very painful for a rider like him. We have to appreciate it. what he has done and to thank him for all his efforts during this time, what he has done in Germany has been really amazing, "he said in an interview with his team.In addition, he stressed that the victory has also been "very important" for the Repsol Honda team, for all the personnel who work at HRC, all the people who "support them on the track and behind the cameras", such as the engineers or the technicians. "It is a special day. It is a day to thank everyone, especially Marc," he said. "For a company like Honda, which is used to winning many races throughout its history, this period has been very painful," he confessed.
"We understand that life can sometimes be difficult and at this moment we have some problems. We are working to overcome them in the best possible way, trying to solve them. We understand that we have some weak points, we have recognized them. We also know that Marc is not there one hundred percent, but Sunday was an important day because we were able to achieve a victory. Despite that, we do not believe that our problems are solved. We will work to give all our riders, not just Marc, the best bike possible ", continued
However, "no" believes that this result will change the course of the season. "Honestly speaking, I don't think so. I think we have to solve our problems and Marc still has to keep recovering. We will have ups and downs this season. The result at Sachsenring has been very important, but that does not mean that we have fixed everything now. To think this through It would be a mistake, we must think about what we can improve little by little and now face the race in Assen, "he said.
Finally, Puig is already thinking about next weekend in Assen. "I think that each member of the team has their own way of enjoying these few hours between races and they will celebrate it in their own way, especially Marc. Now we travel to Assen and there is no time to lose there. We will arrive, we will discover a completely different scenario, we will probably have cold and rain, but we will see again what the story is, "he concluded.
Photos from as.com