Pere Guardiola: "The club will continue alive whether or not it goes up to First"
The president of the Girona Council faces the final with "moderate optimism". Going through the second consecutive playoff final is a "success" and he considers Rayo a favorite.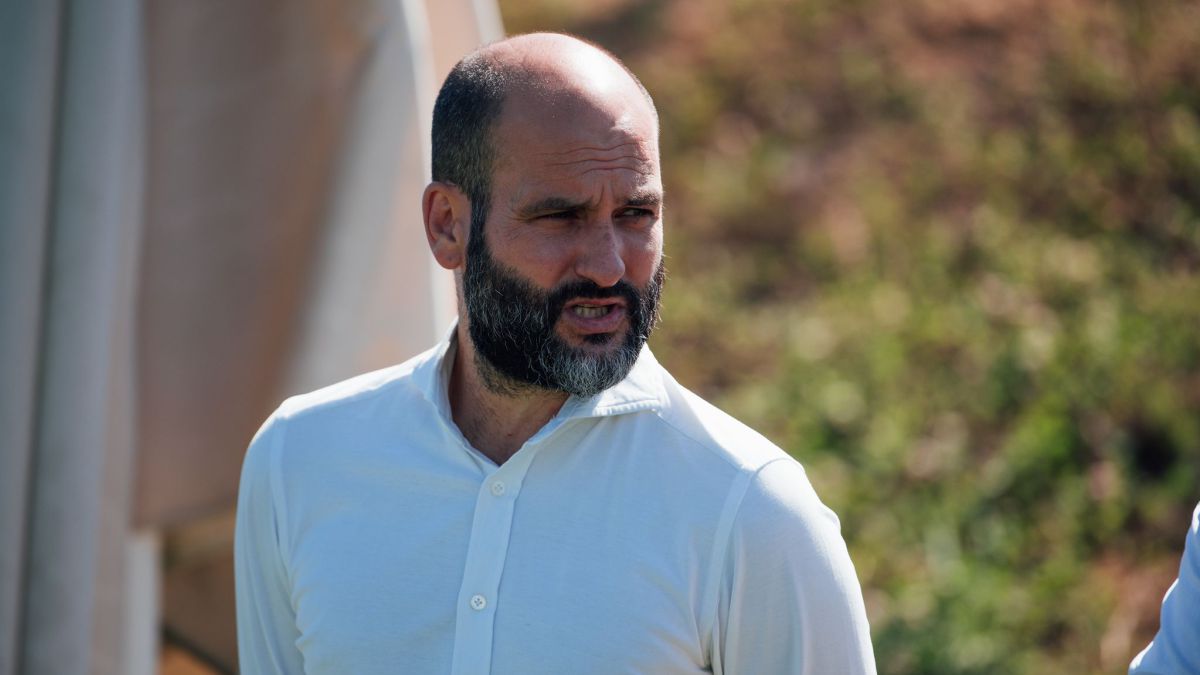 Girona is two games away from sealing the second promotion in its history to First Division. Pere Guardiola (Santpedor, 07-16-1976), president of the Council of the Girona entity, addressed the media, including AS, in the PGA de Catalunya and made it clear that he faces the final with "optimism moderate". He believes that living the second playoff final in a row is already a "success" and revealed that the one who must bear the weight of the favorite poster is Rayo Vallecano.
-They enjoy, for the second consecutive year, a playoff final for promotion to First. What do you feel?
-I think we've gotten where we wanted to. We are happy because we will fight to reach the goal we set for ourselves at the beginning of the season, which was to fight again to go up.
-Did you ever think that this year you were not going to be able to play in the playoff?
-We knew it was going to be a difficult season and we had to be vigilant. This year our budget was dramatically reduced compared to last season and it has not been easy. In addition, you had to save yourself first to avoid cases like Depor or even Zaragoza, which suffered until the end to save itself. It is true that throughout the season we saw on many occasions how we could escape, but inside we had the feeling that if we won two or three victories we would be at the top. We have experienced it in all colors in the playoffs and we know that anything can happen.
-What differences do you think there are between last year's playoff and the current one?
-This year we have reached an excellent moment. Of course, we face the final with moderate optimism. The first tie against Almería was to take off our hats, but now we face Rayo, which is a historic one. We know the path to follow to be successful, but your jersey weighs more. Although we are all clear that a final is always better to live it than not to live it.
-Could it be considered a failure not to be promoted to First?
Girona's pride tells us that it is already a success to be in a playoff final. But this is not so much black or white because whatever happens you have to row again, invent yourself, sign well and get all the juice you can from the team you have. If we go up we will celebrate it and the next day we will go to work to achieve permanence in the First Division and if we do not, we will have to go through the duel and work the same to fight again.
-Would the club be viable another year in Second?
-We approved the last capital increase so that the club has the necessary protection in case the sporting objectives are not achieved. For this reason, whatever happens, whether it is raised or not, there will be stability and the club will remain alive. This industry is a bit of a hassle because sometimes you depend on chance. In addition, you have to bear in mind that if you go up to First you are a team with a 60 million budget and if you are in Second you are one of 15. Whatever happens we have to make a powerful club.
-There was a time when the team seemed stagnant and did not quite hunt down the positions at the top of the table. Did you think of removing Francisco from office?
-Francisco, internally, has not been discussed at any time. We were clear that we wanted to do this story with him and in many annoyed moments this season we have not finished sinking thanks to him. He has a lot of energy and has managed everything well.
-The technician ends his contract at the end of the season. Does your renewal go through promotion?
-The key will not be if it goes up or not. We are very comfortable with him and we believe that he is also with us. It has things that are very difficult to find. We are two games away from reaching the goal and it is clear that if we go up we will not have to suffer for its continuity.
-This season many homegrown players have knocked down the door of the first team…
-Grassroots football is key for us. They are people from home, who understand us, they have the DNA inside, they love the club and they believe it. But to get people out of the ground you need time. In addition, it can help us financially because it is one of the ones with the highest income that can be obtained. Although the idyllic thing would be to one day have 70 percent of the first team's squad made up of players from here and we just have to look outside what gives us a plus.
-Are you still thinking of building a Sports City?
-The pandemic and the decline did not help at all and we were clear that the resources should be directed towards the first team and grassroots football. Although yes, we still have in mind to build a Sports City. Although now we have one year left on our contract at the PGA and if we had to renew there would be no problems.

Photos from as.com