Pau Gasol: "I do not rule out anything, but it will be difficult to continue"
The pivot said that he wants to "focus on enjoying the Games" and that he has not yet made a final decision on his future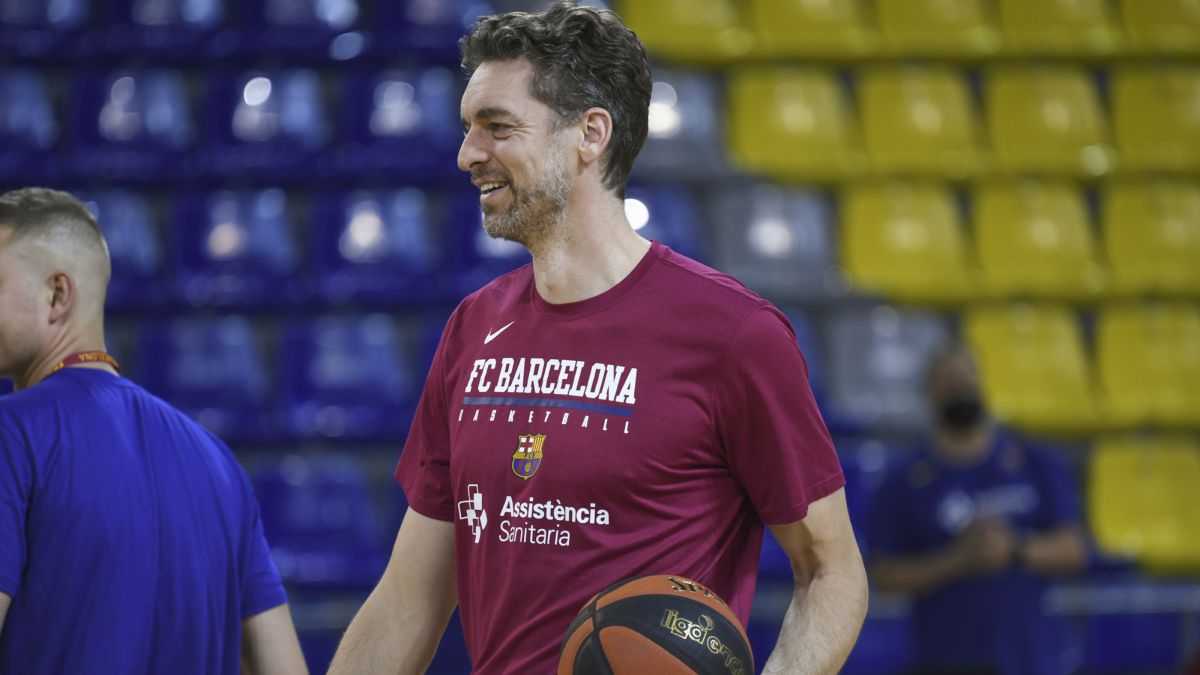 For Pau Gasol these will be his fifth Olympic Games, but also his last. Not only that, but it will be in Tokyo the last time he wears the Spain jersey to play a basketball game. Will it also be your last game as a professional? That is a mystery that he has not yet wanted to reveal.
In the presentation of his Virtual Academy (A basketball campus adapted to the online format) Gasol answered several questions about his future, but did not give any completely closed answer. Will you continue at Barça? This is how he summed it up: "I don't think about next season. I focus fully on this month and a half. From there I will consider the future. I do not rule out absolutely anything, but it will be difficult to continue. Now I don't think about that. I want to be calm and centered. Then I will weigh it, evaluate it and see what we are going to do, "Pau said literally. His continuity at Barça is therefore highly complicated, and it is that there will be mainly two factors that will end up deciding his decision. On the one hand his physical condition, today very good but he wants to see how he is after the Games, but on the other the family: "The most important thing is the family and personal factor. It is a profession that requires a long time away from the family. Now I am not alone, there is my wife and my daughter. We are a family, "he commented.
But before announcing his retirement, or not, what is clear is that Pau will participate with the National Team in the Tokyo Olympic Games: "I am very excited. In life you cannot take anything for granted and you have to always be grateful. I am very excited, I have worked to be able to have this opportunity. I'm going to give everything I can. My role is going to be different within the team. I want to compete with my teammates. It will be my last championship with the National Team, that for me has a very great emotional significance ", he commented. In addition, he revealed that his readjustment to competition "has exceeded my expectations" and that he is in an excellent moment both physically and mentally: "I am in a very good personal moment. Very happy to have lived these months with Barça and to have had this special stage. I ended up playing at a high level. Now I am very excited to be with the National Team and to be able to play new Games with 'the family'. One of my goals was to play again after the injury, I have fought and worked hard to be where I am. I want to enjoy each training session, each moment with my teammates and once the moment arrives, compete ", he settled.
Finally Pau also had a few words for his former teammate, Felipe Reyes, who announced his retirement on Wednesday: "We have to thank him. For everything, for so many years, for being one of our icons in sport, for his dedication and commitment. Thank you for everything you have given us. It is a flagship of basketball. Although it is a difficult time because it has been a wonderful race, I hope he enjoys it, that he celebrates it, that we celebrate it with him and that we thank him for everything he has given us. Good luck in what you want to do, "he concluded.
Photos from as.com