Márquez: "The objective in Assen is to be among the top ten"
Anyone believes him after winning in Germany, but says this: "Here we return to our real situation, but it was important to win before the break."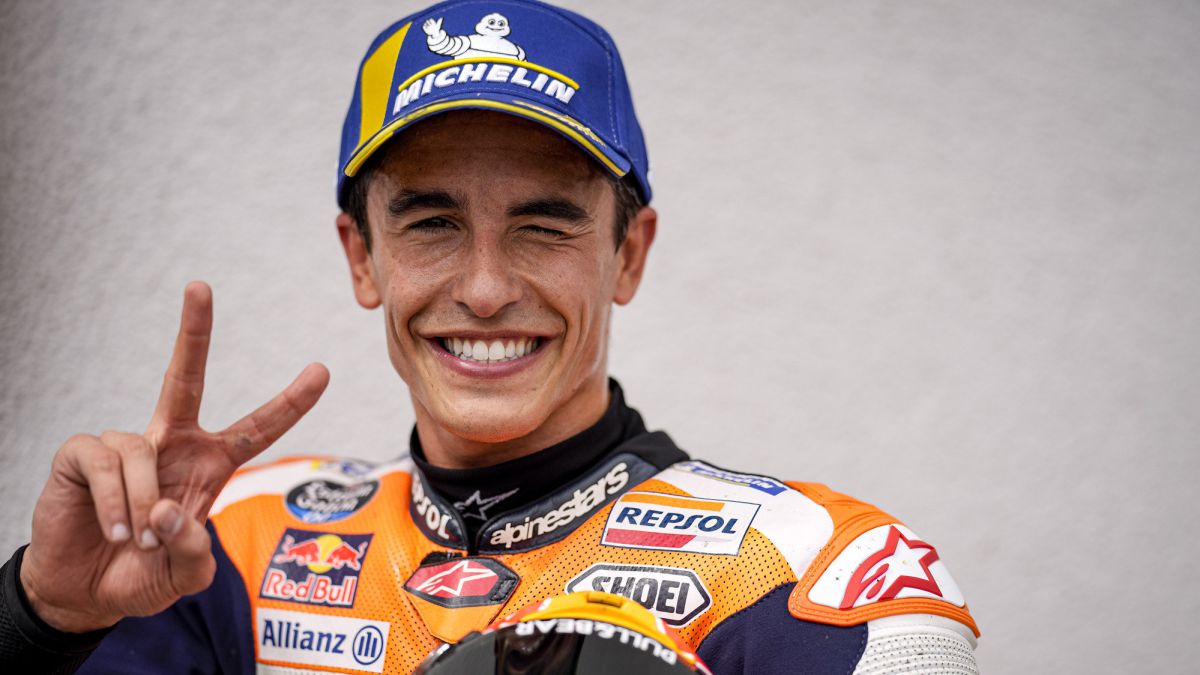 Marc Márquez aims to finish in the top ten in Assen. Anyone believes him, and even more so after seeing him win again in Germany last Sunday ... 444 444
-Four days have passed since his victory in Germany. Have you been able to assimilate and analyze it?
-It was an important victory last Sunday and most importantly, at the toughest moment of my career. It has come at a crucial moment and it has allowed us to motivate myself and the team after a long time of drought of victories. Here we return to our real situation, but it was important to win before the summer period and we will try to do our best in Assen, so that in a month we will continue working to improve and drive better than in Mugello and Montmeló, but I cannot wait to be there. here on the same level as Germany.
-Do the objectives change in the second part of the season?
-The summer break will be important to get my breath back a little, because I already feel that my arm is a little stressed from all the effort made. In the Montmeló tests I rolled many laps and did not notice anything, perhaps because the intensity is different, but I do stress the arm during a series of laps in the race, where I notice that the arm drops a lot in performance and the next day it is worse in general. I also notice the climate changes and humidity a lot, but it is normal because I have discussed it with the doctors and from what they have told me it is very normal. The most important thing in these previous days has been to be able to achieve victory, which returns an important part of morale to us.
-How about the return of Austin?
-Austin is a circuit that I like, that's good news for me for sure, and the bad news is that a race had to be canceled, but in the end having more races is better for the drivers.
-Would you like to see Valentino next year with a Ducati?
-As Fabio says, with Valentino everything is possible, because he is racing past 40 so yes, why not see him with the Ducati, it would be interesting.
-It may rain on the weekend, would that help?
-The truth is that when a rider is slow he prays that it rains and it is true that if it rains on Sunday the possibilities will be much more open, but I am a bit the same, because I don't think it will change my final result. The important thing is to take a step forward and compare with Mugello and Montmeló with Assen, not with Sachsenring?
-Pol wants to copy his set-up, but the chassis says it is different. What are the differences.
-With Pol and Honda, in general, we are trying to find a base and direction to work on, because when we got to the beginning I was riding in a strange way, but from Mugello we started riding more or less in the same way than before, in the same way as in 2019, and with a set-up very similar to that of 2019. Now all the riders are looking for a motorcycle similar to the one I am using, because I am the only one who is using a different motorcycle and everyone is looking at it, but that's what I'm saying, that the Sachsenring has been the Sachsenring and on other circuits we will go differently. It is true that Pol is riding differently and is having a hard time finding a way to be fast and consistent with the Honda, and the rest of the Honda riders also have some difficulties. Perhaps Nakagami is the only one who at the moment is better understanding how to ride, but even so we are living a difficult time as Sachsenring does not make everything disappear at a stroke. We are in a difficult situation because I do not help the motorcycle and the motorcycle does not help me and that commitment makes it difficult, but we are on the right track and here we are going to test a couple of things to see if in the second part of the season we are able to prepare the next season 2022.
-This weekend comes back to reality, but do you feel more prepared after Germany?
-Yes, in the end I am prepared to suffer but if I pursue the objective of suffering I will fall again, as in Mugello or Montmeló, while in Sachsenring I was driving in a very fine and precise way. I know that circuit by heart and they were all left curves with only three to the right and that is why I could adequately control the changes of direction of the bike but here you can suffer four, five, seven or ten laps but in the end you are suffering the whole race you can make a mistake. We will see, the good thing for me this weekend is that this has given me great motivation on a mental level and we are convinced right now that we are capable of achieving it, but for the future, not for now. This will be the objective of the weekend, to take a step forward but comparing it with Mugello and Montmeló, not with Sachsenring and this means trying to be among the top ten.
-Assen has invested a lot in the circuit, we know that Brno and other circuits have gone off the calendar. Do you think Assen is a circuit that is doing things the way they should be done in MotoGP?
-They are working in the correct way and when you return to asphalt, before returning to asphalt you have to understand where it will be necessary, if there are potholes or not, because over the years the asphalt loses grip and in some circuits they go worse than here in 2019 and they maintain the same asphalt. In any case happy and I hope and I am convinced that they have done a great job paving and that we are going to enjoy driving.
Photos from as.com