Justo Villar: "I have read several reviews, but I think we are fine"
The former player and sports director of the Paraguayan team attends AS before the game against Chile: "Against Argentina we did a lot of things well."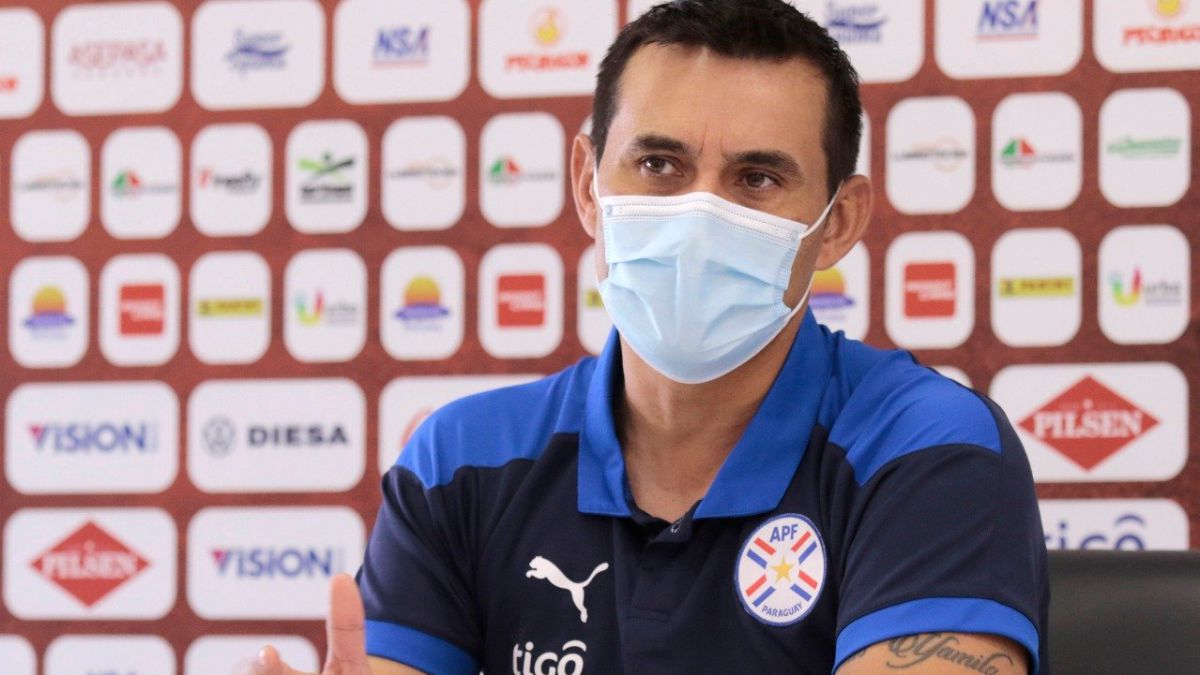 Justo Villa played 120 games with Albirroja and is one of the most important players in their history. With several world and continental championships behind him, today he is part of the Paraguayan delegation in the position of sports director and attends AS before the game against Chile and after the defeat against Argentina.How is Justo Villar living this atypical Copa América?
I think it is atypical for everyone, not only for the players and coaching staff, but also for the organization, the press ... I think everything is very difficult to get along because they are rare situations at all times That of the almost daily controls in a closed competition like this one, makes it much more complex. But despite everything it is taking, I think it also influences the level of football, which may not be the best, but this also counts in the mentality.What is it like to work with Profe Berizzo?
Eduardo is a very calm guy with whom you can convince, chat, especially on technical issues. My thing is to be close to having everything available, available and in order and that the players have everything in a position to do their job. It is something new for me but very positive in the way in which we can converse and exchange opinions, me listening to him and he listening to me.How did you see Paraguay against Argentina?
I think it's fine, I have read several criticisms from teammates and people who talk about sports in Paraguay and maybe we agree on some things and not on others. Perhaps before we were stronger and more solid in standing balls, it is not something that we lost, perhaps it was not strengthened more than what there was, we have to understand that football has changed and the players we have today are different. Before we had innate headers and today perhaps we need more training in that and the time they give us is not enough and we have to look for other things such as collective functioning, which we do. The characteristics of the boys are different and one has to adapt to what there is and the players we have are understanding what needs to be done to continue competing at an international level.In South America, the teams that are not Argentina and Brazil tend to have discontinuous streaks of results, at what point do you think Paraguay is at the moment?
I think the inflection point has already passed and the players understood the ways. We have a game of great intensity and that way it is difficult for us in the definition and we have to improve. But in everything else, after a long time, we won. I think that Paraguay is playing good games like against Bolivia, which is not as minor a team as they say, with Argentina it was different due to its characteristics but I think we did things well, but I believe that the way is that, that the characteristics as I said before there are others and you have to believe in our football and try to improve.
What is Paraguay in this Copa América for?
After seeing what we did with Argentina, I think so. Argentina has a great squad and the best in the world, it makes others improve and I think Paraguay did not fear that game, perhaps at the beginning we started hesitant but the team recovered and was able to send on the field, something that previously cost us a lot. We went to push up, we had chances, we dominated at times and the Copa América is good for us to consolidate that and looking to improve in the Qualifiers with my goal of going to the World Cup.
More than ever, qualifying for the World Cup is not easy, but the path traveled with Berizzo is growing. Would it be a failure not to go to the World Cup or would it fall within the plans?
I do not know if I fail but we measure ourselves with objectives achieved or not achieved, but we come from two World Cups without being able to go and the previous processes also took a long time, since 1986 'to 98' and from there we played four consecutive World Cups. At that time a different group and team were put together and now that is being promoted, for us it would be a success to return to the World Cup, it is what we want and believe, the players begin to believe in this, before there were many changes of players and of coaches, I think there is conviction that we can qualify for the World Cup and we will be fighting until the end.What is it like to see Almirón train?
The days you see him training every day, his agility and speed are very surprising, he was helped a lot by going to Argentine soccer, then going to the US and moving to Europe. It is good for us that the players are in Europe and he transfers him to the field of play, for us it is important not only him, but all the important players who are here. For them, being able to go to the World Cup would be the reward for all the work they do.
Photos from as.com