"It is in Rossi's hand whether or not to ride the Ducati in 2022"
Paolo Ciabatti: "We will be super happy if he wants to do it, but it is his decision. He is 42 years old and is at an important moment in his life."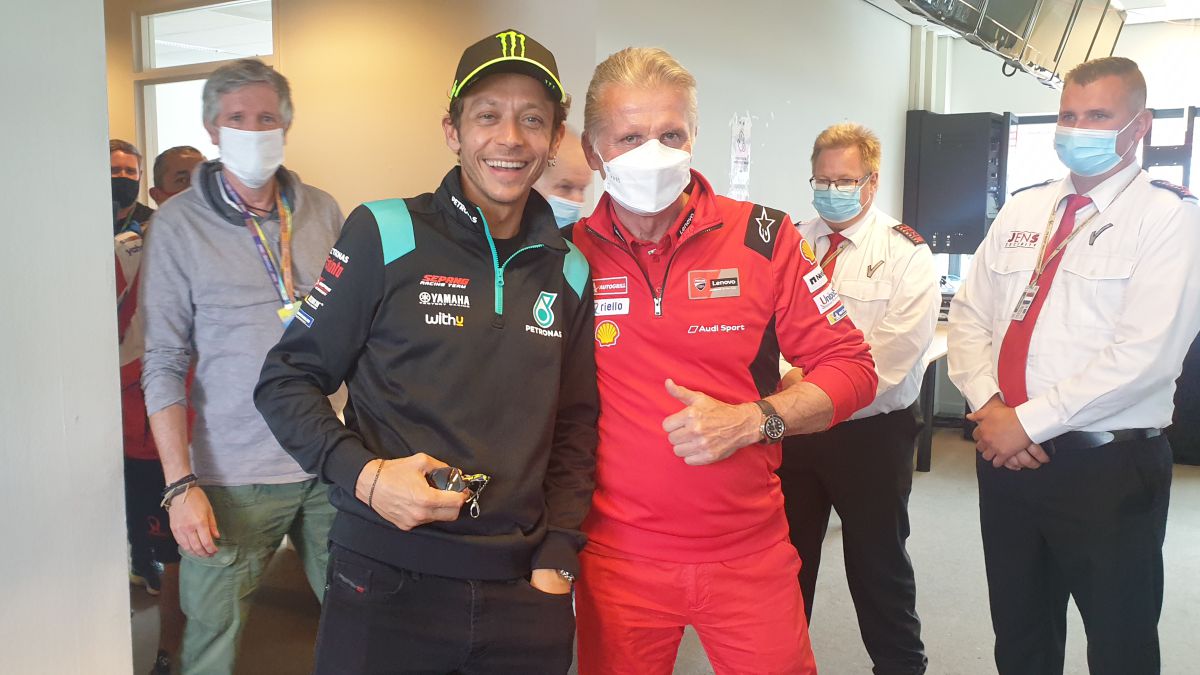 As is his custom, Paolo Ciabatti attended the press conference on Thursdays to see first-hand what the invited drivers were saying before the battle started. The Ducati sports director had Jack Miller and Johann Zarco in the Assen press room, but also Valentino Rossi, who yesterday announced that he was returning to the ranks of Borgo Panigale, because it will be this factory that will supply his team's motorcycles , the Aramco Racing Team VR46. One of the pilots will be Luca Marini. The other is yet to be seen and Ducati would love it to be Rossi himself, despite the fact that by 2022 he will be 43 years old, as he acknowledges with the kindness that Mr. Ciabatti characterizes him. It is very difficult for that option to come out, but it is on the table ...
-What a beautiful photo I just took with Valentino Rossi ...
-Can you pass it to me?
-Of course, but he would have it already from Valentino's second and last year at Ducati, in 2012. So he tried to make him stay in his box longer, right?
-No, no. No way. I started talking to Ducati in July 2012 and the end of the Valentino story was already decided with Ducati. I arrived a bit because it had not gone well and to rebuild the Ducati MotoGP team a bit. I've known Valenitno since.
-He arrived on his farewell to Ducati and will be reunited with him in their ranks next year. Are you excited?
-Yes, Valentino returns to Ducati with his team and we are super happy. And we are also happy to work with the VR46 Academy. We already have two of their riders in MotoGP, who are 'Pecco' (Bagnaia) and Luca (Marini) and they have a competitive team in Moto2, so it is a value for Ducati to work with them.
-In Spain in cases like this we say that Ducati has scored a goal for the squad against Yamaha by linking his name to Rossi's starting next year. How important is this move to your brand?
- (smiles). We are happy. We started talking about all this when we were in Qatar, but then it just seemed like an idea, because I had the option of Yamaha, Suzuki and also Aprilia. As the weeks went by, we began to show interest in both parties and, as Valentino says, everything fits, because it is an Italian manufacturer with an Italian team that also has an academy for future Italian drivers. And all that with a name like Rossi's. It was not a success when he was a Ducati rider in 2011 and 2012, but we must now achieve success together with his team.
-Would Ducati have made the effort to have eight bikes on the track on the 2022 grid if not for Valentino Rossi?
-It is worth the effort to join our name to that of Valentino Rossi.
-The Ducati of 2022 will be easier to ride than the one that Rossi drove in 2011 and 2012. Would Ducati like for Rossi to continue one more year on one of the bikes of his team?
-The Ducati of that time was a very particular motorcycle. With the one now, four different riders have already been on the podium, because it is an easier bike, which can be ridden with different riding styles. It's up to Valentino to get on or not get on one of our bikes next year. We will be super happy if he feels like doing it, but it is his decision. He is 42 years old and is at an important moment in his life. It is solely up to him what he wants to do. If you want to continue with a Ducati, super happy on our part. If you prefer to retire, we will also be happy to have another pilot from the academy (Marco Bezzecchi). What is important is to have been able to find an agreement for the next three years with the Vale team.
-Will you propose to Rossi that he get on and test the Ducati before making his decision this summer on withdrawal or continuity for another year? In Mugello, for example ...
- (laughs). Unfortunately, it cannot be done by the regulations, neither on a World Cup circuit nor on another circuit.
-And without anyone knowing?
- (He starts laughing). How is it possible that no one knows it these days! (And he laughs again) .
Photos from as.com