Iraola: "Rayo has shown that they compete well under pressure"
The coach puts the accent on "concentration and fighting every play" for this final against Girona, a rival whom he praises. Get Advíncula, Saveljich and Baby back.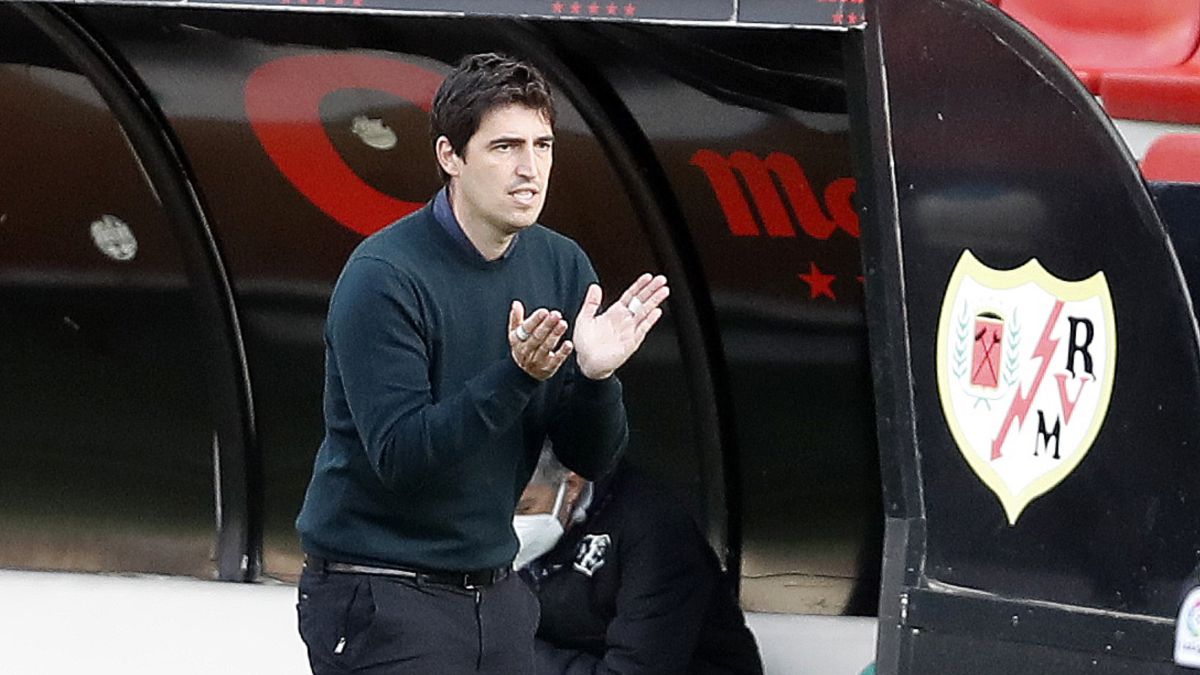 El Rayo faces the climax of the season motivated and cautious. He eliminated Leganés against all odds and now faces a Girona who also carries the favorite band. It is not for less. Their numbers make the franjirrojo coach praise the rival and warn his players that a mistake can be fatal, although when it comes to playing under pressure, the Vallecanos already have a master's degree. To face this first round of the final, Iraola recovers Advíncula, Saveljich and Baby. In addition, he will be able to repeat with his player number twelve: a hobby that sold out in just over an hour ... 444 444
— What has changed so that the team reaches these games so well?
— We are aware that we have to win because if we are not out. The team has competed well under that pressure. Already during the season it has happened to us. When the group has been in need, it has responded well and we will see if we can take advantage of it.
— How are the players touched?
— Baby and Saveljich are the fairest. I don't know what percentage, but I think we will be able to count on them. Joni Montiel has even started training, something that seemed difficult. Obviously for this game it will be very difficult for him to arrive, but who knows if he will be available for the return leg. We also recovered Advíncula, who is already here with us. We will have to choose many players.
— How have you managed the euphoria and responsibility with the staff?
— In the end we still don't have any awards. We must win it and in front of us there is a rival who, seeing only the numbers he has, is very good. If we want to beat him, we will have to give our best level, play very concentrated and not get confused, not have bad minutes. That in the qualifiers leaves you out and, with that idea, we must go out on Sunday.
— What does the figure of Trejo suppose on and off the field?
— He has always been in his role as captain, leading the team. Right now on the field he is in a very good moment, with confidence. We have to take advantage, not only of Oscar, but of all our players who are reaching the end of the season well. Let's see if we can rely on them to get it done.
— How important is the psychological part in a final?
— It is fundamental. It's 180 minutes, not a game. You have to think that this can be extended, that when the referee whistles there is still. Therefore, we must be very careful, whether we are winning or losing. We have to fight all the plays and come out with the mentality of the first leg against Leganés. The first half was not spectacular, but the game was going where we wanted. That's the line.
— What role will the public play?
— It is always important. We already lived it the other day against Leganés and I am convinced that it will be even more so against Girona. We appreciate it very much, you can see the reaction of the players immediately. For us it is a weapon that we have to use.
— What are the keys to the tie?
— There are many. We are facing a very good opponent. We will have to minimize its virtues a bit. His people at the top are very good, the players from outside are very fast, from set pieces it is very dangerous ... Whoever makes fewer mistakes will have a lot to win.
— Is Girona the most difficult rival in the playoff?
— He is in the final because he has won it, because of how the season ended, because of how his second round has been ... A team that plays against Almería and ends with a clean sheet and the feeling of having won well, is very strong.
— Does Lightning benefit from not being a favorite?
— We are where we wanted. Just as we have had the pressure to enter the playoff yes or yes, now the player sees it from another point of view. Obviously, you want to get promoted and get the prize, but that pressure, positively, the footballer supports it better.
— What will be the motivating message before taking to the field?
— Many times you improvise it. The players are coming out with the right mentality for what we are playing at. In these two remaining games, it will be necessary to try to ensure that they have the optimal level of activation, not overexcited but with the right degree.
— Do you see a team with more pressure?
— Both teams have had to fight a lot and get a lot of points to get to the playoff. We talk a lot about the mental issue, but this will be decided on the field. You have to compete well, make the right decisions ... 444 444
— How about Stuani's return? Do you see him as decisive?
— Without a doubt. Last year he scored 31 goals and this one, playing less, has scored more than any of our players. It is of another category. He is dangerous, but not only him. They have many things to watch out for. Surely, when they ask Francisco, he will say the same of ours.
— Girona are undefeated since their defeat in Vallecas, how have they improved?
— His defense numbers are spectacular. Considering that it is difficult to score a goal. It is not easy to reach him, but it was not easy with Leganés and we managed to hurt them. Let's see if we can repeat it.
— What message do you send to the fans?
— Thank you. I am convinced that those who go to Vallecas will help us and make things easier.

Photos from as.com