"Hopefully I know in a few weeks what it's like to have 20 Grand Slams"
Djokovic, world number one and big favorite for the title revaluation, gave his first press conference at Wimbledon two days after his debut against Draper.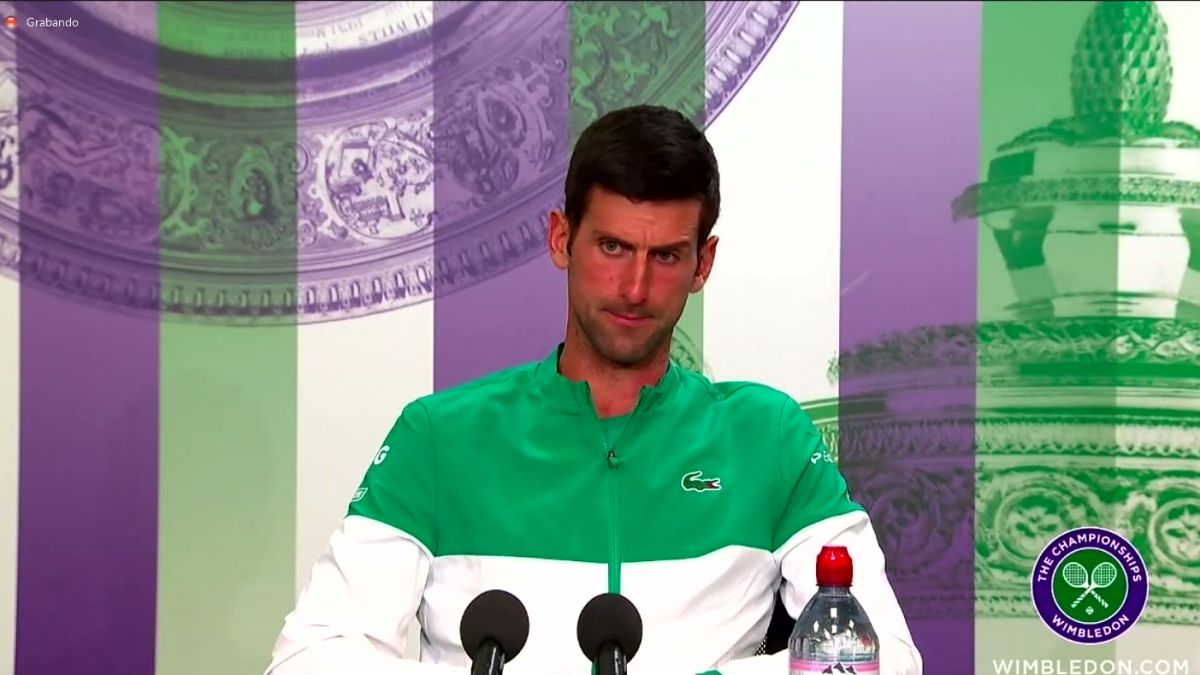 Calm and calm, with the confidence that comes from winning Roland Garros a few days ago, his second Grand Slam title of the season after the Australian Open, Novak Djokovic gave his first press conference at Wimbledon, two days before his debut against the British Jack Draper. The number one in the world and a great favorite to revalidate the title on British grass, the Serbian reiterated that his great objective is to win as many majors as possible. He is one of the 20 of Roger Federer and Rafa Nadal, with whom he can tie if he triumphs in three Sundays.
The bubble: "I have my team, three people, with me. That is what they have told us we are allowed to have, a player plus three. They are the only ones who are with me. Like everyone else, I am in the only official hotel. Not ideal. Obviously I don't like being in a bubble. It's not the first, and hopefully one of the last bubbles we'll have. At least we had good weather the two days I spent here in London. I still can. walk around the stadium a few days before the tournament. Not too crowded, allowing you to walk, get some fresh air. Once the tournament starts, I won't be able to do that. The movement restriction is not ideal, but it is what It is. It's the same for everyone. I've been feeling good. I've been hitting the ball well. Focusing on the championship and trying to get the most out of it. "
The 20 Grand Slams: "Well, I have 19 Grand Slams, so I know what the prospect is at 19. At 20, I don't know. Hopefully I can find out in a few weeks, but let's see. Grand Slams are the biggest motivation I have in right now, at this stage in my career. I want to try to get the most out of the Grand Slams. I'm trying to reach the top. I've done it throughout my career. I've been fortunate enough to play my best tennis when it mattered most I think Today I have to adjust my schedule a little more, to spend quality time with the family, which means a lot to me, reducing the number of tournaments, trying to adjust everything to be at my highest level in the Slams. This was my last year and a half, and so it will probably be the rest of my career in terms of tournament programming. The confidence level is quite high after winning both majors this year, playing very well at Roland Garros. That tournament took me away. a lot, I think, mentally, physically and emotionally tea. It also gave me an incredible amount of positive energy and confidence that created a wave that I am trying to sustain, so to speak. I did not allow myself, I could not allow myself, to enjoy that victory too much because four days after winning the title I was training on grass. I really didn't have much time to reflect on what happened in Paris. This is how it is. That is the tennis season and the tennis calendar. I turn the next page. Hopefully I can do as well here at Wimbledon as in 2018 and 2019. It has always been a dream tournament for me, when I was seven years old and dreamed of winning Wimbledon. It always gives me goose bumps walking on these courts and inspires me to play the best I can. "
Goals: "The biggest challenge and the biggest task is to always be present and stay in the moment regardless of the possibilities, the hypotheses and the various options that exist. There is always something at stake for me, probably also for Roger and Rafa. We have had very successful, especially at the Slams. Of course, I understand that people love to debate who is the greatest, who is going to have the most titles, etcetera, etcetera. But once I'm on the court, I try to lock myself in and try to exclude all distractions. I feel that over the years I managed to develop the mechanism that allows me to do that. Everyone has their own special ways of how to focus, how to focus, to direct, so to speak, the energy in what it matters more, which is the present moment. I have my own techniques, my own ways. They have worked so far, so I will try to continue to do so. Here at Wimbledon I particularly need to take it day by day and see how far have I gotten ".
First opponent: "I honestly don't know too much about Draper. I've seen him play a little bit at Queen's, where he beat Sinner. I actually practiced with Sinner yesterday, so I asked him a couple of questions about Draper's game. He's left-handed. I've seen him practice a bit today. I have to do my homework, talk to more players, watch some of the videos of his most recent matches. He's a local player. I'm sure he will have a lot of support, a lot of people behind him. him. It's the first match on center court, with virgin grass. Obviously, to arrive as a defending champion is always a very special feeling for me. But it can be very dangerous, very difficult to play against a home favorite, someone who doesn't he's got a lot to lose, a guy who beat some really good players last week at Queen's. I'm taking him very seriously. Hopefully I can prepare my best for that match and play well. "
Traditions: "There are many unique things about Wimbledon. One of them is obviously this tradition that the defending champion is the first to open the tournament on center court, on virgin grass, on Monday at 1:30 pm this You always know if you win at Wimbledon, next year you'll play there on Monday around 1:00. Walking to the center court at Wimbledon, no ads, no banners, it's all about tennis, all the focus is on the players and on the court. I find it very fascinating considering that we live in a very commercial and very material world today, that Wimbledon has managed to preserve its culture, its tradition, it is phenomenal. "

Photos from as.com