"If I could, I would sign Sergio Ramos for Barça"
The former Cameroonian footballer and ambassador for the Qatar World Cup told AS: "Messi is God and when you have a God you just have to admire him."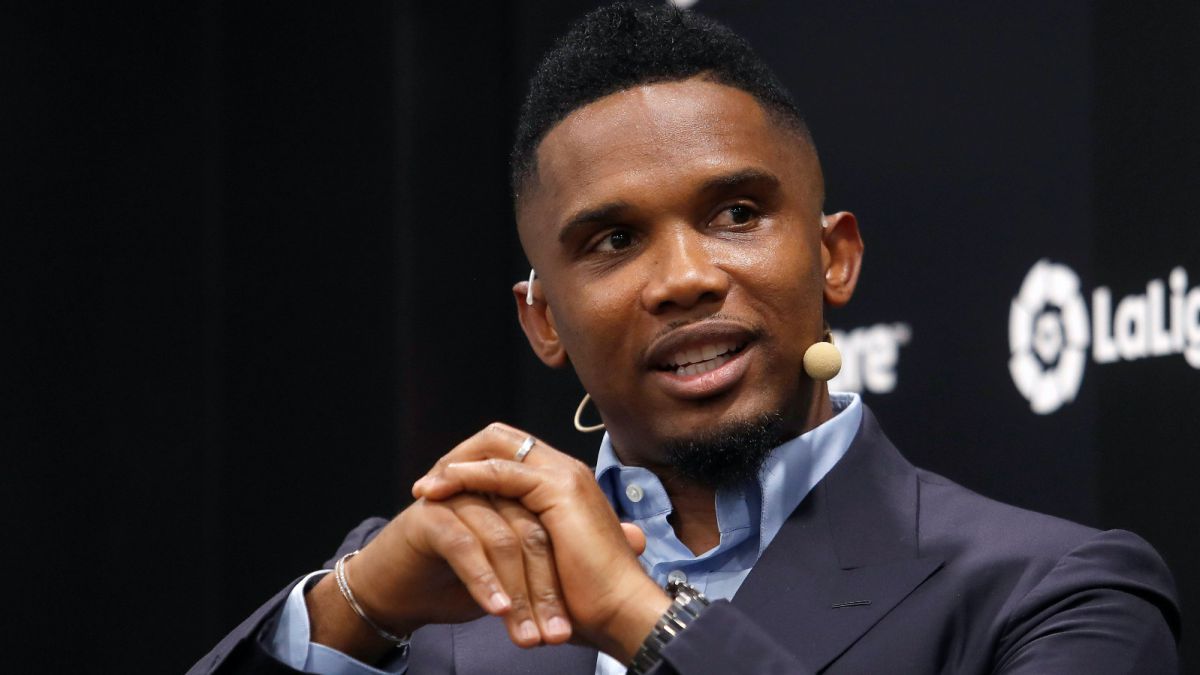 Samuel Eto'o, ambassador of the Qatar 2022 World Cup, has given an interview to AS in which he talks about the organization of the World Cup event and all the movements that are taking place in recent days in the world of football. In addition, he has spoken about Generation Amazing, a human and social legacy program to create sustainable development in communities around the world, using the power of sport. As for the future of Sergio Ramos, the former striker would not mind if he ended up at Barça or PSG.
What is Generation Amazing?
Here we are a large family of 725,000 people. Our goal is to reach a million by the World Cup. To have an impact in front of so many people. We speak of the language of football, which goes beyond politics. We have built soccer fields all over the world. We believe in it, we want children all over the world to be able to play.
Football is an integrating element ...
Football is amazing. Give the opportunity to everyone, without looking where it comes from. The only thing we want here is to make anyone happy by playing soccer.
How is the organization of the Qatar World Cup?
If FIFA allows us, at the end of this month we will already organize the World Cup (laughs). We are already prepared. We are very very advanced. I am happy because I have found people who think like me and look in the direction in which I look. Our infrastructures are at 95% .
Do you look like a coach?
I am happy and that is the most important thing. I can share great moments with great people. I have been living in Doha for over four years, where I have met some great people. This city gives me great opportunities. I get up, I go to work, in the afternoon I can go by boat, enjoy the beach, the food ... These are things that can only be lived here.
How are you looking at the European Championship?
I saw Spain as a favorite and I still see it, I love its idea of football. But we have to win. It is costing, but I believe in these guys and in Luis Enrique.
Do you think Mbappé will go to Madrid?
I do not know if he is going to go to Madrid, but I am a PSG fan, with that I will tell you everything.
In a similar situation is Sergio Ramos, who does not have a team ...
Hopefully Sergio will avenge PSG. If I could sign him for Barça, I would sign him. If I came to PSG, I will be happy and I know that it would help us win the Champions League that is costing us so much.
What is Messi going to do?
I know that Messi loves Barcelona, that he has no problems and that it is not a question of money. The only thing is the project, which has to be reliable and I know that Joan is doing it. He has to enjoy the time he has left, football owes it to him, not just Barça. He always gives us, he has to enjoy and win titles. Messi is God and when you have a God you just have to admire him.
What did you think of the Super League?
It's already solved and that's why I don't want to get too wet ...
Mourinho goes to Roma and Guardiola is close to winning the Champions League, how do you see them?
It hurt, I'm not going to lie, to see the one who gave me the opportunity to win in Italy to go to another team. But I know that he is happy and friendship is above all. I would have liked to see Mourinho at Inter again. In Rome I always wish you luck. He has to understand that no matter how much I love him, Inter will always go ahead for me.
Pep is marking an era in football, with his way of seeing it, which we all love. Winning titles or not also depends on the luck factor. What I like is that it imposes its ideas and, if one day I train, it is what I would like to do: impose my ideas and that others have to adapt.
But like Luis Aragonés none, does he maintain it?
What Pep does today, Luis did to us 23 years ago at Mallorca, it was incredible. We said, but what about this grandfather? (laughs) .
Photos from as.com