Haaland: moving with message
The German club has priced him 200 million euros, prohibitive for most of his suitors. Chelsea is coming. Madrid has to wait.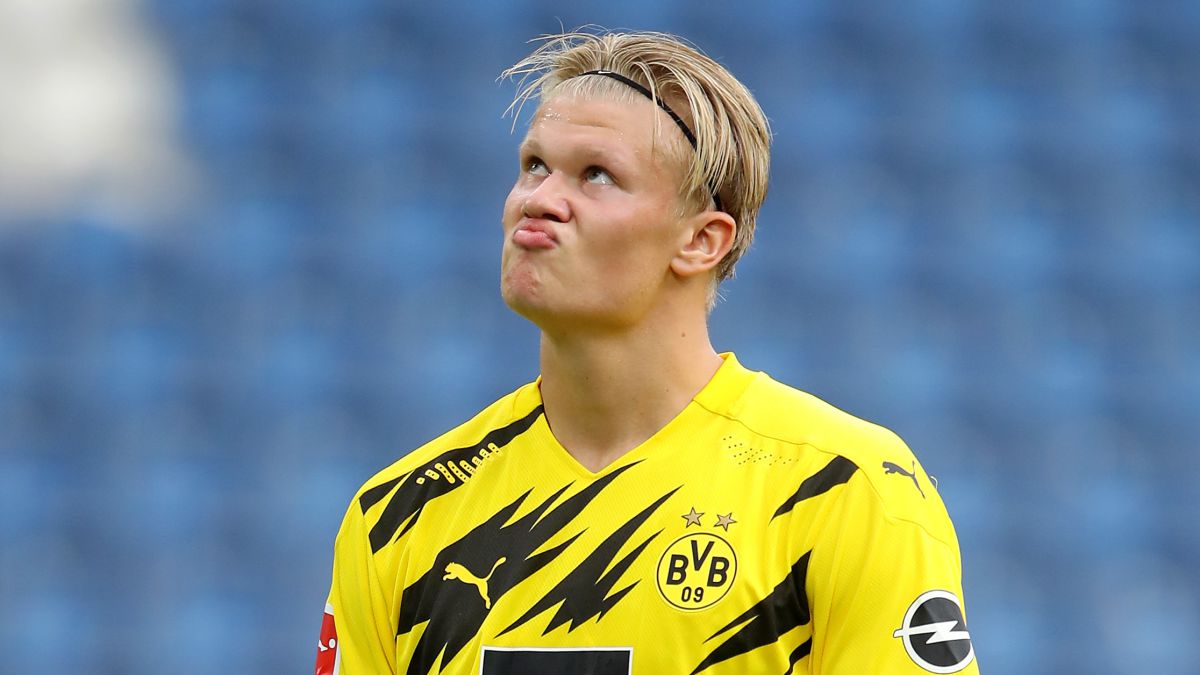 Erling Haaland has a dream that is known to his most intimate: to play one day for Real Madrid. But to see his goal fulfilled, he will have to wait at least until 2022. AS has already informed them that Borussia Dortmund has put a dissuasive price on the Norwegian player, 200 million euros, and more with the serious economic crisis generated by the pandemic. In fact, those 200 million exceed by 70 the 130 set by Transfermarkt. It's a fancy way of saying "I'm not selling it to you." That does not mean that the Chelsea of billionaire Abramovich has appeared on the scene threatening to approach that exorbitant figure: 180. In any case, the decision of the German club, already repeatedly expressed by its leaders, is not to sell this year its jewel Norway, and that nothing will be considered about his future until 2022 (he has three more years on his contract, until 2024) .
But AS offers one more detail that corroborates and reinforces the decision of the German club, since Haaland is the first to be aware that this summer he will not have to pack his bags. As AS learned, Haaland has changed address. He has left the house that he has lived in these last two years and has made the move… but to continue in Dortmund. The Nordic giant, who was concentrated with Norway these days ago in Marbella to play a friendly with Luxembourg (1-0, with a goal from Haaland to break a four-game streak with scoring with his team) and another with Greece (defeat by 1 -2, this time unmarked), was left without a Eurocup when he fell to Jovic's Serbia last October. Now his head is in the qualifying phase for the Qatar 2022 World Cup, which the Norwegian striker considers key to increasing his international showcase. That will be in September, so now he has gone on vacation to forget about everything that moves around him.
Haaland (41 goals in 41 games this season!) Assumes that he will not change his shirt now. Erling lived until now in the residential area of Hörde, next to Lake Fenix in Dortmund, near the Westfalkenpark, where the Signal Iduna Park is located, the impressive stadium of the Borussers. Now he has moved to a house further south of Dortmund, close to the Casino, in the residential area of Hohensyburg. He completed the move before leaving with Norway for his national team's stage in Marbella, which shows that the Nordic goalscorer's head is still living in the state capital of North Rhine-Westphalia.
Haaland, who will turn 21 on July 21, has agreed to stay at Borussia this year after completing his qualification for the next edition of the Champions League. Otherwise he would have asked to leave the 'yellow' club. Madrid already knows that with Haaland we have to wait until 2022. Mino Raiola, his agent, knows that within a year the conditions of departure for his jewel will be more favorable to undertake a transfer that may be historic. Madrid hopes, but does not despair ...
Photos from as.com