Haaland borders on utopia
To the refusal of Borussia to sell this summer, with a dissuasive price of 200 million, is now added the interest of Bayern for the summer of 2022.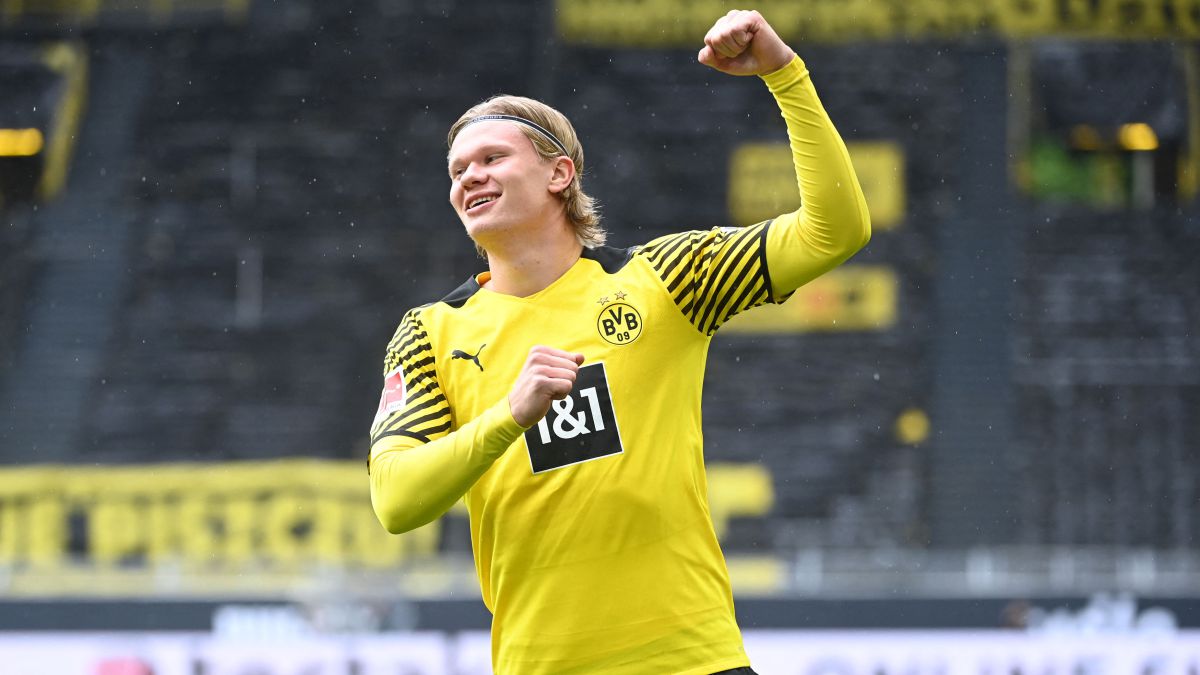 The future plans that Real Madrid has for Erling Haaland get even more complicated, if they weren't already difficult enough. The white club faces a moment of global crisis in the world of football that has decimated its accounts, the opposition of Borussia Dortmund to sell (for now) and the obligation to discuss the signing with Mino Raiola, Haaland's agent, with the one that the tuning within the club has never been the best thanks to the great commissions that the Italian usually demands in the operations of his represented. And now, to top it all, the great competitor that everyone feared appears in Germany, no matter how much he had insisted on transferring during the previous months that this was not his battle: Bayern Munich.
According to 'Bild', Bayern have chosen Haaland as the replacement for Robert Lewandowski, although not immediately: the chosen date is the summer of 2022, when they expect Borussia to agree to negotiate for the Norwegian. This summer, Dortmund already told Haaland's agent and his father that there was no transfer option; If the team does not reach the Champions League, the pressure could have become unbearable to access a sale, but finally Borussia finished fourth and Haaland will play another year in Dortmund.
Bild refers to a clause to leave in 2022 for a low price, although the information from AS, confirmed by the Haaland environment, is that such a clause does not exist; Yes, there is a verbal agreement with Borussia to facilitate his departure from January 2022, for a price that at the time was valued at around 75 million, although this amount will have grown in line with the player's progression. It is clear that in 2022 the competition to sign Haaland will be enormous, and the player's agent, Mino Raiola, has already warned in AS: "There will only be one chance to sign Haaland."
And that Bayern dedicated several moments during the 2020-21 academic year to specify that it was not going to get into the battle for Haaland, especially in the mouth of its president, Karl-Heinz Rummenigge: "The only thing I can say is that we have to the best footballer in the world in this position. Robert Lewandowski has a contract until 2023 and I am convinced that, taking into account his professionalism, how he trains and takes care of his body, it will not be his end here. " Although it is true that Rummenigge always conditioned those intentions to his permanence in the Bayern presidency, a position he will not occupy since June 30, handing over the witness to Oliver Kahn. Therefore, the intentions of the new leadership may be radically opposite.
First Mbappé, then Haaland
Madrid's intentions are clear, both for this summer and for the next: the idea is to address the signing of Mbappé in the current market, provided that PSG opens up to negotiate after the forward requests his desire to leave ( According to RMC, such a request has already existed), and leave Haaland for 2022, when its price will be clearly lower (this year, as published by AS, Dortmund has priced it at a deterrent 200 million euros, unattainable in this economic context in times of coronavirus). Madrid trusts in Haaland's wishes to play in white, in Raiola's to maintain good relations with Madrid and in the fluid communication that exists between Florentino Pérez and Borussia president Hans-Joaquim Watzke, who are joined by a friendship that lasts for several years.Bayern, yes, depends on the departure of Lewandowski in the summer of 2022 to make room for Haaland, both in the squad and in the salary scale. Precisely the Pole has always shown interest in landing at Madrid, trying several times without success (he signed as an agent the Israeli Pini Zahavi to achieve it, but Bayern refused); If Haaland is impossible in 2022 for choosing to go to Bayern, Madrid already knows that the Pole will be an option, although he would not be a future signing at all: Lewandowski will be 33 years old in August, so in 2022 he will touch 34. His Numbers continue to justify him as a first-rate striker (48 goals in 40 games this season with Bayern), but the years go by and Madrid is more focused on building the team that will bear fruit throughout the decade.

Photos from as.com