Garbajosa: "It is not an easy day, but it is the day of the comeback"
The president recognizes that chance, the luck they have had on other occasions, did not accompany them this time, but believes that the National Team will recover from this setback.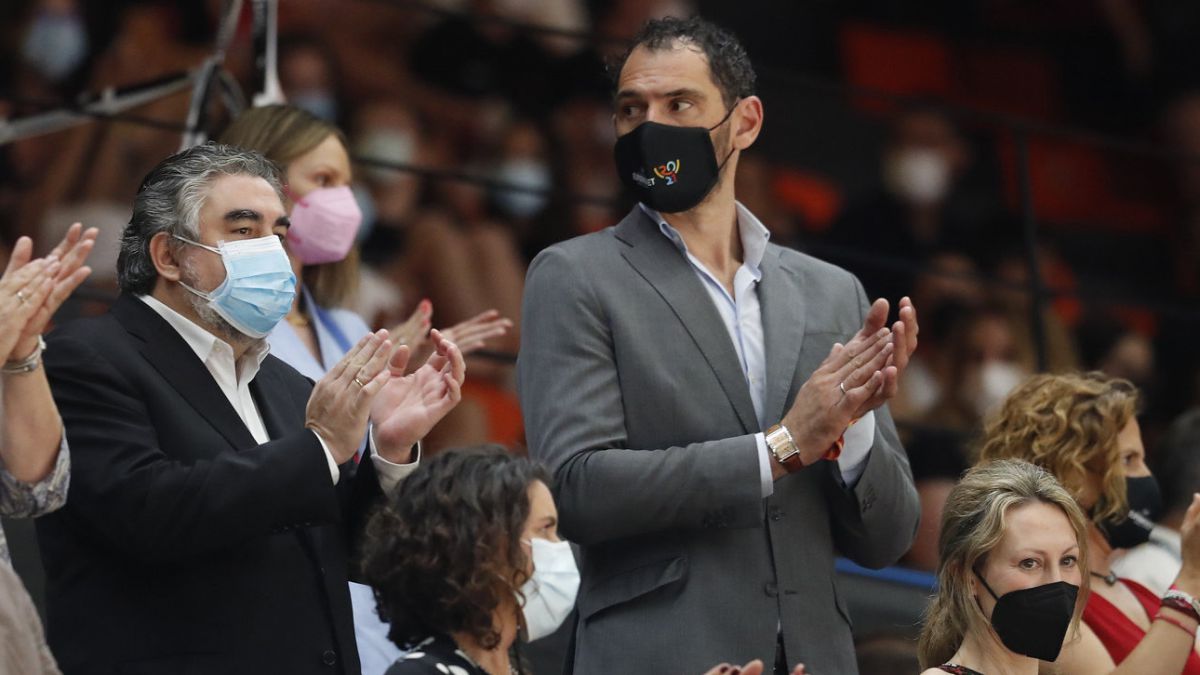 Jorge Garbajosa, president of the FEB, acknowledged that it was not "an easy day", after the team's setback in the quarterfinals against Serbia (71-64), but that it was "the day of the comeback". "Sport is wonderful, but sometimes it has that cruel side. This team has made us enjoy many years and it will continue to do so. On Wednesday the coin turned tails. In a first analysis, you feel sadness and anger, but turning it all over again. At night you realize that you cannot ask for more in terms of effort, concentration, involvement ... ".
The president adds that "it's time to look forward." "The nearest future passes through Saturday. It is a game of vital importance. And then look to the future knowing that this is a stumble, that it can happen. The anger of the team makes me see that this goes beyond a result. The road continues. We have enjoyed a full Fonteta, with the fans who allow us, and I am convinced that we will experience it on Saturday as well. On Sunday we will not be there, but there will be a great women's basketball party ".
Garbajosa has a message for the players and fans. "I want to thank you all, because we are living a great and precious experience. And on the other hand I invite you to continue enjoying it. It is hard, it is not easy, but Saturday can be a great day. We play a World Cup and we have to think in them, that everything they have done has continuity next year ".
The National Team has lost two games in this Eurobasket, in its debut by one point against Belarus (51-52) and in overtime against Serbia. "When you dedicate yourself to this, you know what happens. The details make the difference. That night we thought a thousand times about what we could have done better, where we could have been wrong ... That point of chance, luck, that has accompanied us many years, he did not. Ouviña is my right eye for his commitment, his quality, his ability ... but his free kick did not enter, and that is something that can happen, and he sends you to extra time. The work is excellent good. "
Garbajosa hopes that on Saturday the atmosphere of other games will be repeated. "On Sunday there were 2,900 followers, but it seemed 29,000 because of the communion that took place and that is what we want to continue living. This is a city of basketball, without gender. I hope they live a Saturday full of basketball."
Alba Torrens missed this championship after testing positive five days before its start. In fourth, she was in the stands supporting her teammates. "I had dinner with her the day before. Alba has been stuck in a hotel for 12 days, with an elliptical and some treadmills to do some exercise for the Games. She had that feeling of a caged lion and it's hard. She could have left to her house to recover and she has stayed here, following the team, committed to the FEB and preparing for the Games. They sound far away, but they are there. This continues ".
Photos from as.com