Fuenla gives his quarry a 'magical' end of the campaign
The Fernando Torres team is taking advantage of this small 'break' of the first team for vacations to encourage and support their emerging quarry.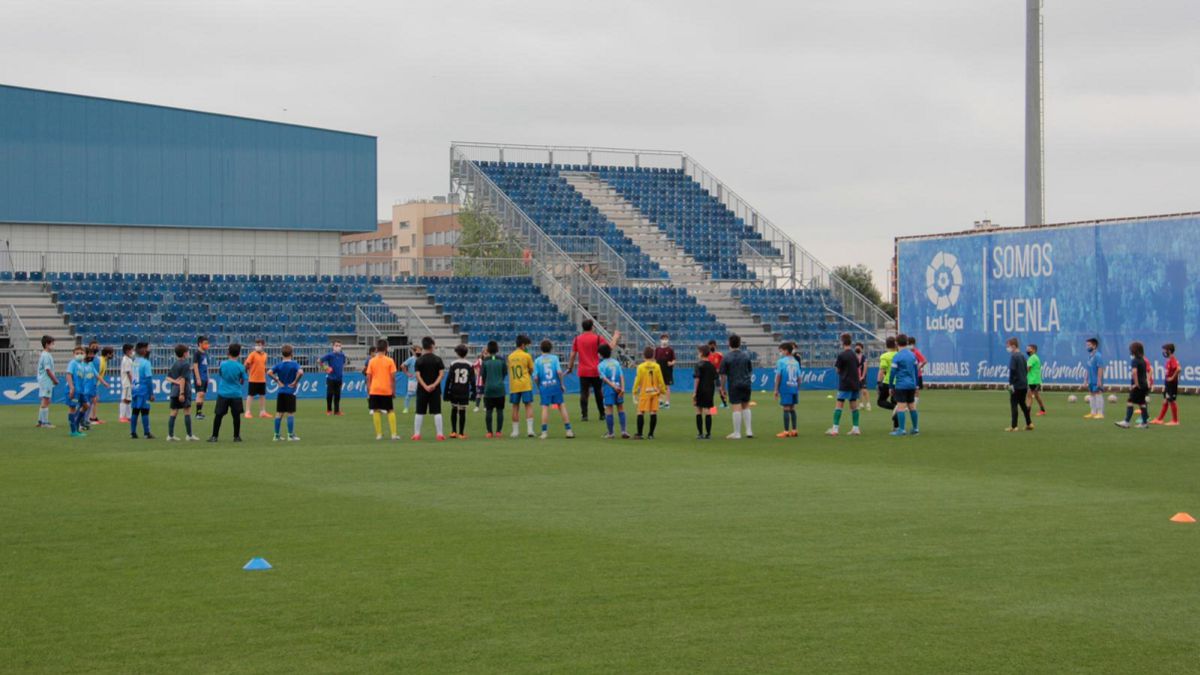 Fuenlabrada continues to bet on giving life to a quarry that struggles to be important for the team. From the youngest to the oldest, the 'Nursery', the term by which the Azulona quarry is known, has the support of the club as has been made clear in recent days with certain activities: tests at the Fernando Torres, the visit of one of the club's stars to one of the homegrown players and much more.
A few days ago, Fuenlabrada opened the doors of its Fernando Torres stadium so that all those who wanted to be part of its quarry could take the corresponding tests in these facilities, the best ones to make the little ones dream. Around 300 boys and girls participated in these activities on June 5 and 6. In the same way as those children, Héctor Soto, Benjamin B player and top scorer from Vivero with 41 goals, got excited a while ago. Now you can say that Nteka, the star of the first team, congratulated him on his good season and gave him a ball signed by the entire squad.
It happens that from that quarry, without still much weight in Spain, some names have emerged that now compete in the First Division, such as Morales and Marcos Mauro. This year, the Fuenlabrada youth players have had in Damián Cáceres and David Amigo the example that they can debut with the first team. The values are worked from below
In the Azulona quarry the famous 'fair play' is worked from the smallest category. The footballer Alejandro and the coach Miguel, from Alevín B, have been a good example of this with their beautiful history. The young player purposely missed a penalty in the team's last tournament as the referee sanctioned a maximum penalty that was not. "As soon as I saw the penalty, I knew it was not a maximum penalty. I called Alejandro and said that the only way to fix it was to miss it and thus play fair," said the coach. However, the story does not stop there. If Alejandro had scored that penalty, the youngster B Fuenlabreño would have gone to the semifinals of the tournament. "I wouldn't change what I did," said Alejandro.
Photos from as.com