Francisco: "We are not going to stop being ambitious, we will try to win"
The Girona coach trusts the good work of his team in Vallecas. Urge the group to enjoy themselves, but they know they must be competitive. Stuani will be high.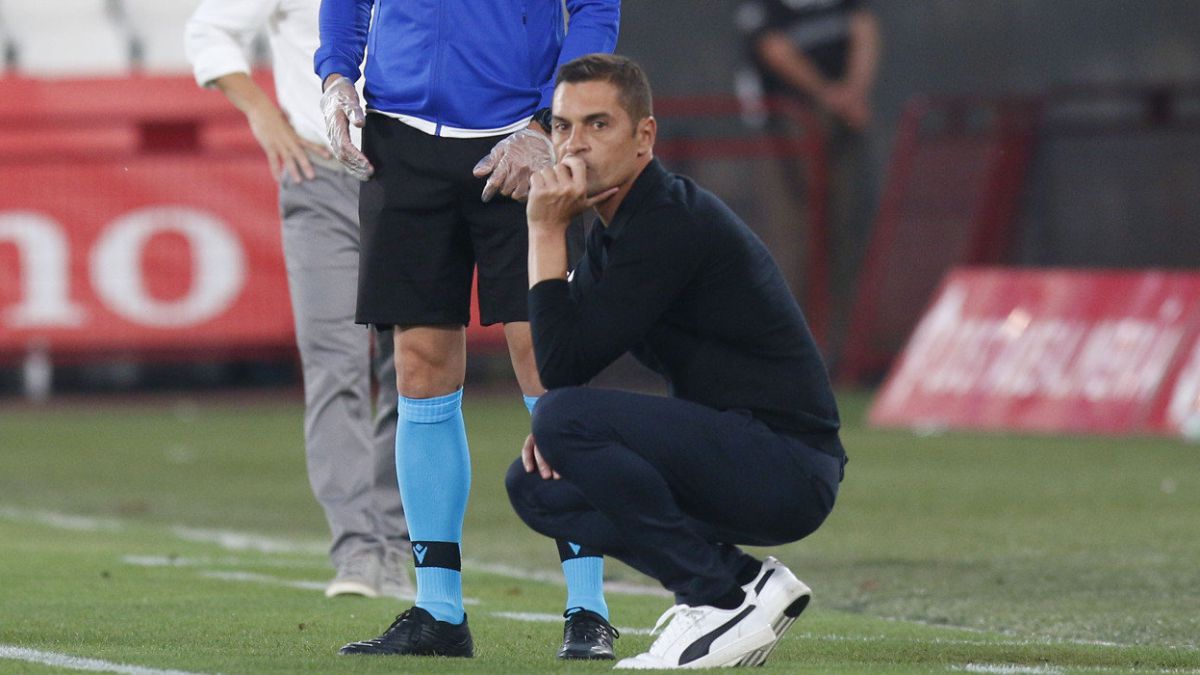 Girona is already counting the hours to start the playoff final against Rayo. Vallecas awaits them for the first leg match and the sensations with which the rojiblanco group will travel are very good. After a great semifinal against Almería (3-0), Francisco's men have won the fourth playoff final for promotion to First Division in the club's history. In the previous three, against Almería (2012-13), Osasuna (2015-16) and Elche (2019-20), they had a cross and now they want the fourth to be the charm. Francisco, who praised the work, involvement and enthusiasm of his players, has offered this Friday at noon the press conference prior to Sunday's duel and has been clear: "We have to want to experience something good because we deserve to have gotten here. we are, we are going for it. We are very excited, like our people, and very motivated. We will do our best. There is euphoria and humility ".
In Girona there is a playoff atmosphere and the fans dream of seeing their team again, two years later, in the First Division. "It is an important tie and we are facing a first-rate Rayo, they have reached the playoff very strong. They have tradition, but we also have a great team and a history," he commented to later verify that "we are not going to stop being ambitious and try to win the game. You will have to have balance and it will be important to score a goal. " What kind of match are you looking forward to? "Both teams are committed to being vertical and offensive. We are both going to think about the opposite goal because we have enough players to do so." In the last precedent, Rayo beat Girona 2-1 in Vallecas, but Francisco wanted to look on the positive side: "In that game we did a lot of things well, with scoring opportunities and we got to get ahead. I was happy with that duel despite not to score. On Sunday we have the opportunity to feel proud of the work done so far knowing that we are facing one of the best teams in Second Division ".
These playoff matches have, perhaps, an important emotional component and knowing how to control your nerves would be vital. This was confirmed by Francisco: "The mental issue is important, but also the preparation of the game. We have to be responsible in what we have to do and the good thing is that we feel good with any player who is on the field." Facing this first leg match against Rayo, Francisco already knows that, because of the FIFA Virus, he will not be able to count on Yoel Bárcenas (he is with Panama), but he recovers pieces. Valery, Pablo Moreno and Stuani return after injury. The return of the Uruguayan striker is exciting because with him, Girona is more fearsome and, in addition, they have Rayo as their favorite victim because they have scored 12 goals. "We don't have anyone with problems, everyone is eager to play and available. We arrived well and no one doubts that having Stuani is a luxury for any second-team team, although they have had a difficult season." Finally, he spoke of Pulido Santana. The referee who will direct the duel in Vallecas was already chosen for the league duel and the rojiblanco team did not give two penalties in favor: "We are not worried. He is a first level referee and he will want to do it well. We are calm in this regard" , ended
Photos from as.com