Felipe Reyes says goodbye through tears: "I left my soul"
The captain says goodbye in an act with Florentino, who has remembered him as one of his first great signings and "one of the best Spaniards of all time".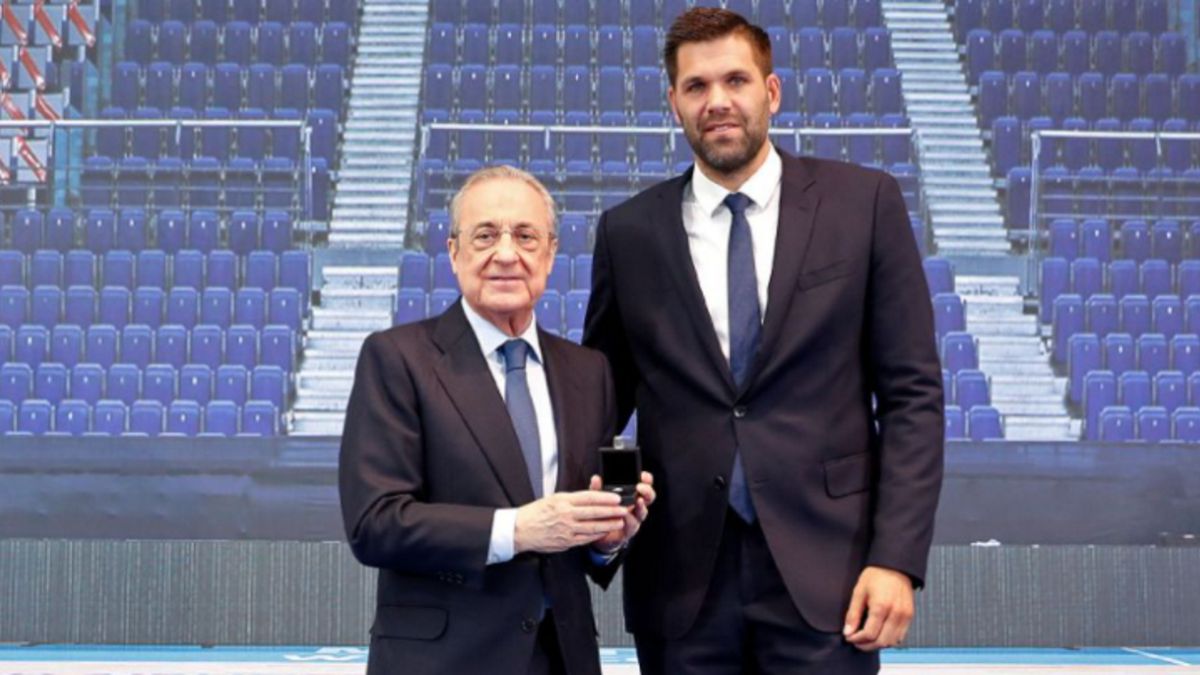 Felipe Reyes said goodbye. At an event at the Real Madrid Sports City, accompanied by his family, friends, the club's staff, led by Florentino Pérez, and several of his teammates at Real Madrid. Sergio Rodríguez also attended, in a nice detail. This Thursday, 17 years after arriving at the white club, one of the most important players in the history of Spanish basketball has fired, leaving behind 10 medals and 236 caps, in addition to 24 titles (23 with Madrid and 1 with Estudiantes. , the 2000 Cup) .
Emotion seized the player, who already had a few tears as soon as the act began with the video they prepared for him reviewing the best of his career. His wife shook his hand, with their two children by their side seeing all that their father had achieved. Once up on the stage, thanks to all who have helped him get here, starting with his parents. The memory of his deceased father was perhaps the most difficult moment: "I know you would have loved to be here."Before, Florentino Pérez thanked the services of an unrepeatable, unique player: "That difficult day has come in which a lot of memories will gather. You were one of my first big signings in basketball. Beyond triumphs, titles and conquests there is something more special. You have been one of the greatest European references. How difficult it will be for our fans not to see you in the decisive minutes giving everything for our team. But your memory will always be there, because you are already part of the legend. "
With Pablo Laso among those present, as well as Rudy Fernández, Usman Garuba, Carlos Alocén and the aforementioned Sergio Rodríguez, Florentino recalled what he has built together with them and with so many other players with whom he has shared an impressive career: "All They know what you have done to make their dreams and dreams come true. You have built a legacy to raise the myth of this club. We are dealing with one of the best Spanish players of all time and, by the way, an exceptional human being who I hope will soon have the tribute he deserves with a full court ".
Felipe held out for another year to try to do just that, retire in front of a crowded WiZink Center. The club had a detail with him for the services provided and renewed him for another year, but the pandemic has not allowed it. However, Felipe has been serene, facing a natural moment in the life of any athlete: "How difficult! I get the moment that no athlete wants to come. I am leaving after leaving my soul on the court, I feel that an unforgettable stage of my life is ending. I have been lucky enough to play for the two great teams in my city and I am very proud to have worn my country's shirt. My idyll with basketball began when I was 10 years old, when they called me from Estudiantes for a friendly on the courts of the boarding school. That changed my life. I made my debut in the ACB in 1998 and 23 years have passed, but my passion for basketball remains intact. My head and my body tell me that I can still give a little more, but I think the time has come to put an end to it. Basketball will continue in my life, but the top priority will now be my family. Basketball has given me the love of my life, my wife, Kirenia (Cabrera), who has never failed me and to whom I thank for the wonderful family that I have. "
From now on, his "efforts will focus" on his most loved ones, whom he has thanked for their support and who have endured him "through good times and bad." And he also thanked the president for making his move to Madrid come true in 2004, "the best team in the world and the best professional decision" of his life.
"I have more than fulfilled my dreams"
After the beautiful tribute paid by the club, Felipe Reyes attended, in a telematic press conference, the media, which he thanked for the treatment received in these more than two decades. Juan Carlos Sánchez, the director of merengue basketball, introduced him like this: "Faith, sacrifice and fighting spirit, which laid the foundations for the winning Madrid. One of the select few leaves, you will always have the doors of your house open, of Real Madrid ".
Felipe Reyes retires after 17 seasons in white, 16 as captain. "I never thought I'd be wearing this shirt for so long. I hope I have set an example, I am satisfied ". Basketball has rewarded him with "many joys, but the most important thing is the family." "I thought that today would be a day in which I was not going to get so excited, because my retirement had been very assumed for a long time. But you see your family, friends, colleagues and… it is inevitable. "
He has lacked the climax, having said goodbye to the fans, although the club has already said that that day will come. The pivot, however, recognizes that when he heard his name chanting to the stands in the first game of the final against Barça (he was in bed watching it on television after his positive for coronavirus) he was moved: "I almost came to tears ".
Gone is a giant pile of special moments on and off the pitch for 23 years: "I remember how we came together after the losses, for example, after losing to Panathinaikos in the first game of the Euroleague playoff in 2018, how we got together at the hotel and made a team and pineapple to overcome the tie (and win the Tenth). The semifinal against Argentina in the 2006 World Cup, Pau Gasol's injury and what we experienced in the hotel that night, the concentrations with the National Team getting into each other to have a laugh, the card games ... The memory of the Olympic village in 2008, when we made Ricky Rubio go to McDonald's to eat well… Very fun nights where we have enjoyed a lot, in which a chemistry is created that is reflected on the field is brought to mind. Also in Madrid, with fantastic teammates from different cultures and countries who have helped me a lot. It has been 16 years as a captain very easy to get along with. I have not forgotten either the fish cart, the people who cannot be seen but who work so that we are well all year round. Who wouldn't like to go to work in an environment like the one I've had in Madrid? "
Felipe remembers teammates and rivals, the most emblematic? "I have had many, my career has been so long in the ACB that many of them went to the NBA or other leagues. But I remember my clashes with Luis Scola, there was a lot of rivalry, we wanted the best for our teams, but always respecting each other and with camaraderie. Also the rivalry with my teammates from the junior golds in lower categories before we were friends. "
A goodbye in which he has felt the respect of all his rivals, including the fans, with a detail that touched his heart in the Malaga Cup in February 2020, just before the pandemic broke out and that was the last with audience: "That all the hobbies gave me an ovation was a great pride, an incredible and very emotional moment. I think about that and I get excited, having been a rival for many of those teams. I want people to keep that I have been a fighter, to remember me as a humble and hard-working person, only with that I am happy. The love and respect of the fans, that is what I take ".
He would like to continue linked to basketball and teach the youngest: "I would love to continue contributing my grain of sand, that idea calls me a lot. Real Madrid is my home, I am passionate about this club and there is nothing that would make me happier than being able to work here with young people, but this is not the time to talk about that. Last season was going to be the last, but thanks to Madrid and Juan Carlos Sánchez I have been able to continue another year. I wanted to say goodbye to the fans, but due to the coronavirus I could not. I hope that in a near moment I can do it. "
A withdrawal that had no turning back: "I was mentally saturated and needed to give priority to the family." Nor did he consider postponing the goodbye to continue playing for another team and thus extend the era of the golden juniors that is coming to an end. Only Pau Gasol and Carlos Cabezas remain active: "The end is near, that day should come. We have enjoyed basketball for many years at the highest level. I was planning to retire at 35 and I am 41, and I have been able to do it in the club of my life after 17 seasons. I have more than fulfilled my dreams. "
Photos from as.com