"I can't extract my full potential here and I'm desperate"
Maverick denies the information about his break with Yamaha, but then leaves a speech that sounds like goodbye after finishing second at Assen.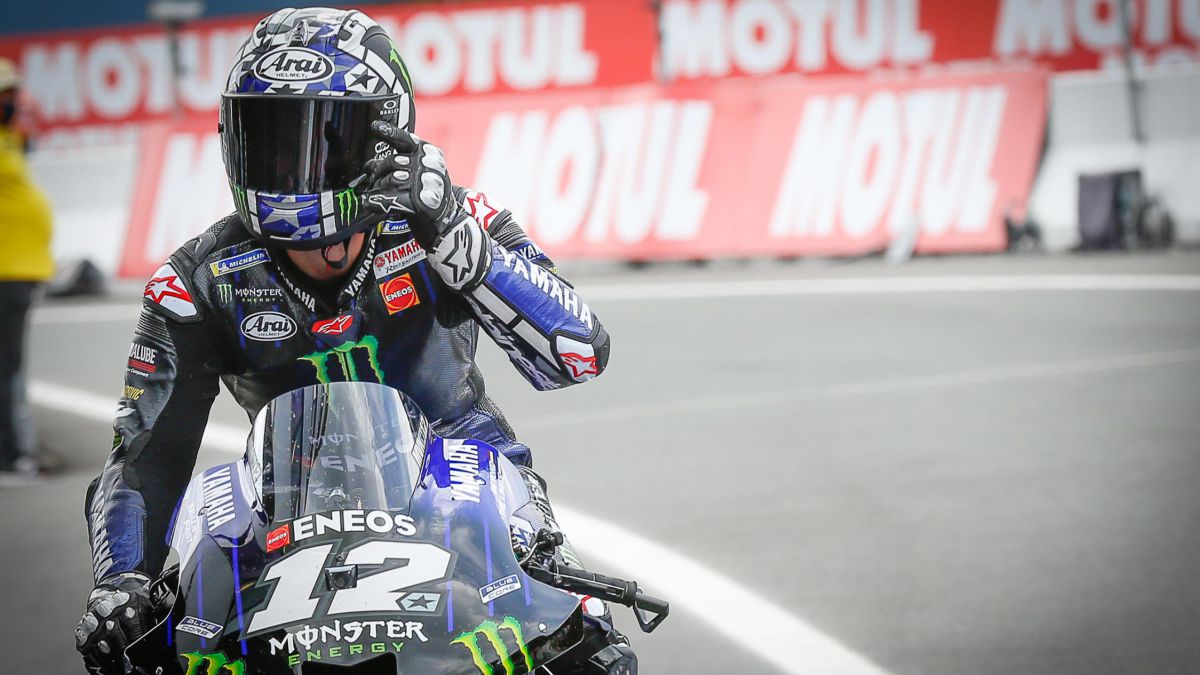 Maverick Viñales denies the information about his break with Yamaha and goes to Aprilia, but then leaves a speech that sounds like goodbye after finishing second at Assen. On the TV he also said that he had had "a problem with the clutch at the start, as if it were burned out", and that this cost him the race.
-He opted for the soft forward, but it cost him a lot at first ...
-With our motorcycle it is difficult for us to overtake. I was behind Nakagami and it was impossible to overtake. I destroyed the tire behind them and when I passed him I was able to set my pace, but Fabio was already outstanding. At the end of the race we were fast and this podium was important.
-Expected to win.
-I am not disappointed because I did not win, but because I am not able to reach my full potential. That's why I got angry at the Sachsenring. On a technical level there are many mistakes and I am not able to give my best. At Assen I knew I could do my best and I didn't touch the bike. We could have gone faster, but I didn't want to take more risks, the second is good and we took a lot of points home.
-Anything to say about the rumors that you are leaving Yamaha for Aprilia?
-I have something to say. I read a tweet last night and I was wrong. What is clear is that here I cannot extract my potential and I have to find my way in life. I have to be able to find something that gives me the opportunity to do my best every lap and every race.
-Do you deny these rumors then?
-Yes, I deny them.
-Things are difficult in the team, how is the mood in the box?
-Everything is going super well.
-Can you confirm that next year you will race with Yamaha?
-All I want to do is give my full potential. It is the only thing.
-What happened at the start with Fabio?
-Fabio crossed and I had to cut gas at the exit and that made me put fourth. But that's racing for me is not an excuse. Then I could not overtake Nakagami and that was the big problem of the race, because if it could have happened it would have been another race.
-Your goal is to find a bike that you can give your best every race, don't you have it at Yamaha?
No, because we have many problems. But I keep them to myself.
-What is missing to be able to beat the Ducati?
-It is difficult to overtake at the entrances of the curves.
-The chances of him staying at Yamaha are more or less than 50%?
-It is very difficult to answer. I cannot give you a clear answer. All I can say is that I cannot extract my full potential here. I'm desperate. There are many races in which I know I have potential and I cannot show it. Here at Assen we have been able to do something better and I hope that in Austria we can too.
-Zarco experienced a similar situation at KTM and terminated the contract, it helped him. Do you think it can help you too?
-It is difficult to benefit from such a situation. They are just difficulties. I start to think that when I get to a GP it becomes a nightmare. I've been hearing the same comments for three years, so I stick to the same thing. I want to get to a career to be able to extract all my potential and currently I arrive and think about what problems I am going to have. Zarco did it like that, but I'm not going to follow what any pilot did, just my feelings. In Germany I wanted to go home on Friday, because it was maddening. I tried to explain everything but we were not improving. Here, thank God, there was grip and the track was going well, but I'm still far from my maximum potential.
-Can the summer break help?
-We have been racing for many weeks in a row, so I will have a month off to be with my baby and my family. I want to relax for at least a week, and then train hard to get to the top of August.
-Do you think the calendar is already very demanding?
-It is always very good to discover new places and new circuits. I love to compete and one way is to reduce the test days. I do not have too many problems to compete in more circuits because of my physical form.
-What happened on Friday afternoon? Why didn't you speak to the press that day?
-I want to talk to the press, but we decided it with the team after the Sachsenring results, so as not to say anything bad. The Sachsenring result was very bad and disrespectful for me. I had never been in that situation, it made me think a lot and accelerate many things that I had in mind.
-Ducati tried to sign you in the past and Yamaha Japan put a lot of interest in keeping you.
-I have not received messages from Yamaha Japan. But I have a very good relationship with them, I think they are fantastic, they have always given me a smile and they have been very good to me. We have put a lot of enthusiasm into this project. When I renewed with them in 2020, I told them that I was not going to give up and that I did not know why I was not able to give more with this bike. But they renewed me again for two years. Now I don't expect anything from anyone. I have a lot of respect for Yamaha because they have invested a lot in me, but I have not been able to go faster and be more consistent. Now I am thinking of myself and all I can say to Yamaha is "thank you for the opportunities" .
-More disappointed by the technical or human part?
-More for the technical part. The human factor has gone well. I do not have anything bad to say. But on a technical level I have said it many times. I really appreciate all the Yamaha staff, but as I said before, Germany was very painful for me.
Photos from as.com