Azcona shines at the premiere of Pure ETCR in Vallelunga
The Basque prevailed in the premiere of the electric touring car championship in Italy by winning all the tests in his group with the Cupra.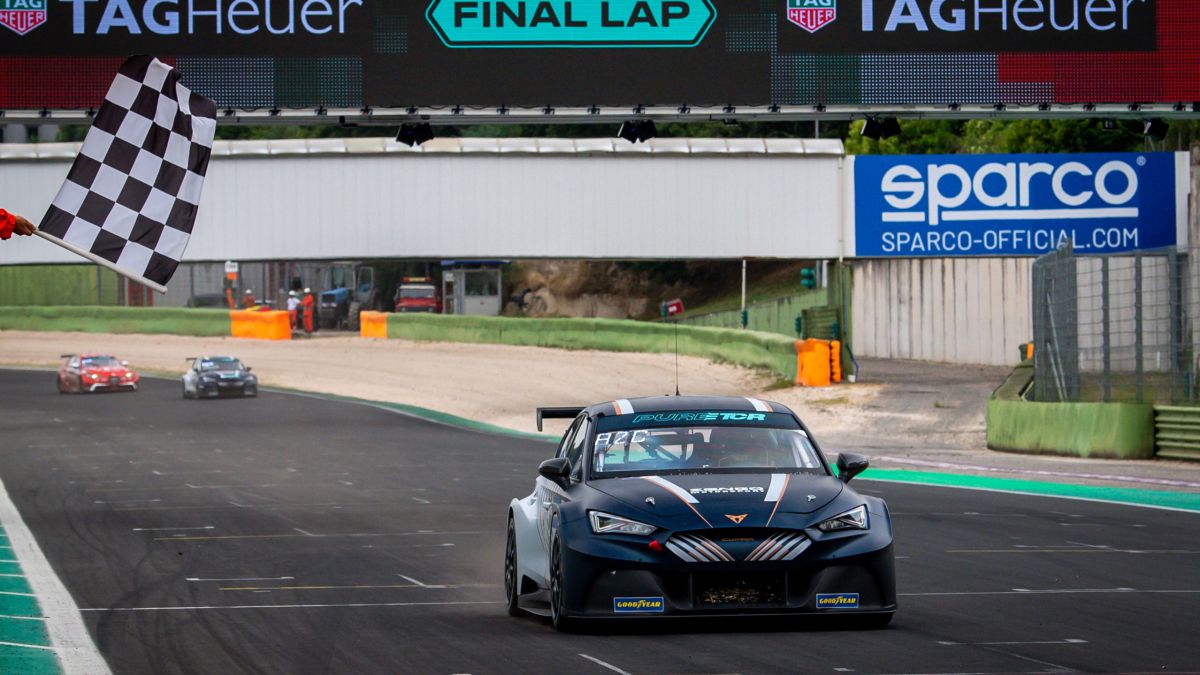 That the future of mobility is electric is beyond dispute and motor racing, as a reflection of its industry, is gradually adapting to green energy. The single-seaters have their electric version with Formula E, the off-road with Extreme E, rallies have already premiered in Germany, Audi will race the Dakar with a hybrid and passenger cars are also on trend with Pure ETCR. This new championship was presented in February 2020 in Paris, where AS was, and it premiered this weekend in Vallelunga (Italy) ... with a Spanish victory.
Y twice, because it was led by a Spanish driver, Mikel Azcona, with a Spanish brand, Cupra. This contest, which could be classified as the 'electric brother' of the WTCR (the World Touring Car), is made up of three teams (Hyundai and Alfa Romeo are the others) with two cars and four drivers each. Azcona, who shares his with Mattias Ekstrom, is not the only Spaniard in the championship, as Jordi Gené (Marc's brother) is also part of the Zengo Motorsport Cupra team.
The format is peculiar. After a free practice on Friday, the twelve drivers are divided into two groups of six by a draw and will thus be paired until the end. Each group faces each test separately, and on Saturday there are two: the first is a 15-minute three against three (two per group) and the second, a two against two of 12 minutes (three per group). On Sunday, it is more normal: a qualifying at maximum power of 500 kW (670 hp) and a race of the six cars in the group of 20 minutes, the most valuable of the weekend.
Because Azcona won all the tests in his group, A, and the last race he did after leaving the last one due to suffering a puncture in qualifying. "We made history by getting to the first Pure ETCR weekend and winning it, it was really difficult to start with five fast cars in front of me. The Cupra has been fast all weekend and the team has done a great job. It's a form. excellent to start the season ", says the Basque, crowned as the first King of the Weekend (King of the weekend) in the premiere of Pure ETCR.
Classification after the first round of Vallelunga
Photos from as.com