Ancelotti has his trident
The Italian coach will have to compose his attack with Benzema, Bale and Hazard while waiting for what happens with the desired arrival of Mbappé.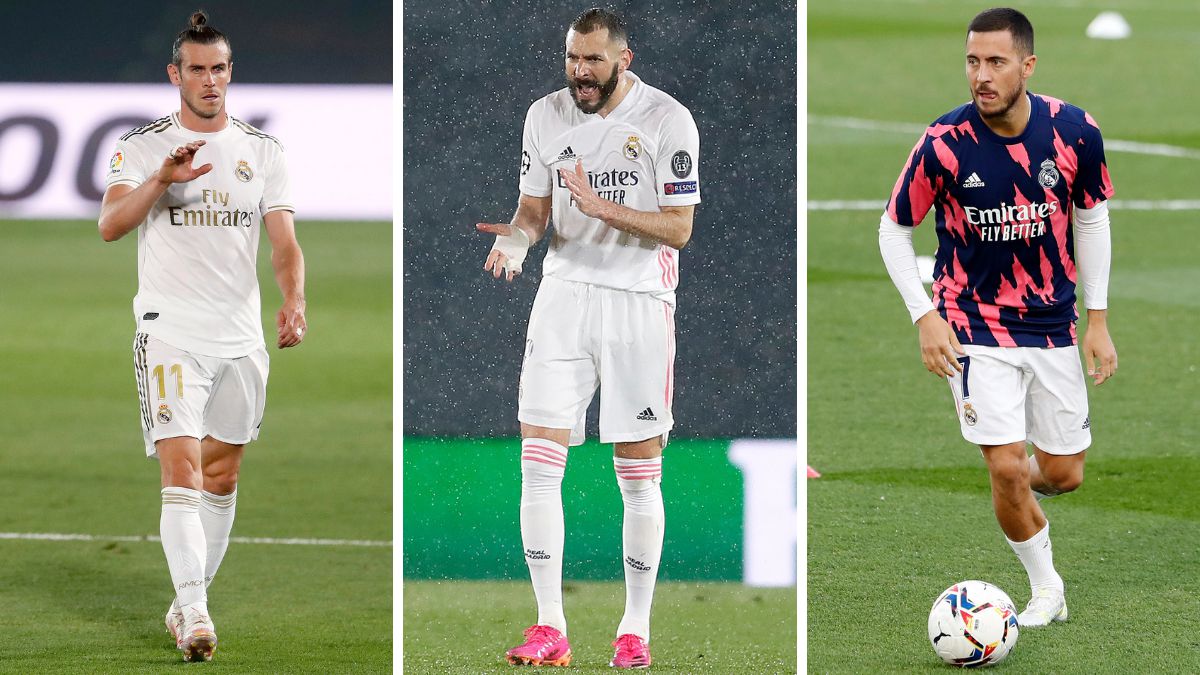 From C to H. Carlo Ancelotti has the new trident of his second stage at Real Madrid with just one letter change. The C for Cristiano Ronaldo by the H for Hazard. Eden will make up, along with Benzema and Bale, the Italian coach's attack hat-trick. At the expense of what happens to Mbappé, the coach will face the challenge of finally making the Belgian stand out at Real Madrid and the Welshman once again showing the best version of himself. The one that is giving with Wales in the Eurocopa and the one that already showed during the previous Ancelotti project.
Bale's best season as a Real Madrid player was that of his signing for the white club, which also coincided with the arrival of coach. The Briton scored 22 goals, a figure that failed to reach his next six years at Madrid. With the Italian, in 92 games, he participated in 67 white goals (39 goals and 28 assists), only two less than those he achieved in the 110 games he played with Zidane (46 goals and 23 goals). While with Carlo his numbers were constant both seasons, with the French they are concentrated in 17-18, in which he put the icing on the cake with his Chilean goal against Liverpool in the final of the Thirteenth in Kiev. In his second year, Ancelotti made Bale play more than in any other year with Madrid: 48 games of which 46 were as a starter in 14-15. Weighed down by his recurring injuries, Bale has only managed to exceed the barrier of 3,000 minutes played in Ancelotti's two years: 3,302 in 13-14 and 4,041 in 14-15, according to data from BeSoccer Pro. The Welshman spoke of his reunion with the transalpine coach this Saturday in the Italy-Wales preview of the Eurocup: "I have no other choice, it will be the Madrid coach and I am a Madrid player (laughs). What I can say is that I have a great relationship with him and I know he will do very well at Madrid ".
If with Bale he knows what to expect and what he can get out of the Welshman, he will have to discover Hazard. Between his poor performance when he has been healthy and the constant injuries that have prevented him from having his continuity, the Belgian has barely allowed his class to be seen in his first two years as a Real Madrid player. Five goals and six assists in 33 games are his poor baggage thus far. Ancelotti takes on the challenge: "He is a top player. He has not yet squeezed his full potential, but he is going to do it because he wants to. When one is motivated ... This could be the right year to squeeze his full potential" coach, about the Belgian, in his presentation.
While in bands you will find two players in the doldrums, at the tip Ancelotti has a Benzema in one of the best moments of his career, if not the best. The Frenchman comes from reaching or touching 30 goals in the last three seasons (30 in 18-19, 27 in 19-20 and 30 in 20-21). The coach thus valued their reunion. "I'm happy to train Benzema again. He has improved a lot, he has more responsibility," he said, while demanding, half jokingly, half seriously, that "Benzema has to score 50 goals, not 30." In a few weeks, the challenge begins.

Photos from as.com