"I am not in conditions to dispute the general of the Tour"
The Colombian rider from Arkéa-Samsic confessed that he is going to fight for stage victories and not for the yellow jersey. "I don't want to get people excited."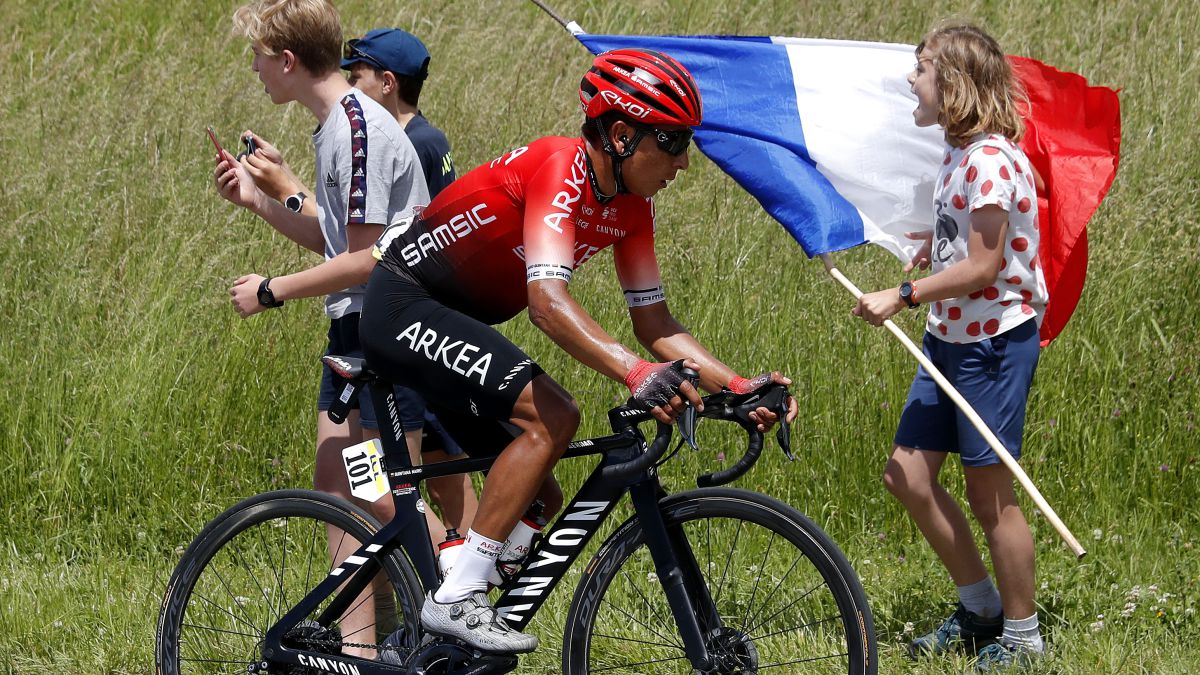 For the first time Nairo Quintana will not fight for the general classification of the Tour de France. The Colombian rider from Team Arkéa - Samsic, who is one of the three leaders of the French team, assured that he is not in optimal conditions to fight for the yellow jersey, however, he hopes to go for victory in some of the stages, which he has already studied. Recovery from knee surgeries and allergies, the main causes for not reaching 100% of the Grande Boucle.
"It has been a very different year for me with many health complications, a year ago I fell in the Tour and I am still dragging that fall. I am not in a position to compete in the general classification of the Tour de France, Arkéa diversified the team and brought people to compete in the sprint. Our goal is to fight for the victory of the stages so that we can always move forward and thus give Colombia joy, "the Boyacense confessed at a press conference.
Nairo Quintana also affirmed that he hopes to reach Paris, however, it will be normal for him to lose minutes in a few days, all to regulate himself for his desire to flee and find a stage. The runner also has in mind to fight for the gold medal at the Tokyo Olympics in which he will represent Colombia. In addition, he confessed that he hopes to remain in force for at least 10 more years.
Stages to attack: "We have several stages that, although they do not end high for us, are strategically important. We cannot say them because it is part of the strategy, on this Tour we come to have fun. We will try to take the good stages where the escape can arrive and they can favor us. We are going to give a lot of war and we are going to have a lot of presence in the escapes. You can never know where it might end, we are going to do our best.
The only Colombian in Arkéa: "There is no presence of the Colombians because a different Tour is planned. By not fighting the general, different cards are played with other types of runners. Some riders come to do the sprint well for Nacer Bouhanni. playing the Tour in this way. I feel different, uncomfortable in the situation I am in because I always come to fight for the general classification. The important thing now is to enter with good will and try to find the stages that interest us ".
Allergy problems: "My performance has not been the usual due to allergies, Arkéa knew I was not going to be well. What happens is that when we are always used to fighting, everything annoys us and makes us uncomfortable, it is normal that we are not we like it. We come with new spirits, we hope to be in good health and that the allergies will cease. The pollen has been incredible in Europe, we are going to fight through the stages and enjoy this Tour a lot, we are still active ".
Preparation for the Tour: "The preparation has been different from other years since I do not compete for the general classification. There are more days of preparation, so if you see that I had 20 minutes left, it is because we are going to bet on it and then we can go to fight on the run and try to find this strategy. "
Rivals in the Tour de France: "It will be a very interesting Tour de France. There are three teams that will be fighting for their interests, they all have great leaders and very good teams. It will be interesting to see how they will develop the Tour. Depending on how the Tour develops, we will have our plan to see what may be interesting for us. It will surely be a very strong war where there can be many surprises ".
Recovery of the knees: "My knees still lack work. I knew it would take more than six months to get back into shape. Due to this surgery, work has continued to maintain the muscles and avoid pain. For the moment they are fine, but it can be pain appear ".
Fight for the mountain shirt: "In the fugues we can compete for the mountain shirt, the last one who won it was me in 2013. It would be a great joy to have it, it is not ruled out and it is part of the fight."
Not fighting the general: "My discomfort is starting and not being there to dispute the general, I know that it is a set of everything that has been happening especially with health. I am not going to invent and say that I am going for the general if On the second day I can lose time. I don't want to excite people. I would love to play the general standings and lead a powerful team as happened before, we all like that, but as we always have ups and downs and decisions that sometimes we make well and that sometimes not. We have to move on and once again return to the good level ".
Season closing: "We hope to be able to finish this year and make a good preparation for 2022 since last year I did not have the whole preparation season because I could not move or walk, I started riding my bike in January. We hope to finish this year early and prepare for the next season. "
Strategy to fight in stages: "It is faced in a different way, we have to waste time at different times without trying to reach the limit and in which we can take advantage and squeeze as much as possible to the body. Fighting for the general pounding, while day by day you can choose and see if you can lift your foot or if you can press, that helps you not to push your body to the limit ".
Entering the World Tour: "We have to keep scoring points and we have to keep fighting in the classification, they are very strong and this has not been the best year for us. We are going to keep trying, but in principle we are all with the head of make the more points the better ".
Olympic Games: "By not doing the Tour every day at full capacity, we have the advantage that little by little we are taking a good rhythm, especially for one-day races. The Olympic Games are one day, a very hard day, we try to prepare and do this type of stage in the Tour thinking about the Olympics because they have a very good and interesting route for us ".
Abandon the Tour to go to the Olympics: "There are runners who measure the days to reach the Olympics, in my case I am convinced that I can get to Paris, for me it is always exciting. I will not retire, we will calculate the day today, which is the best way to make good Olympics ".
Future: "I still have about 10 years of cycling, it is possible that I will run until I am 40. The body is saying" .
Photos from as.com