The world champion wins the first stage and wears yellow after a rough day in which he was also involved. Roglic scratches for four seconds.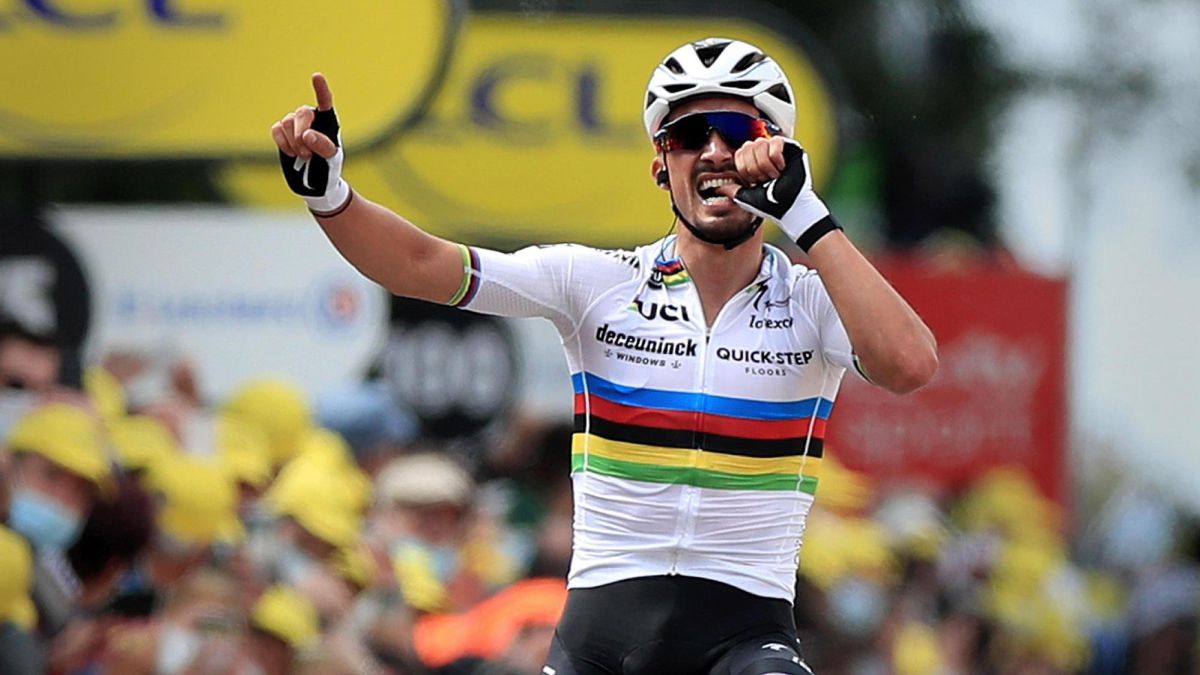 There was a classic in the prehistory of cycling, at the end of the 19th century, when a race was synonymous with adventure, which led from Paris to Brest and back to the capital, over 1,200 kilometers. Brest has been a fixture ever since. 130 years have passed and the Breton city has once again planned a trip to Paris, this time of 3,414 kilometers in 21 stages. Cycling is no longer an adventure, but it does offer stark battles like this Saturday. Julian Alaphilippe, wearing the rainbow jersey, achieved a brutal victory, with his legs marked by injuries from the skirmish, after an eventful day in which two montoneras had marked the course.
Brest launched the Tour de France for the fourth time. The last one had been in 2008, on a track that culminated in Plumelec with victory and a yellow jersey for Alejandro Valverde, just like now Alaphilippe, that clone from the neighboring country. The Murcian continues to give war here, already with 41 years on his DNI. That day, July 4, Valverde surpassed Philippe Gilbert, another world champion, who has also been in the game in 2021. Like Mark Cavendish, winner of 30 stages in the Grande Boucle; Chris Froome, a quadruple champion in Paris, who was reunited with the Tour of his heart with an ugly fall, and Vicenzo Nibali, another winner of the big three, who also sees his time of splendor distant.
Gilbert, unruly, alluded with humor the day before to that combat 13 years ago. "Revenge, Valverde? He urged him in memory of so many pulses. Alejandro, no less mischievous, responded with a thoughtful smiley. The end of the stage was adapted to their qualities, at least those they exhibited in their youth. But times have changed. There was no duel between these old legends, but rather a spectacular action by an auctioneer with similar characteristics, although younger: Alaphilippe, 29. The Frenchman started at two and a half kilometers, he did not wait to risk glory in a sprint with rivals from the the stature of Van Aert and Van der Poel, and his bravery collected the reward of triumph and yellow, which he already wore with honors in 2019.
Before that, the stage had fulfilled the classic sets of the opening days, with a dreamy getaway in which a Spaniard, Cristian Rodríguez, and an almost Spaniard, Anthony Pérez, French grandparents from Jaén, got into. And the falls were not lacking in the script either, with two terrible and decisive montoneras. The first, 45 kilometers away, when a reckless fan fanned a banner with her back to the peloton and threw Tony Martin, who was in the lead, to create a domino effect that sent most of the pack to the ground. Jasha Sütterlin had to leave. Marc Soler took a good blow and entered in front of the broom car, at 24:38 minutes. It looks very bad. How much work time can be ruined by irresponsibility.
The second fall, even more pitiful, happened at 7 kilometers, with the race already launched at full speed. He mainly punished an unfortunate Froome, who crossed at 14:37 minutes, twisted with pain and helplessness. And it conditioned the general classification from day one, with some quite distant favorites like Superman López, at 1:49, and Richie Porte, at 2:16. It was even worse for Valverde, caught in the cobweb of the accident, which arrived at 5:33, escorted by two teammates from Movistar. The other side of the coin was shown by Primoz Roglic, who scored four bonus seconds by finishing third, with his opponent Tadej Pogacar always close by, in sixth place. Marking is tight between the two Slovenians, who are currently survivors of the inaugural chaos.
Check the complete classifications of the first stage of the Tour
Photos from as.com