Agag: "This will be bigger than we imagined"
The founder of Extreme E talks to AS and claims to be "very satisfied" with the start of the championship: "We were practically going blind."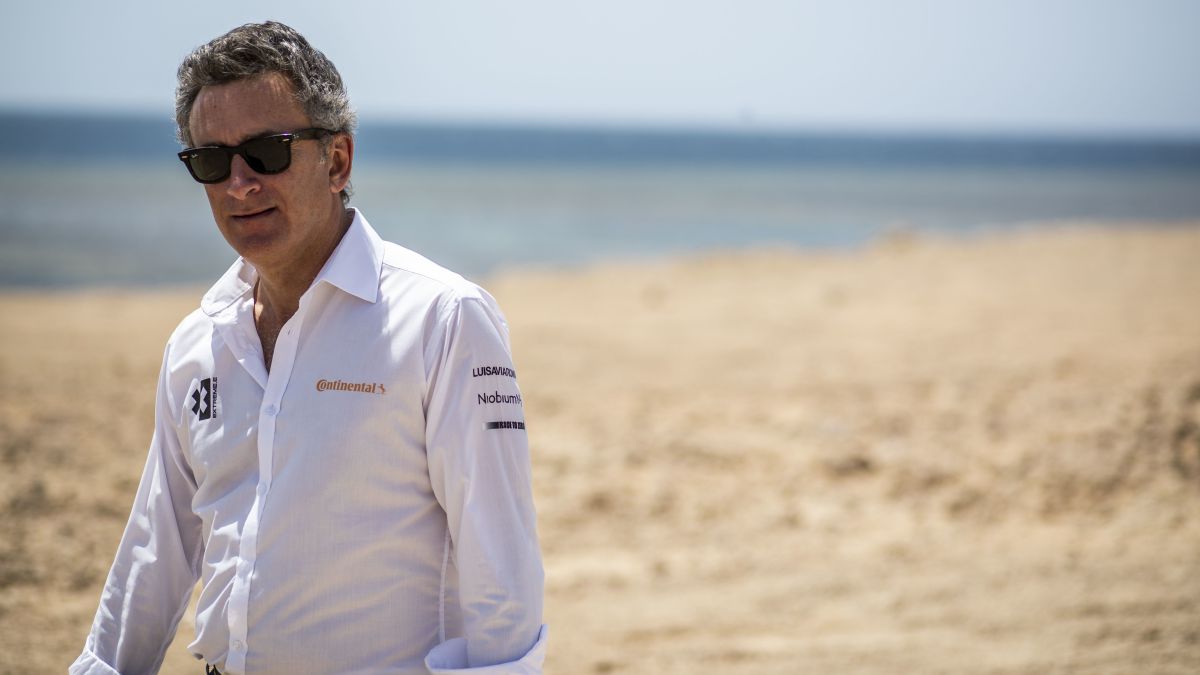 Alejandro Agag (Madrid, 1970) "is a visionary" as described by Rosberg in AS. And the German is not mistaken, because he revolutionized electric motorsport with the creation of Formula E in 2014 and now he intends to take another step in that direction with Extreme E. The founder of the SUV championship talks to this medium about how his premiere after the first two dates in Al Ula and Dakar and what he expects from the competition in the future.
— It has been a little over two years since Extreme E was presented in London and it is now a reality, how do you feel after having traveled that path?
— Yes, it has been two years since we presented the project and we have made it a reality. It has been a tough road because COVID has made it very difficult to move forward, it has been necessary to make a lot of effort and give a lot of laps to everything with tests, changes, adaptations ... We started without having been able to test almost anything, without doing race simulations, without testing cameras, radios ... but we jumped at it. And here we are, with all these champions and going back to historical places like Dakar's Pink Lake, which was where the old rally ended, I remembered the images when I was a child.
— Despite not having tried everything enough, were you satisfied with the premiere in Arabia?
— Very satisfied because we managed to do the race, which was the important thing. It was a great show and the television numbers were fantastic. For me, one hundred percent successful because it was very complicated, we went practically blind and in the end everything worked. Although there are always things to improve, of course.
— From how you could initially imagine what has turned out, is Extreme E better or worse than you expected?
— It has been better, it has exceeded expectations. I think this is going to be bigger than we imagined at first. But the images are what I expected, those landscapes seen in the camera have not disappointed, but I think it will be even bigger than we expected.
— We saw that in Arabia the dust tarnished the premiere a bit, which was corrected in Senegal. Is this also about learning things on the fly?
— Sure, you have to learn as you go. It is a new championship and you have to be very flexible and adapt to the different terrains. For example, in Senegal we saw that there was no dust, but we can go to another race and see what there is. So what we have to do are flexible race formats, which adapt to each terrain. Of course the dust influenced the Arabian race, but there were also interesting moments that were quite a spectacle. Sometimes an overtaking is worth more than ten hours of racing and there were moments of brilliance.
— Do you think you have hooked the fans?
— I think you liked it very much. All the feedback and response we've had from the fans on social media has been fantastic, and I think it's going to grow. In Arabia, we had a great result, 18.7 million viewers, and on platforms like 'TikTok' the day after we were at 18 million views. I hope it repeats itself in all races.
— In addition to racing, the other two pillars of Extreme E are environmental awareness and equality. It all goes together.
— They go together, yes. What we seek is to use sport and racing as a platform for the other two messages. The message about the environment was seen in the Dakar race, for example with all the plastics that are on the coast of Africa, that it is not plastic that is generated there, but that it comes from Europe and America. It is a global problem and we use sport to make that situation more visible and to increase awareness. And then, equality is a fundamental axis, I think we are the only format that has this concept that is increasingly important. You have to correct things that were previously considered normal, such as there being only men in the races, but it is also very important that there are women, and having achieved it with this format by putting them on a total level of equality is very important.
— That was something that was clear to me from the beginning, having the first mixed grill in history.
— Yes, and it has caught on with the fans. In addition, it works very well from a sporting point of view and if women and men are mixed in the different sessions there will be more spectacle.
— Are you more expectant or nervous, as you prefer, at this start of Extreme E than that of Formula E back in the day?
— Just as nervous, I was with both of them… There is a lot of work behind it and a lot of people who depend and live on this, who work in the championship, and it has to turn out well. I was nervous for both of them, but I'm less nervous now, I was much more nervous in the first race (laughs) .
— What is clear is that from the beginning it has managed to attract important brands and names, how has it done so?
— Well, I think it has to do a bit with the work we had already done in Formula E and that people, drivers and brands, have seen that we know how to organize a championship and that we know how to give it visibility, that has given them confidence to come in. And then the message of both equality and the environment are very important and I think that has attracted brands and people like Hamilton, Rosberg, Button and others to assemble a team.
— Did you expect to have that much quality on the grill?
— No, that has clearly exceeded my expectations. Having the names that we have is the truth is that it is impressive, we are very lucky. The truth is that I did not expect it.
— What is the opinion of the drivers after playing the first two races? Do you like the format?
— Yes, they like it very much. And what I'm noticing is a lot of help from you, because this is a joint effort, there really is a climate of teamwork. I listen a lot to riders like Sainz and Loeb, they give me advice and tell me their opinion. Everyone is very motivated about the championship, helping it to move forward, and I think it is going to be a great success and partly thanks to the drivers.
— Besides, it's a totally different adventure for them. It is not arriving to a country and running, we have also seen them interact with the local population, clean beaches, plant plants ...
— I think that is also one of the reasons that catches your attention. I spoke to Kyle Leduc (Chip Ganassi pilot) and he was delighted when we went to one of the towns near Pink Lake and did the work. What happens is that this is not just one day. The day that appears in the media is the one that the pilots go, but we have been working in that village for two years to help, together with the local society, to improve the lives of those who live there a little. It is not a one-day job.
— Having pilots like Sainz, Laia Sanz, Cristina Gutiérrez or Christine GZ is the biggest claim to attract the attention of the Spanish fans.
— Yes, and it was something that left me a bit unfinished business in Formula E. I would have liked to have more Spanish drivers, we couldn't, but the truth is that we have achieved it here at Extreme E. I'm very happy to have them and they are doing very well.
— And it also helps that it is broadcast open-air.
— Yes, that is very important, as we also do in other countries in England or Italy. It helps a lot to spread it more and especially with claims as important as Sainz, Cristina and Laia and with three Spanish teams.
— With the big names already involved in the first season, can you think about more coming in the future?
— Yes, I think so and there may be surprises soon. We are talking to big names, not just drivers, but also teams. There may be surprises soon to expand the grid. We can have a maximum of twelve teams, just like in Formula E.
— What are your expectations for this first season?
— The goal is to do all five races and make it a good championship because the first year is very important, and that it serves as a basis for the future to create a great platform. And above all, also promote equality and environmental objectives.
— What would be the normal growth of Extreme E? Will there be more races?
— There will not be more than five or six races because as we go to such remote places the logistical organization is very complicated. We have our ship, the Santa Helena, which has to go from one place to another on the planet, carrying all the equipment, and there is no time to do more. We'll see if we double all the set-up we have and that way we could reach nine races, but for now we are going to keep this number. So what we hope is that each race more and more people see it.
— And how do you see the future in the longer term? Do you think it will settle like Formula E?
— Yes, I see the future very well, bright, I see it a long-term championship. It is going to consolidate as the next step in off-road racing, the next step in Formula was Formula E and the next in all that is off-road is Extreme E.
Photos from as.com