A triplet of Spanish poles was not seen since Australia 19
Maverick Viñales, Raúl Fernández and Jeremy Alcoba were the fastest in MotoGP, Moto2 and Moto3 at Assen, like Mack, Navarro and Ramírez himself at the time.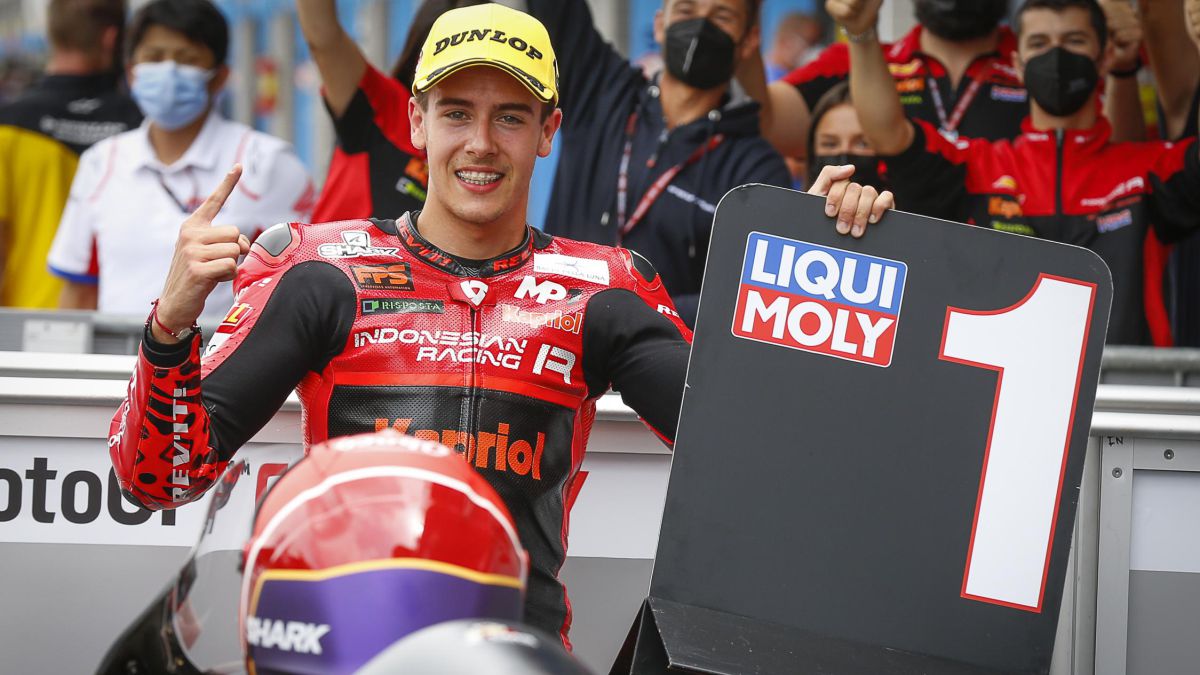 Assen produced a triplet of Spanish poles in MotoGP, Moto2 and Moto3, something that had not been seen since the 2019 season, when Phillip Island was achieved by Maverick Viñales, Jorge Navarro and Marcos Ramírez. In the cathedral it has been by the work and grace of Mack himself (the first of the year for him), Raúl Fernández (fourth) and Jeremy Alcoba (the first of his life) .
Here is the most interesting of his appearance at the official press conference for the poleman
Maverick Viñales
Sensations: "This should be normal every weekend. We have a great level and our confidence is high. The only thing is that on other tracks we have not found the way. Since FP1 I have felt very grippy, and That's the problem. That when we don't have grip we can't improve. This weekend I haven't touched anything. Since we started it's perfect and we've worked on that basis. I have a good opportunity tomorrow and I hope to give my best from first to second. last lap ".
The Sachsenring thing: "Thank God I have grip on the tire and I can go fast. With this bike, if there is no grip, you can't do anything. Now we can compare why here I can do what I want with the bike and not at Sachsenring I could go fast. As a rider the only thing I can say is that if I have grip I can go faster. With these bikes you have to find grip and, if you don't have it, at least you have to have the bike that allows you to turn. No one knows the answer to this problem and it is causing me very bad results. I hope that from now on we can always count on this factor. When you balance everything with the Yamaha it is a fantastic bike and you can do whatever you want, but if it is not difficult. It has happened to me four times this season already. "
His reactions: "What do you want, that I stay in the box sleeping? I think I have been calm for a while, but it is that I had already four or five races with bad results. And especially for me the hardest thing is that I could not I didn't even do a fast lap. I honestly can't be calmer than I was.
The Quartararo settings: "Today I have not tested Fabio's bike, because I have several points where I am faster and I don't want to lose them. It is true that we have a bike emulating Fabio's settings, but I have such good feelings with my bike I don't want to touch her ".
Raúl Fernández
Close to the record: "Very satisfied to get another pole, because it is very important, but I know that Remy is very strong in the race because he has more experience than me. This weekend is special and I am very happy with my bike. We are going really strong and we are very focused on the race. Two races ago we had some problems and now we are preparing better. We will see what happens tomorrow, but we are going very strong and the goal is to fight for another podium. "
The fall of Germany: "At the beginning of the race we were very strong and Remy pushed hard. Then came the fall, which was strange, because I was not pulling at that moment but relaxed and I fell. But hey, that's the past and now I want to focus on tomorrow's race, which is the goal. "
Jump to MotoGP: "Everyone is asking me if I am going to go to MotoGP next year, but KTM has given me the opportunity to stay another year in Moto2 and I am very happy about it. During the summer break I am going to talk to them again, but for the moment what I know is that I am going to stay in Moto2 for another season ".
Jeremy Alcoba
First pole: "I feel very happy, because it was a goal we had set for ourselves for this year. On many weekends we have been able to get on the front row, but not on pole, so it's great to be able to do it before the summer break. I don't have top speed alone, but the team told me to ride alone and I did. Then, to get into the top five, I need the slipstream of other riders because I am taller than the rest and the tenths that are achieved like this are very important in all categories, but more so in Moto3. It is very noticeable to go on a wheel, so I followed Foggia. I gave him the podium at the Sachsenring and he returned the gift by giving me pole position here. I'm happy with it. "
Excess height: "Sometimes life is hard and I joke with my team about it. I wonder how I can compensate for it and I tell myself I'm going to give a little more gas here or there and try to get a good wheel. It has been difficult, but we have succeeded and we have done our best. "
Photos from as.com