Zaragoza breathes thanks to a penalty goal in the 86th minute
The Aragonese are still very much alive in the fight for permanence after their victory at Torres. Fuenla once again showed a worrying lack of aim.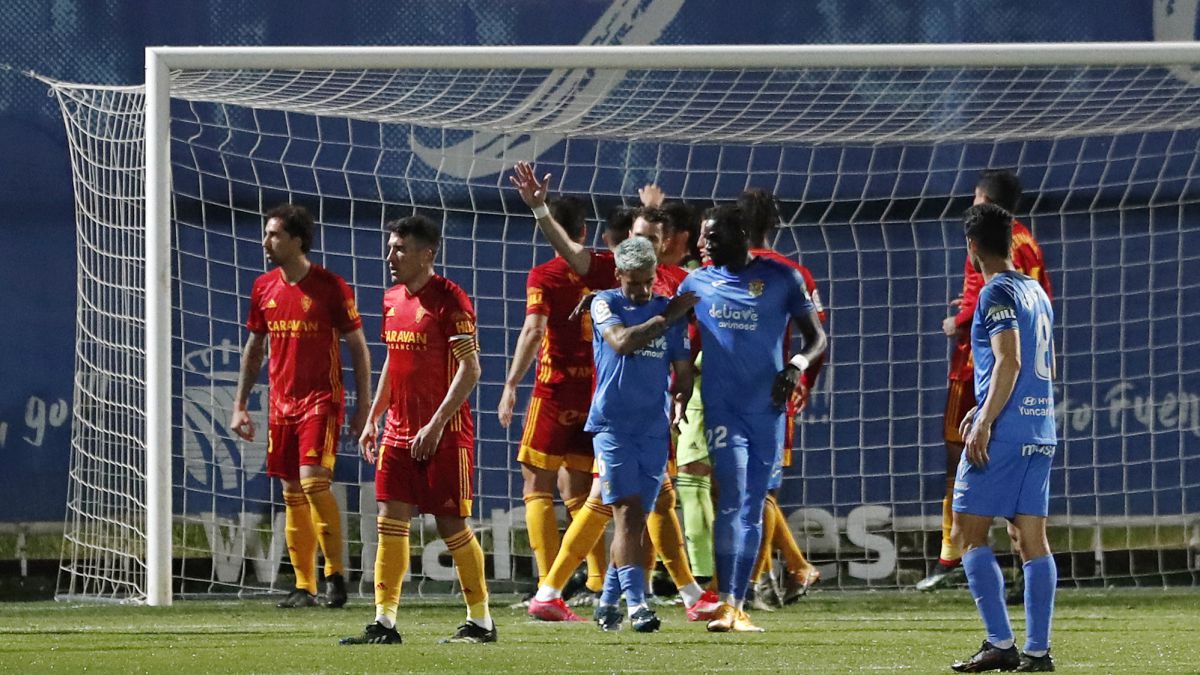 Zaragoza won an agonizing victory that gives them a little oxygen in qualifying against a Fuenlabrada who was better but did not know how to materialize his many chances. Common evil in Torres tenants.
The game began with Fuenlabrada commanding a Zaragoza that seemed to have forgotten that life is at stake in every duel. First it was Pathé Ciss, who stood alone against Cristian Álvarez but his mistake when controlling Ibán's pass thwarted a clear goal play. Immediately afterwards, Borja Garcés finished off a corner that he hooked only in the small area.
Twice the VAR had to intervene: first to leave a non-punishable hand of 'Toro' Fernández at nothing and, later, to check a possible penalty from Peybernes on Espinosa that was outside the area.
If JIM was angry before the 18th minute, after that he went into a rage and with good reason. In that fateful minute for the Aragonese, Borja Garcés had the first goal for his team just inches from his right boot. Later, Sotillos took a penalty to an innocent Jair Amador. The spectators of the match with Cristian Álvarez did not count, yes. The Rosario, hardened in a thousand battles, stretched out like a feline to stop the measured shot of the six blue. JIM breathed and Fuenlabrada became even more enraged, which did not cease its siege of Aragonese domain. It happens that the Kiriko fan has already seen this movie many times, a Fuenlabrada overturned but failed in the decisive, and it is already known that who forgives, pays for it.
The visiting team had its first approach in minute 20 with a shot from Toro Fernández that narrowly left. This sample of Aragonese 'rebellion' was punished by the locals with another goal approach as a result of a shot by Ibán Salvador in 25 'and a shot by Pulido inches from the Aragonese goalkeeper in 27'.
Little by little, Eguaras and Adrián were making Zaragoza find themselves on the pitch. If those already mentioned put their name on the ball when it was a visiting domain, the everlasting captain from Zaragoza Ander Zapater was in charge of hanging the balls in which only Jair could put Javier Belman in trouble. With an unlikely 0-0 in light of the occasions, both teams went to the dressing room tunnel.
The second act started the same as the first. Juanma brushed against the local goal with a header that almost went outside the net. However, Zaragoza was clear that they did not want to repeat the same mistakes as in the first half. For this reason, he closed the center of the field better and tried to spin his game better. This new version of the visiting team misled a Fuenlabrada who was sometimes anxious.
The duel could not continue along the same paths and intensity that were seen in the first forty-five minutes. In this way, both teams signed a trench warfare where both got stuck in their positions with some timid attempt. This dynamic was of little use to a Zaragoza that could only add three points in the Azulón fiefdom.
Sometimes, a return to the basics is the right way and that is what JIM sought in 82 ', putting two towers such as Iván Azón and Alegría. The visiting coach didn't have to wait long to see the first and only success of his plan. In 86 ', Alegría prolonged and Azón, smarter than anyone, took advantage of Pulido's youth to get a penalty that was by centimeters. Tejero assumed full responsibility for the penalty and did not miss. Zaragoza took the lead in the long-awaited victory in 86 'and all the houses of the Aragonese city breathed a sigh of relief. A lot of interruption and some tangana attempt was what happened in the remaining seven minutes of the game.

Photos from as.com