"We will try to leave the flag as high as possible"
Sainz and Laia are the only Spanish couple and one of the strongest: "There is no weak team, there are champions of many specialties."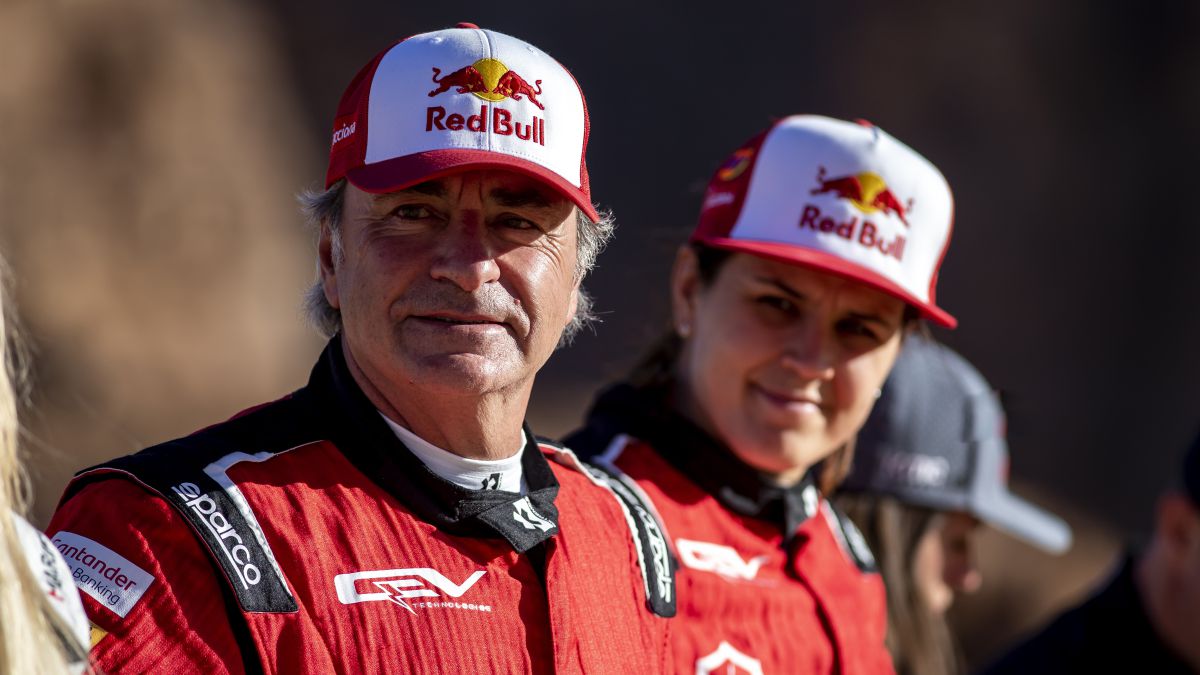 They had a scare on Friday when they ran out of power steering at the start of the shakedown, but yesterday they shook off any hint of nervousness with a solid second place. Carlos Sainz (Madrid, 1962) and Laia Sanz (Barcelona, 1985) form the couple of the Acciona Sainz XE Team, one of the strongest of the Extreme E grid as has already been demonstrated. AS talks to both of them about the unique adventure they just started.
— Four months after the presentation of your team, the adventure has begun. How much did they want? 444 444
— Laia Sanz: Many. The wait was long, there was a desire to get in the car.
— Carlos Sainz: Above all, we wanted to drive the car for the first time on sand. Until now, the test we did in Alcañiz had little to do with what we have found here. There was a lot of uncertainty before getting in the car.
— How was your first contact with the championship? What do you think?
— CS: What is clear is that the message is powerful, you don't just want to organize electric races, you want to send a powerful message to the sustainability society. On the ship they gave us three or four very interesting talks about climate change, global warming, the issue of corals ... Everything that is happening in the world, in short. It is also about collaborating with this message.
— LS: It is very interesting to be here, to collaborate with this, and it is very positive because, unfairly, sometimes the world of motorsports is a bit frowned upon and it is good that this message is being sent.
— In addition, even before competing they already participated in a sustainable action such as cleaning a beach. What did you think? Because seeing world-class pilots doing something like this is a great example.
— LS: Well, you hallucinate with the things that you can find on a beach, sometimes it is incredible what we can do. It was good, in the end you realize the damage we can do and send this message that things can be fixed.
— CS: The issue was not only cleaning, but also seeing 'in situ' this whole issue of how after 30 years the turtles return to the same place to lay eggs. We saw the difficulties that are encountered by the action of man and so on. It's interesting because if you don't come here and see it, it's not so shocking.
— Let's talk about the competition, Carlos, how did you come up with betting on Extreme E and also being the head of your own team? How do you find yourself in this new facet?
— CS: When the Extreme E opportunity arises, it has the incentive for me that it is a totally new championship, with a new incentive and it may be the last chance I will have to race with a 100 percent electric car, which is going to be the future. And, in addition to the message that we have discussed, at the sporting level it is a new challenge with a different format, many things were put together not to try. Apart from that, it also meant the opportunity, together with other partners such as QEV and Acciona, to form this team that we are very excited about. I have very good collaborators, all high-level Spanish companies that have made possible this dream of being here today prepared to compete, and together we are going to try to do a good job. On the other hand, with the format it has been seen that it is necessary to adapt, we do not know what results it will give, we are open to what we are testing this weekend because it was clear that we were going to have a problem.
— Laia, how do you see Carlos as your boss?
— LS: So far very good and I hope it continues like this, it will be a very good sign. I hope that the boss is happy, I do a good teamwork and that things go well. And I also hope to learn, I am aware that I am totally new to this and that I need a little time, but for now the truth is that everything is going very well, it is helping me a lot. I hope to return the trust with good performances.
— Carlos is used to competing in all kinds of cars, but as Laia says so well, he's just started. How was your preparation until the start of Extreme E? We saw him in Dubai, Sweden ...
— LS: It is true that I am totally new and we had to find a way to do kilometers because with the Extreme E car you could ride little. So with the whole team we decided to do something even if it was in a different way. The one in Sweden (riding in snow with an RX2) was good, as was the one in Dubai, although it was a totally different vehicle (a 'side by side'), but at least I could already do some sand because if I had not arrived here without ever doing any sand on four wheels.
— Carlos, surely he spoke with Lucas, who was Laia's co-pilot in Dubai, about how he did it. What did they comment?
— CS: The truth is that for Laia it was positive to do the race with Lucas because of the experience she has. And Lucas was very happy and satisfied. These are steps that must be taken, a way to go so that Laia gradually takes on that experience on four wheels and that is why we are here. We are very excited to start this adventure and of course you will have all my support and my experience to move forward.
— We saw you Carlos in the preview of Extreme E accompanying your son in his debut with Ferrari in Bahrain, how did you experience it?
— CS: Personally, I liked the race you did, especially in the second and third stint the pace was very good. They were his first points at Ferrari and he was quickly in a good rhythm, finishing eight seconds behind Leclerc, who knows the car very well. I think he and the team are satisfied and it seemed positive to me.
— Going back to Extreme E, how about this first track in the desert?
— LS: It's quite fast, we already saw it before we even started out for a spin in a 'normal' car, and we knew it was going to be difficult to pass.
— CS: There are some jumps but above all there is a steep dune, which is the only one there is, downhill with some spectacularity. Honestly, I think something a little slower would have been better, with more dunes, to be able to get the cars closer to each other and maybe have the option of overtaking. It's very, very fast and in a three-car race I think the dust is going to play a determining factor.
— What would you compare this format to? Is it a mixture of Dakar, rallying, rallycross ...?
— CS: I think the closest thing is rallycross more than anything else. Then, depending on the type of terrain we are going to, it will be more like one thing or another, here it may be a bit more like the Dakar. It will vary, but the format is more like rallycross, with the difference, of course, that the time of the two drivers comes into play.
— With so little time to prepare, everyone was pointing out that adaptation was going to be essential to be competitive.
— CS: Yeah, there aren't many things to play with either. The tests we did before were on a totally flat rallycross circuit, without jumps or anything, so here with so much sand we had to react to what we found.
— LS: The negative part is that we have been able to do very few kilometers with the car and in my case it may be a little worse, but in the end it is the same for everyone. Since the shakedown I have tried to pick up the pace and go fast, and also learn the fast circuit.
— How do you see the competition?
— LS: There are no weak teams, if you look at them they are all strong because there are champions of all specialties and also female pilots who have experience.
— CS: There are world champions of F1, rallycross, rallies, the DTM, very fast girls ... There are people with a lot of experience who are going to give a show.
— I don't know if you are aware that you carry the flag of Spain a bit in the championship as they are the only 100% Spanish team and you two are references ...
— CS: The only thing that Laia and I can say is that, of course, we are going to try to do our best, but that there are many unknowns that still need to be answered. We will try to leave the flag as high as possible.
— LS: For me it is an honor to be in a one hundred percent Spanish team, it is a pleasure and we hope to give a good image and that the people who follow us from home will be happy.
— With what result would you end up satisfied in this first race?
— CS: It would be too premature to say it, but logically we want to get it right.
— And finally, how does it feel to be part of the first mixed grid in motorsport history?
— CS: I am delighted to share it with a champion like Laia. It is one of the messages that the championship wants to give, one is sustainability and the other, gender equality. And more equality than is seen here has never been, in addition, the atmosphere that is breathed in the 'paddock' is of sharing, of having fun and of trying to add as one taking into account the two parts.
— LS: Well, imagine me, who would have told me that I was going to be running here with one of my childhood idols. It's an honor, let's hope things go well. It is a great responsibility because my role will be just as important as Carlos's, we are all equally important and even women can be more decisive because there will be more differences. It's good that we have this chance.
Photos from as.com