Upset in the athletic locker room with the refereeing: "Against everything ..."
The team knows that his game in Seville was not good, but understands that Gil Manzano's performance hurt him. The criteria with the cards have been stinging for weeks.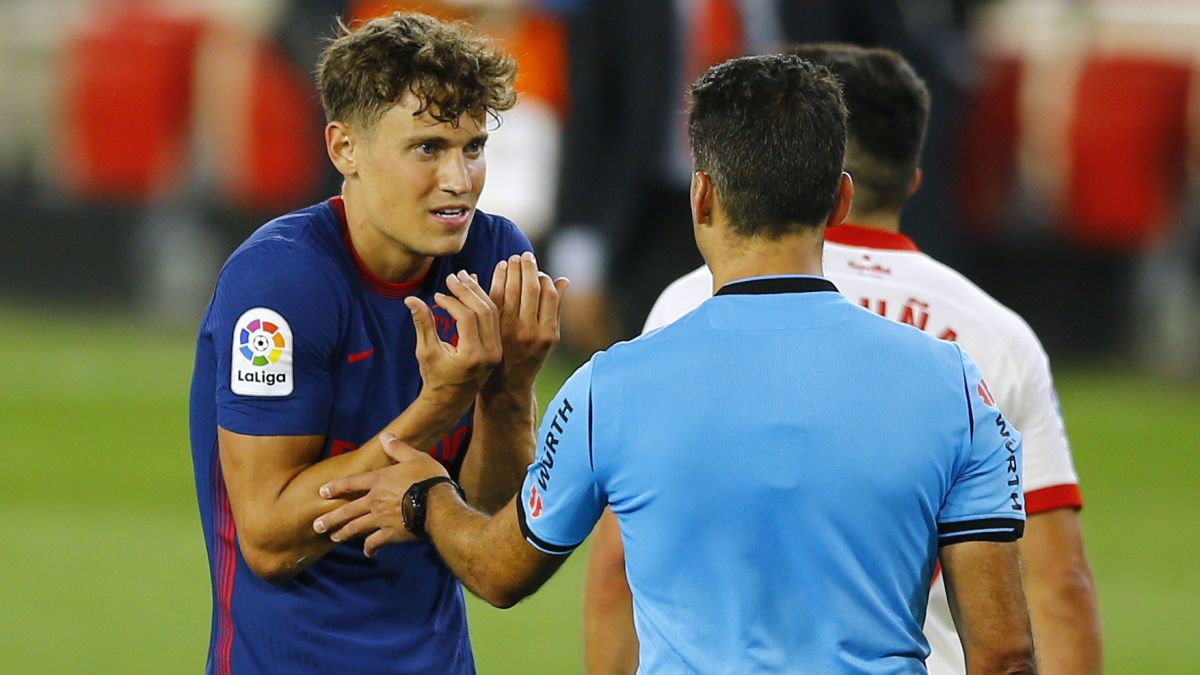 Nothing went well for Atlético at the Sánchez-Pizjuán. At times he was clearly outmatched by Sevilla and, when he seemed to have more balanced the game, the goal came against him. In that second half a series of actions followed one another, with the referee as an implicated party, that outraged the rojiblanco dressing room. "We are screwed by everything that has happened. We have to fight against everything ..." Captain Koke lamented in Movistar, usually restrained, but this time visibly upset. And other things come from behind ...
The key play is precisely that of Acuña's 1-0. Sevilla recovers the ball thanks to a hand from Ocampos that the referee does not see. It is not a VAR play, because the goal did not come immediately after, but Gil Manzano must have seen it, because the Sevilla player had his arm quite detached. "I have seen it in the field and I have been able to corroborate it later," says Koke. Tomás Reñones, spokesman for the club, follows the same line: "The hand is very clear. The referee is not correct and it is clear that we have been harmed" .
Still on the pitch, Koke talked about another play in the 79th minute. Diego Carlos, from the ground, cut off a rojiblanco attack with his hand. He already had a yellow one, so he could have been sent off. Marcos Llorente saw the card, "for making a technical observation" to the referee. A while before, Suárez was also reprimanded for arguing with Acuña after another foul by Diego Carlos, who also dodged the card. The Uruguayan, in his social networks, affirmed that "there are no excuses", but added in an enigmatic way that "to achieve success you always have to fight against everything and AGAINST EVERYONE", thus with capital letters. Simeone, for his part, refrained from evaluating the arbitration work.
Suárez, Llorente and Kondogbia will miss the next game (Betis) for the yellow team they saw against Sevilla. And it is another chapter that worries in the rojiblanco dressing room, that of the cards they see. Atlético is the second most booked in the League (82), only surpassed by Getafe (92), despite being the eighth with the fewest fouls (384). Taking the average, it turns out that he is the one who sees the most yellow in relation to the fouls committed, one for every 4.68 infractions. In Seville, eleven fouls and four cards. Another drag for a hurt Atleti, which is trading down in terms of results and sensations and who returned to Madrid amidst self-criticism and outrage ... 444 444

Photos from as.com