UCAM resurfaces in Madrid thanks to the rebound
The visitors dominated the game from the first minute with a very plugged Augusto Lima. Barea and Avramovic, the only ones who put up resistance.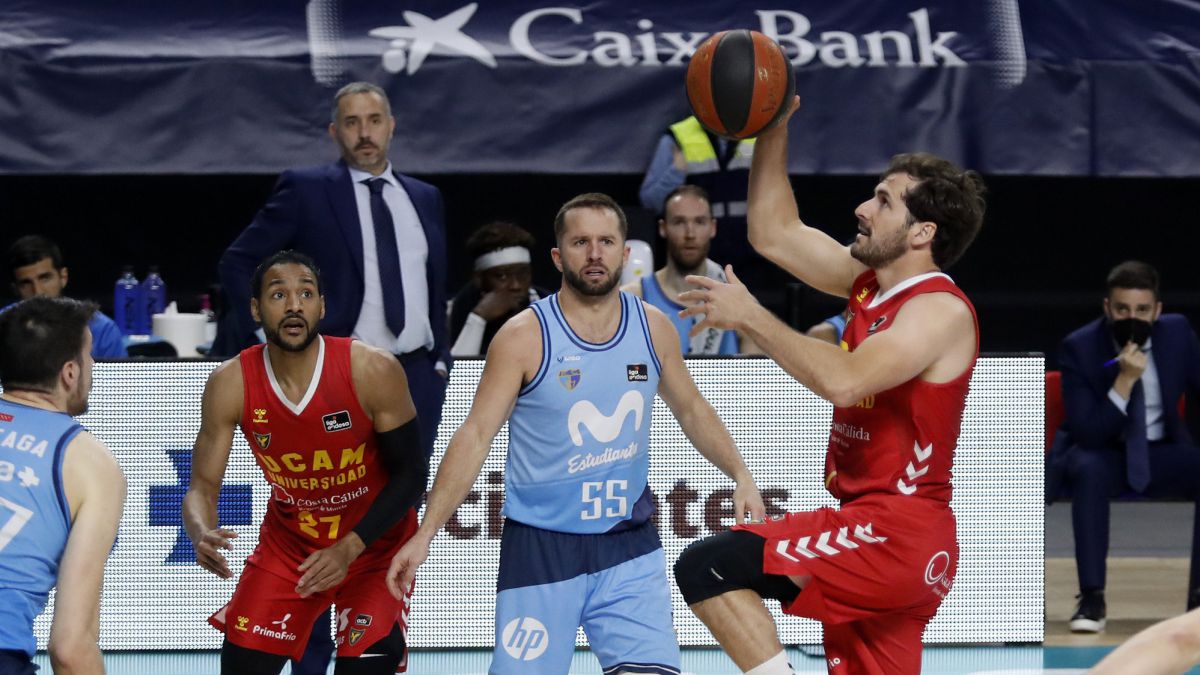 UCAM Murcia took an important victory by beating Estudiantes in Madrid 75-85, thanks to their dominance in the rebound, which allows them to look up in the standings, while the schoolboys do so down.
UCAM Murcia with a very plugged Augusto Lima on the rebound and in attack dominated the game from the first minute, although unable to maintain a constant rhythm and holding the push of JJ Barea and Aleksa Avramovic in attack. That was the main collegiate problem, the lack of diversification in points and also the rebound, which the Murcian team clearly dominated -7-14 at the end of the first act-, so the score was always away, 18-25 at end of the first ten minutes, with Isaiah Taylor hyperactive and prominent.In the second quarter, with the rotations, Estudiantes found John Robertson in the scoring, but could not maintain continuity in his actions, neither in defense nor in attack, while UCAM, with Emanuel Cate, took control of the hoops and the team settled on the court and on the advantage. Students did not find the rhythm, did not feel comfortable at any time and lost the rebound 19-25 in the first half that ended with a 33-45 for the Mediterranean. Between Barea, Robertson and Avramovic they got 27 of the 33 points of the schoolboys.
The locals were more activated in the continuation, but although they tried to make the rubber on the scoreboard, 41-51 (min. 22), the individualism in some actions of Barea and Avramovic weighed them down, while Taylor remained very plugged and Jordan Davis was added to the cause. Taylor's fourth foul with 43-57 on the scoreboard (m.24.20) could have been a problem for UCAM, but already settled in the game the Murcian team shot with rebound, defense and quality to continue sending clearly in the marker, with a Davis who assumed the responsibility of supplying his partner. Students with some triples managed to keep the flame of hope burning, but James Webb with his points made it difficult for him and the third act ended with 56-69.
In the last quarter, the locals tried to speed up their options, but Murcia's rebounding dominance continued, Tomas Bellas appeared from the triple (61-77, m.33) and the good schoolboy sensations continued without appearing. The Madrilenians did not manage to lower the disadvantage below ten points and time became their worst enemy, losing many balls due to precipitation until the final 75-85. UCAM Murcia looks up and Movistar Estudiantes looks down.
Photos from as.com