This is the classification of First and this is how it would be without the VAR
Atlético remains first despite the 1-1 draw against Betis and is followed, one point away, by Madrid. Barcelona, after losing the Clásico, is third, two points behind the leader.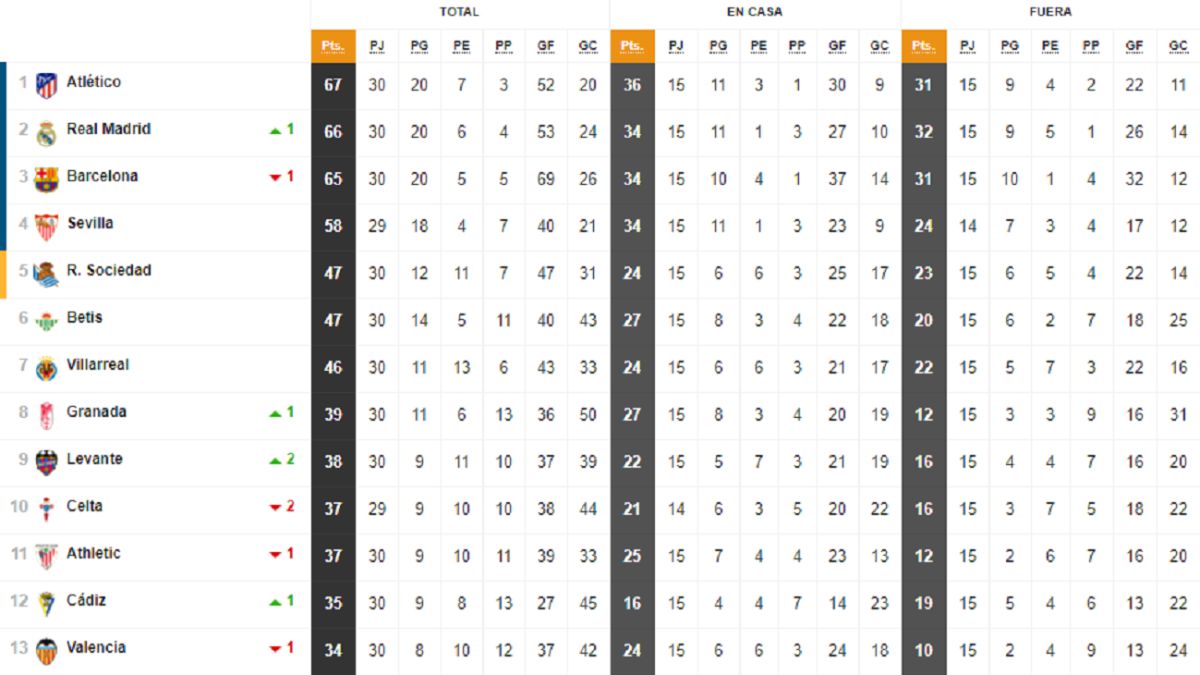 Atlético de Madrid, despite the 1-1 draw against Betis, remains the leader of LaLiga Santander with an advantage of one point over Real Madrid and two over Barcelona. The Whites placed second on Saturday after beating Barcelona 2-1 at the Di Stéfano. Sevilla, which closes matchday 30 this Monday against Celta, remains in fourth place. Villarreal occupies the Europa League place and Betis in the Conference League. Elche, Alavés and Eibar are on the decline.
The VAR has been decisive for the sign of a match this day. It was in the draw at San Mamés, where a goal to Joselu was annulled for offside and prevented Alavés from beating Athletic. He also entered Huesca-Elche to recommend canceling a penalty in favor of Huesca due to Sandro's previous foul. The third intervention of the technology was in Villarreal-Osasuna, to take a penalty in favor of the yellows outside the area and turn it into a foul. In addition, Barcelona requested a penalty from Mendy on Braithwaite, but Gil Manzano did not signal it and the VAR did not enter.VAR interventions that conditioned the sign
Villarreal 1- Huesca 1 (Without VAR, 0-1) 444 444
In the 66th minute, a ball hung in the Huesca area hit Maffeo's arm, which had him separated from his body and occupying a space. The referee did not see it, but after the VAR warning and reviewing it on the monitor, he awarded a maximum penalty that transformed Gerard Moreno.
Getafe 1 - Osasuna 0 (0-0)
The linesman annulled a goal to Jaime Mata for offside, but the VAR pointed out that he was in line and the goal went up to the scoreboard. It was decisive for the azulones to leave the three points at home.
Celta 2 -Valencia 1 (1-1)
The VAR concedes a goal to Iago Aspas after being badly disallowed for offside after receiving a pass from Nolito. The play was controversial since during the match the images were not shown and the RFEF had to send a statement pointing out that it was a technical error and offered the image in which it was demonstrated that the Celta striker was in a legal position.
Betis 2 - Real Madrid 3 (2-2)
The VAR recommends seeing De Burgos Bengoetxea a penalty by Bartra's hand in a set with Mayoral that not even Madrid itself protests when not realizing it. It ends up being whistled and Ramos transforms the maximum penalty.
Real Sociedad 0 - Valencia 1 (1-1)
Goal by Le Normand in the discount to tie the game but it ends up being canceled because the ball hit Aritz Elustondo's arm just before the goal.
Valladolid 1 - Eibar 2 (1-1)
The ball hits El Yamiq's hand while trying to clear a ball in the area. The VAR warns and ends up signaling. Esteban Burgos transforms it.
Cádiz 0 - Villarreal 0 (1-0)
Goal annulled to Negredo due to an offside interference by Lozano in a foul thrown into the Villarreal area from which a rebound came out that the striker took advantage of.
Elche 1 - Celta 1 (0-1)
Pere MIlla's shot that hits the arms of Hugo Mallo. The referee, after reviewing it, signals the maximum penalty and Fidel scores a goal.
Sevilla 1 - Osasuna 0 (0-0)
Herrera saved Ocampos a penalty, but had both feet in front of the line. It has to be repeated and Ocampos scores.
Real Sociedad 1 - Eibar 1 (2-1)
In the final stretch of the match, Zubeldia managed to score a goal that was later disallowed for offside.
Barcelona 2 - Real Sociedad 1 (1-1)
Goal disallowed by De Jong for offside, but VAR says he is in legal position.
Huesca 1 - Levante 1 (0-1)
Vezo hand inside the area that the referee does not see. The VAR alerts you and signals it. Ontiveros transforms it.
Barcelona 1- Eibar 1 (2-1)
Braithwaite goal disallowed for offside.
Osasuna 1 - Alavés 1 (1-0)
Oier's foul is called on Joselu, but from the VAR they say that the entry is inside the area and it is a penalty. Lucas Pérez transforms it.
Valladolid 2- Elche 2 (3-2)
Weismann's goal disallowed by previous hand
Villarreal 2- Granada 2 (1-2)
Pisotón in the area of Foulquier on Pedraza that prevents him from finishing. Pizarro Gómez, after checking it on the monitor, gives a penalty. Moi Gómez transforms it.
Elche 2 - Sevilla 1 (1-1)
Phantom goal of Guido Carrillo that neither referee nor linesman indicates, but the VAR warns them and goes up to the scoreboard.
Cádiz 1 - Eibar 0 (1-1)
Mauro's own goal after touching after a header from Sergi Enrich, who helped himself with his hand. The VAR warns and is canceled.
Valladolid 1 - Sevilla 1 (0-1)
The VAR warns of a penalty on Weismann who ends up signaling it after seeing it on the monitor. Orellana transforms it.
Villarreal 2 - Cádiz 1 (1-1)
Jonsson's hand that warns the VAR and ends up whistling a penalty. Gerard Moreno transforms it.
Athletic 0 - Alavés 0 (0-1)
Goal disallowed by Joselu for offside by Lucas Pérez.
Photos from as.com