There are already 49 Spanish GP winners with Acosta
The rookie in Moto3 was victory 649 for Spanish motorcycling and joins his name to a list that continues to lead Ángel Nieto with 90 wins.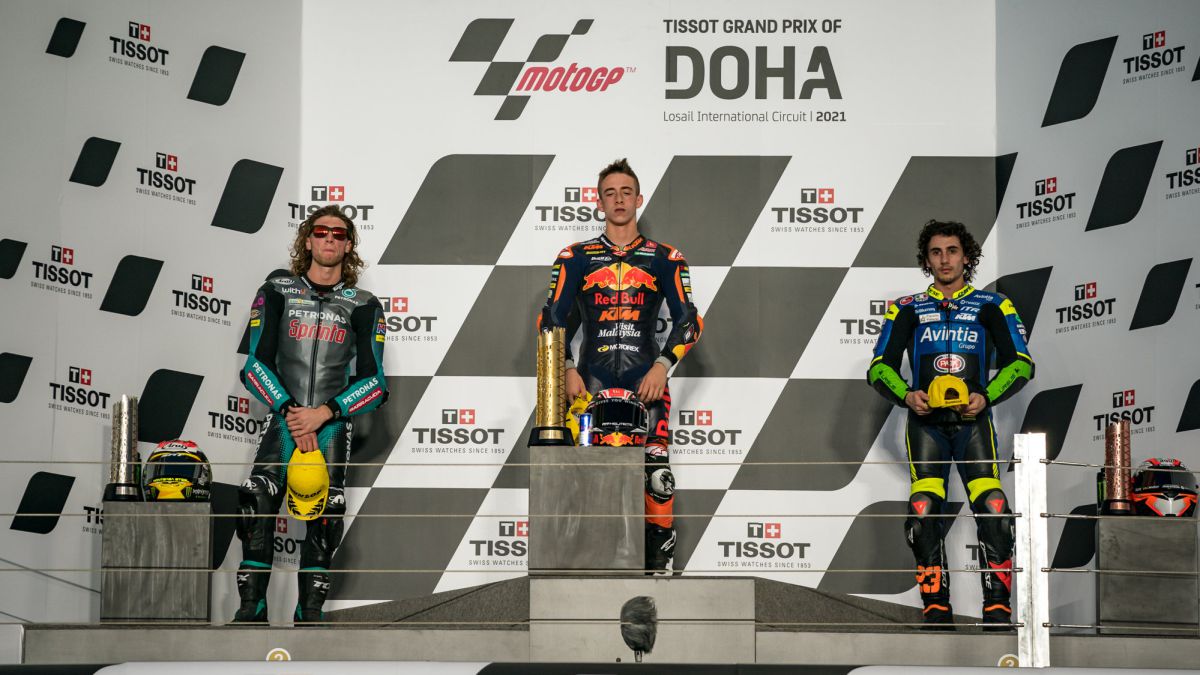 Pedro Acosta, that 16-year-old rookie who has astonished the Motorcycle World Championship, entered with his victory yesterday in the Doha Moto3 GP, starting from the pit lane, in the important Spanish GP winners club. With the Tiburon de Mazarrón there are already 49 of us who have won at least once and with his there are a total of 649 wins, a sum to which the one who contributed the most was Ángel Nieto with 90.
Whenever a new winner appears in AS we like to remember that the first of all was Salvador Cañellas with his triumph at Montjüic 1968, and also the centennial victories. Number 100 was by Ángel Nieto (Holland 1982); the 200, by Álex Crivillé (Spain 1999); 300, by Héctor Faubel (Czech Republic 2007); the 400, by Dani Pedrosa (Japan 2011); the 500, by Marc Márquez (Indianapolis 2014); and 600, by Jorge Martín (Malaysia 2018) .
The 649 Spanish victories in GGPP
1. Angel Nieto 90
2. Marc Márquez 82
. Jorge Lorenzo 68
4. Dani Pedrosa 5
5. Jorge Martínez, Aspar 37
6. Maverick Viñales 25
7. Álex Crivillé 20
8. Ricardo Tormo 19
9. Toni Elías 17
10. Álvaro Bautista 16
11. Nicolás Terol 16
12. Sito Pons 15
13. Pol Espargaró 15
14. Álex Rins 15
15. Joan Mir 13
16. Tito, Rabat 13
17. Álex Márquez 12
18. Héctor Barberá 10
19. Jorge Martín 10
20. Sete Gibernau 9
21. Luis Salom 9
22. Julián Simón 8
23. Héctor Faubel 8
24. Arón Canet 6
25. Albert Arenas 6
26. Carlos Cardús 5
27. Fonsi Nieto 5
28. Santiago Herrero
29. Emilio Alzamora
0. Jaume Masiá
1. Joan Garriga 3
2. Sergio Gadea 3
3. Augusto Fernández 3
4. Salvador Cañellas 2
5. Manuel, Champi, Herreros 2
6. Herri Torrontegui 2
7. Carlos Checa 2
8. Alex Debón 2
9. Efrén Vázquez 2
40. Jorge Navarro 2
41. Marcos Ramírez 2
42. Raúl Fernández 2
43. Benjamín Grau 1
44. Victor Palomo 1
45. Alberto Puig 1
46. Pablo Nieto 1
47. Jordi Torres 1
48. Sergio García 1
49. Pedro Acosta 1
Photos from as.com