The 'Mbappé operation' is shaken
In France they announce a pre-agreement between the Brazilian and PSG until 2026. The Parisian club can now focus on an annoying Mbappé and on Madrid's radar.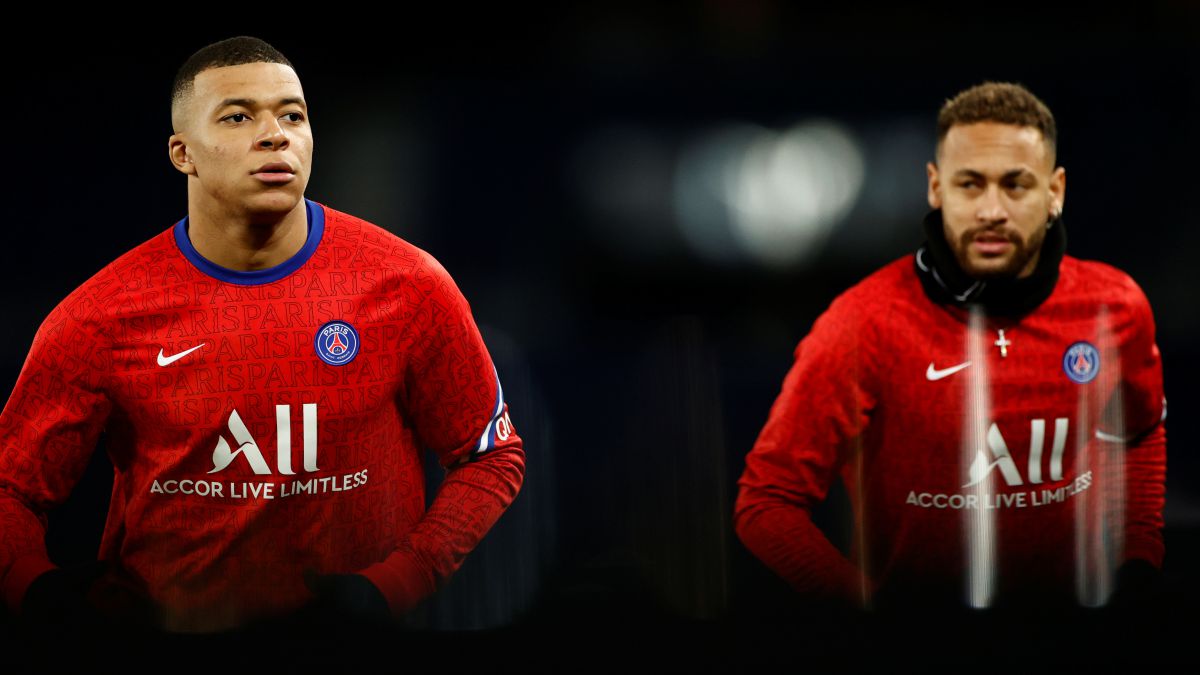 Real Madrid gets its feet in the possible signing of Haaland but the pool where it has been trying to dive the longest is that of Mbappé. And Neymar is a hinge that has a lot to say. PSG has seen itself having to negotiate at the same time the renewal of its Brazilian star and that of Mbappé, communicating vessels that from Chamartín have looked at each other with interest because one negotiation could significantly affect the other. One of those variables has been cleared. According to Teléfoot1, there is a white smoke between Neymar and PSG, a preliminary renewal agreement until 2026. The Parisian club thus frees itself from the pressure of losing Ney and can face the Mbappé case with a different strategy. Madrid, attentive.
The continuity of Neymar frees Al-Khelaifi and his sports director, Leonardo, from the sword of Damocles to be able to stay without their planetary cracks in one go. A relief that would make Mbappé's departure acceptable if the Frenchman does not give his arm to twist and insists on delaying the renewal. Mbappé himself continues to hint that he is still somewhat annoying and the figures and conditions that his star partner has agreed with the club will undoubtedly influence his own negotiation. But for now, PSG does not have so much pressure and is sliding the figures in the direction of Madrid (and Liverpool) for which he could be satisfied if he transfers Kylian because he insists on not extending his contract: he will ask for between 120 and 150 million euros.
Madrid has been developing different strategic plans, depending on how the market is shaking. Although Mino Raiola and Haaland's father are publicly auctioning the Norwegian striker, Mbappé is at the top of the list. It has a series of objectives, such as creating a cushion with this summer's sales and managing very favorable credits, in order to undertake a galactic signing like that of the French crack.Sharing prominence ... and the dream of the Champions League
Mbappé has been shaping a relationship of coexistence with Neymar, but he already knows that if he renews with PSG he will not be able to be the flag almost exclusively during the next five years. Sports also come into play in his mind. On more than one occasion he has hinted that winning the Champions League is his current number one priority and the tears after losing in the final against Bayern, more of frustration than pain, were a test. Precisely the playful hype has provided a PSG-Bayern in the quarterfinals. If PSG falls to the Munich champion, it will be the confirmation that the Parisian entity has failed again in Europe and will go back two steps in Mbappé's dream. And an incentive, and Madrid knows it, so that the forward looks for new airs. With Neymar 'insured' at PSG, he can leave without being accused of leaving PSG naked.
Photos from as.com