The Granada, for another feat
Granada face the most important challenge in their history against a star-studded Manchester United. Darwin Machís points to eleven; Rashford arrives right and Martial is low.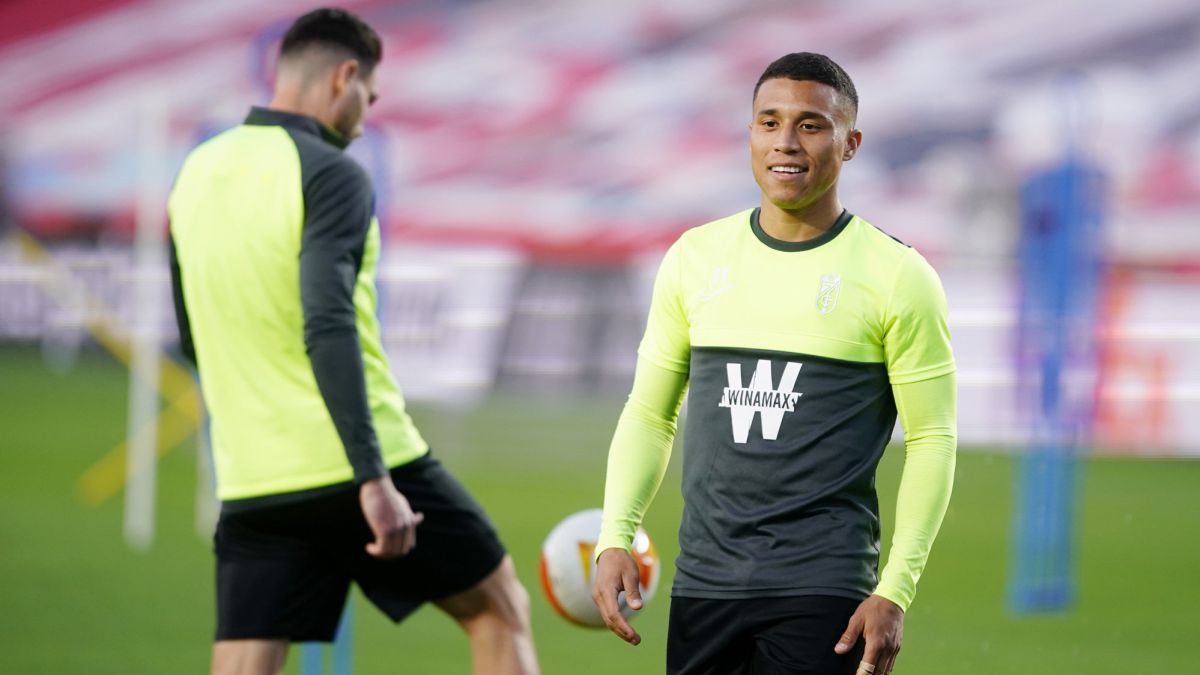 Granada keeps pinching itself. His European feat comes face to face tonight with the most difficult and, at the same time, the most exciting and beautiful of all the challenges he has faced throughout his 90-year history. A European football liner, Manchester United, raises the bar to the extreme. "It is already a success. What these players have done is extraordinary. You have to savor it," Diego Martínez repeats over and over again. The rival is a giant. Their lineup is scary. But there is not a single Granada player who does not dream of the umpteenth continental crush of his team (follow today's game live on As.com) .
The red-and-white flags adorn the city, which breathes pride and illusion. Heart and faith have plenty of this irreducible Granada that does not renounce anything in this Europa League. In search of the matriculation of honor, Diego Martínez recovers one of his great stilettos. Darwin Machís already played 45 minutes against Villarreal and, except for a surprise, he will start today. Physical problems have slowed him down in recent months, but he arrives in time for the appointment of the year. A match for differential players like the Venezuelan.
Your best partner is also ready: Kenedy. The Brazilian has led the rojiblanca ship during the absence of the vinotinto. Tonight they will occupy the wings of an offensive trident that will be completed by Roberto Soldado, who in his day already beat Manchester United with the Tottenham shirt. On the contrary, Milla and Soro will not be there. Foulquier and Neva have a difficult time and Luis Suárez, who has done several training sessions with the group these days, is still far from reaching an optimal level and it is also doubtful.
Solskjaer will not reserve anything and will come out with the best eleven possible. The Europa League is United's only title option, 14 points behind City in the Premier League and eliminated from the FA Cup and Carabao Cup.
In the British team, doubts are centered on the state of Rashford, which has physical discomfort and is not there for 90 minutes, according to Solskjaer yesterday. Martial is out but the rest of the stars will be on the Los Cármenes grass, led by Bruno Fernandes. The challenge for Diego Martínez's men is tremendous, but his career in the Europa League is the best example that there are no impossibilities for this Granada.
Keys
Medular: The trio formed by Gonalons, Montoro and Yangel have a litmus test against dominant players with great physique such as Pogba, McTominay and Bruno Fernandes.
Goalkeeper: It is the position that generates the most debate at United. Henderson seems to have won the game over De Gea, although Solskjaer will remain in doubt.
Solidity: One of Granada's priorities is to stop United's attack and leave a clean sheet today. Not fitting in would be vital to face the return with options.
Gunpowder: Two of the main threats to the British team, Cavani and Rashford, do not come at their best. The Uruguayan has not scored since February 6 and the Englishman drags physical discomforts.
Aces to follow
Machís: He played 45 minutes against Villarreal and is expected to start today. It is not at its best level, but it is still decisive for Granada.
Bruno Fernandes: Differential footballer, his numbers this season are scary: 23 goals and 14 assists.
Highs and lows
Milla, Soro, Quini, Adrián Marín, Quina and Fede Vico are discarded. Luis Suárez, Foulquier and Carlos Neva are doubtful.
Martial, Jones, Mata and Bailly will not be in Los Cármenes tonight.
Photos from as.com