Tottenham's march is irregular and in the last game, the Portuguese sent a dart to his players. Seven of his men, for sale, according to 'Mirror'.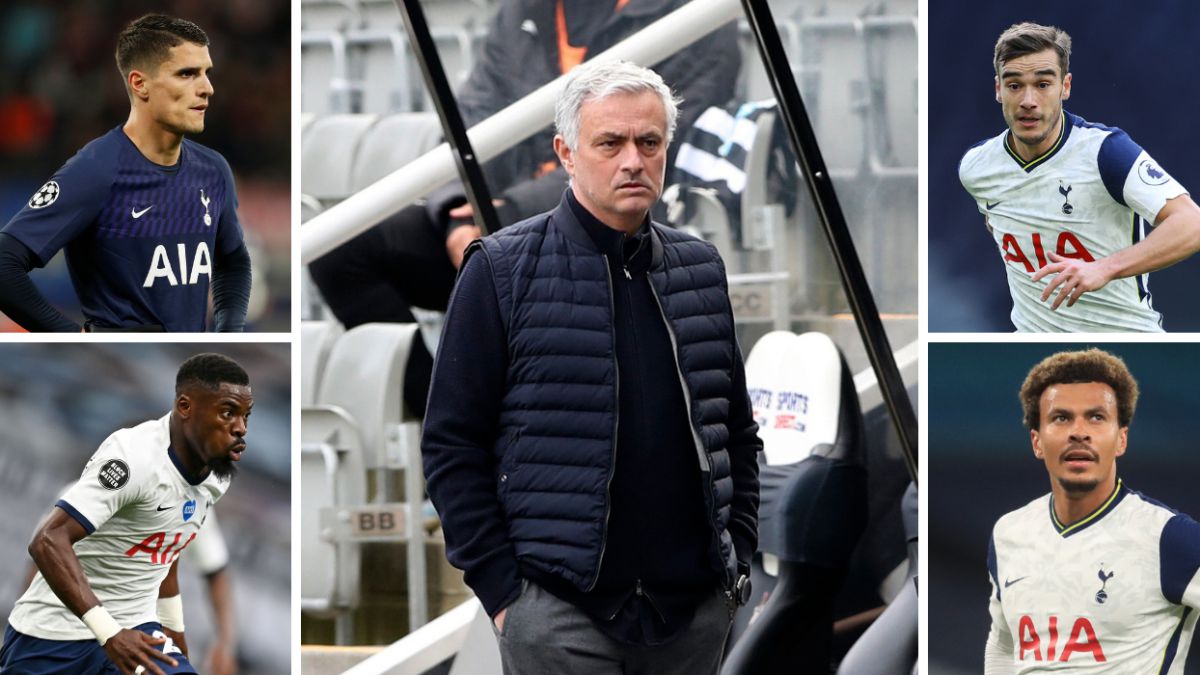 "Same coach, different players". Short and at the foot. José Mourinho in his purest form after his team's draw against Newcastle last weekend (2-2), making it clear that the summer will be moved. It is clear that in the mind of the Portuguese is making signings that solidify the foundations of Tottenham, which has not managed to maintain its great form at the beginning of the course. From opting for the Premier to suffering to enter Europe: they march sixth with Everton, eighth, to two points.
Although entering the Champions League, at three points at the moment, would solve the season, in the Mirror they indicate seven players with the transferable poster as soon as the summer window opens wide. Dele Alli, Serge Aurier, Harry Winks, Juan Foyth, Erik Lamela, Davinson Sánchez and Ryan Sessegnon are the names, many of them with enough billboards to agitate to get enough economic revenue for them.Players with sign
Dele Alli (24 years old) is the most prominent. The English midfielder has lost importance over time and has gone from having a value of 100 million euros in Transfermarkt to the current 32. Descent that illuminates its loss of prominence. His transfer to PSG was close, and more so with the arrival of Pochettino, his great supporter, in Paris, but it did not crystallize. Although Harry Winks (25) may compete with Dele as the one with the greatest number of suitors, since he has been linked to Atlético de Madrid, Valencia and Everton. Between 17 and 24 million euros would be enough to buy your ticket from Tottenham Hotspur Stadium.
Two noted
The case of Serge Aurier is particular. In Amazon's "Tottenham Hotspur: All or nothing" it was clear that Mourinho was not a fan of the 28-year-old winger. Hence he signed Matt Doherty last summer. But the ex-Wolves has not performed as expected and the Ivorian alternates starts with substitutions. PSG was interested, but the arrival of Florenzi put out the flame. A situation similar to that experienced by Davinson Sánchez (24), whom Mourinho pointed out in the aforementioned tie against Tottenham: "There are errors that should not be called that because they are linked to the quality of the players." He arrived in 2017 for 42 million and his departure will be for much less.One last chance and two loans
As for Lamela, he is the footballer on the list who has the most confidence from his coach. However, his age (29 years) and contract (ends in 2022) make his departure a now or never. It is not indisputable and if everyone is available, it usually starts from the bench, but its quality is unquestionable and they can enter an interesting sum this summer, hence their name comes to the fore.
Finally, Foyth (23) and Sessegnon (20). Both the Argentine defender and the English winger (he can also act as a winger) were on loan this season. The first has convinced Villarreal and they are willing to execute the purchase option (15 million) that existed in the agreement. The second, on loan at Hoffenheim, has played regularly but at Tottenham, Reguilón and Son close the doors, which is why it is presented as another feasible option to make money. In short, to enter you have to let out and Mourinho has a lot of candidate with whom he can pay for possible arrivals.

Photos from as.com