The clubs, against Raiola
Haaland's agent negotiates commissions and salaries for the Norwegian forward. Meanwhile, the entities, in crisis, refuse exorbitant amounts.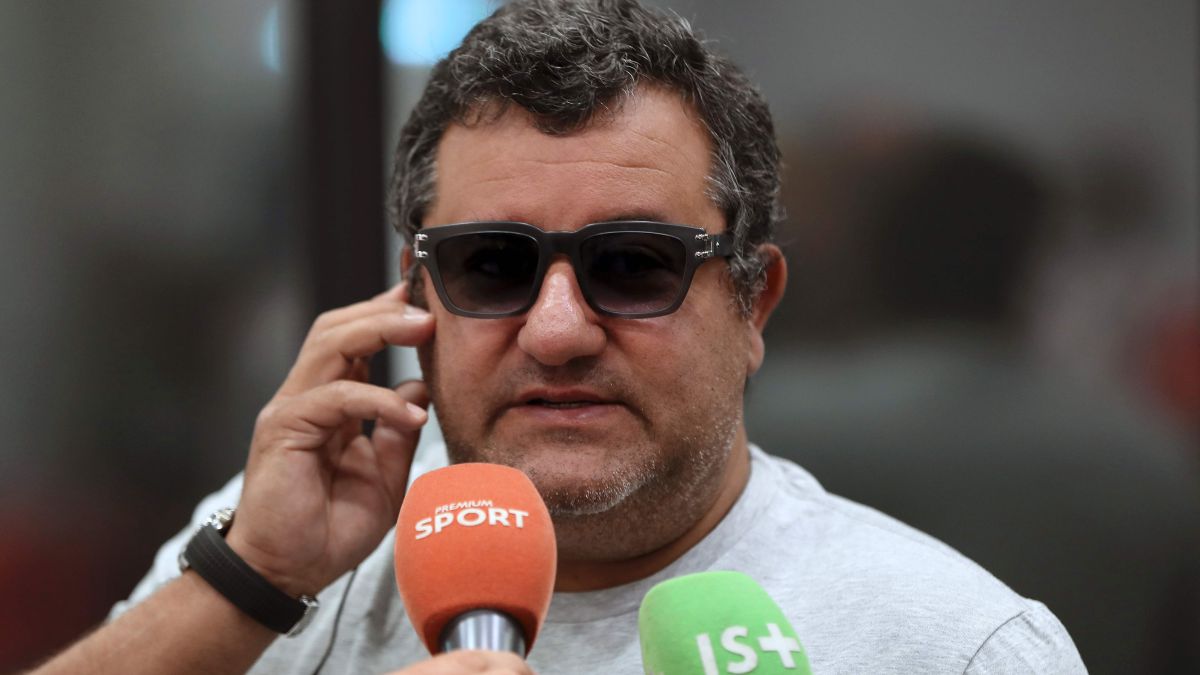 Mino Raiola is a peculiar representative. Accustomed to handling stars in the sky, he now sees in Haaland a new opportunity to take a Titan around the world and extract a commission or two in the process. Last Thursday, he went on a tour of Spain. He first landed in Barcelona, where he had a meeting with Joan Laporta. Later, in the capital, where he had a talk with men close to Florentino Pérez. Some other fans reproached him online for his travels in the middle of the pandemic and with the mobility restrictions imposed. The agent had permission, when it came to business matters. In another sense, there are already several clubs that 'recriminate' the protagonist for his attitude in times of coronavirus. Money no longer moves as it used to in the world of football ... 444 444
Joan Laporta was clear with Raiola. He told him that, as was already well known, Barça is very interested in Haaland and that they want to sign a forward for next summer. However, he also made it clear that the club, especially in the current situation, will not agree to all his requests. Moreover, the new president stressed that he has a Plan B, a Plan C, a Plan D ... Names like Memphis Depay, Koeman's request, or Agüero, who will not continue in the City, are affordable alternatives. Other candidates on the shopping list are Lautaro and Lukaku. To the taste of the technical secretariat, they could arrive due to the urgency of selling Inter due to their delicate economic situation. In other words, Haaland does, but not at any price.
With Guardiola and Manchester City, Raiola hits the exact same wall. The technician acknowledged that they are going to look for a replacement for Kun Agüero. In addition, Gabriel Jesús is not a '9' to use nor does he add large scoring figures. Despite the urgency, there is no anything goes. "There are many possibilities that we will not sign a striker for next season. Given the current situation, it is likely. We cannot afford it. All clubs are going to suffer, we are not going to be an exception," he explains. somewhat resigned Pep. And it is that in addition to the transfer that would have to be paid to Borussia Dortmund, the representative of Haaland also demands a high remuneration from his pupil and an amount for choosing that club among all the proposals. Is that viable today?
Perhaps it would be, as long as Dortmund gave their arm to twist. Zorc, not surprisingly given the talent he enjoys each week at Signal Iduna Park, refuses to gift his player for many interested clubs. After meeting with Raiola, he was blunt: "If one day he decides to leave us, he would only consider it for a few teams. But we will try to retain him as long as we can. More statements against the agent: if you want to place Haaland in a European great, you must first enter an offer from above. 100 million? More than 120? Even 150? Of course, below a hundred it seems difficult for the German club to come off the biggest earthquake on the market in years. Is it possible that those interested pay that figure plus a commission plus a galactic salary in these times?A turbulent summer
City, Barcelona and Dortmund may not be the only ones refusing to enter the Raiola dance. The representative faces a busy market, with two other of his most prominent men at the trigger: Pogba and Donnarumma. If he follows the same modus operandi, the agent will again collide with a new reality. Without an audience in the stadiums, with ertes, with losses in sponsorship ... The money of years ago is no longer moving, where practically every renowned operation was around 80-90 million euros. And if the conditions set out by the promising Haaland, his other players with less cache, are already unanimously answered ...
Shelling Raiola
The well-known representative has no qualms about entering to assess some of the qualifications that are poured on his person. He did so in an interview on the BBC, in which he was asked why the general public may have an idea of him as greedy. "My players don't call me a parasite. Maybe the fans can think about how happy the players are with me if I'm so greedy and so bad. I have no power or influence, my job is to get the best deal," he says.
In the same interview, he praised Haaland, who "can only afford ten clubs in the world." "Four of them are in England. I don't think there is a sports director or coach in the world who says they are not interested in him. It's like saying that a Formula 1 team would not be interested in having Lewis Hamilton," he jokes. . With a more serious tone, he charged harshly against FIFA, with which he maintains a cross-interests war.
"We no longer talk to FIFA. I have no problem with transparency. There are governments that control us fiscally, legally every day. What we have a problem with is with people who do not know how a transfer works, trying to make rules that are ridiculous. FIFA uses us to hide its own problems. There is only interest in saying that they have to attack us because we get too much money from this game, "the agent shoots at the agency. You see, Raiola is clear about her steps.
Raiola, the 'Gnome-King' of the agents
In a special published by AS on the great figures of football representatives, José Luis Guerrero delved further into the personality of the renowned agent and exposed some of his most memorable phrases. "FIFA takes a part of the players' income. This transfer market system is a form of human trafficking" is one of its most recognizable bullets. But, despite everything, his clients have him as their man of maximum confidence. Ibrahimovic once said "this gnome in shorts with a Soprano look is supposed to be my agent" and today he still has enormous sporting and financial prestige at 39 years of age. Raiola has something to do with it, whom you can learn even more about in this report.

Photos from as.com