Nicola had to go up with Gipuzkoa in the offices, COVID passed, Echenique was injured and now he is bottom. His lucky star as a player was broken.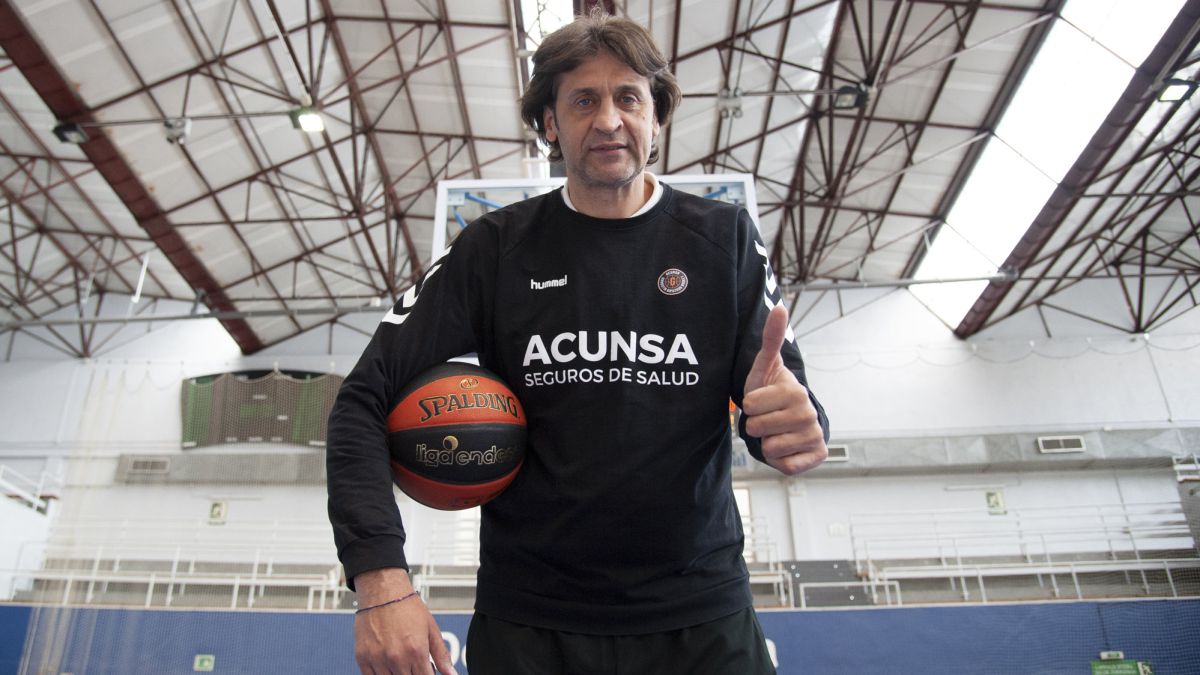 Marcelo Nicola was one of the pearls that made their way at Baskonia when the Vitorian club's search for the Argentine quarries began. At Buesa he showed an infinite class and then continued to develop it in prestigious European teams such as Panathinaikos, Barça, Benetton and Siena. Ahead of his time as a 'four' shooter, although perhaps he is the missing link that preceded the golden generation of the 'albiceleste'. Now he manages Gipuzkoa, bottom of the ACB and the main candidate for relegation, more modestly. He is the technician of bad luck, of the impossible; His constant at Illunbe has been to achieve what nobody expected, with the common denominator of precariousness.
His brilliant resume as a basketball player starts in Vitoria, at the time that is the origin of the titles that have been won later and that he joins a passage through the Argentine team in two World Cups and the Atlanta Olympic Games in 1996.
But once he hung up his boots, things weren't quite rosy. In Murcia he was promoted to the position of head coach when Quintana was dismissed and he did well, he kept the team, but they did not give him the reins the following year. "I did as much as possible," he recalls, ". We got the team back. I caught it in relegation positions and we saved ourselves mathematically with three games to go. With five you could see that we were close. I was satisfied with the work we did, and disappointed for not having continued. . I would have liked, I had spent two years there and it was time to have been able to build the squad for the following year, but the club did not offer me to continue and I wanted to change the leader of the project ".
So he packed his bags and tried out as head coach at Lietuvos Rytas and, two seasons ago, at Forli. Then came the stage in Donostia. He took Gipuzkoa last season in the LEB. And here you have covered a master's degree in survival. "We meet one day and you write a book," he laughs. We go by chapters. "Last year we did a project at LEB starting from scratch, changing the whole team, with eleven new ones. All but two boys who had been in the past and were coming back. The only one who repeated was Oroz, who left half the previous season. great job in bringing everyone together, many of them foreigners; the human group was fantastic and made themselves available quickly, "says the Argentine coach. They achieved the Princess Cup in Valladolid and when they were at their best, the pandemic arrived "and it started all over again." The competition was definitively suspended. Then a long claim came to the ACB and the matter ended up being resolved by legal means, with an order from a judge. "We asked for it in our own right because we were first when the League was suspended," says Nicola.
Squad on the run
After receiving confirmation, it was time to set up a squad hastily in ten days, when everyone was closing their preseason. "With a very small budget, we built everything the best we could. When you do things like this you have a lot of bets and these sometimes turn out well, and sometimes badly; you have to correct as you go, but we didn't have much room for maneuver in the year either. ". The team was starting and came the serious knee injury of its star, Echenique. "As they say, dwarfs grow in the circus but there we are with options until the end," Rafaela's coach, who turns half a century of life in May, revolts.
A Nicola all that fortune from his time as a player has become thorns with the board. Nobody forgets that terrifying fall in the semifinals of the 94 Cup against Estudiantes. After assistance from Laso, he crushed and rushed to the floor in bad posture, his head hitting the ground. Everyone was shocked when he was removed on a stretcher. But fortunately it had no consequences. "We played a few days later. That was on Saturday and on Thursday I found myself in an identical situation, a counterattack race and I didn't think about it, I went for the mate," he says bravely. "There are things that if you don't take your fear away. then it remains engraved on you and very marked ". So he sums up that as a player he achieved "many very beautiful things in great places, achieving achievements that made me very happy and compensated my effort". Because of that miracle, Manel Comas even said that Marcelo had an "angel" .
Of course, as a pivot he already felt an advance of the hardship that has come after him with the board. It was a hard blow. At the Atlanta Games he went out against the United States Dream Team and broke his knee. "A fatality." That cut off the possibility of fulfilling his great dream of going to the NBA. Herb Brown went on to state that Krause, the Bulls' super general manager, had asked him about the Argentine 'four' and was following him, but he is not aware of that. "At that time there was not as much activity on the internet or social networks as now. The NBA seemed to be very far away communicatively and physically. Now in games there are ten or twelve spies there. At that time if they followed you it was very popular, I did not find out By a lot, Houston chose me and Tomjanovich came to see me. Then they transferred the rights to Portland, I was able to try there, but the real possibility of a contract was never on the table. It was complicated, because I had a very long contract in Vitoria. For the real stuff, I hurt my knee at the Atlanta Games. " His withdrawal was due to injuries, on medical advice, despite the fact that he was already 35 years old.
Of his time in Vitoria, the urban legend says that he did not get along quite well with Laso, who on one occasion yelled at the current Madrid coach: "Pass me the ball dwarf", and the point guard neither short nor lazy replied: "Look Marcelo, I'm going to tell you something ... if you had my body you would be an office worker, and if I had your body I would be playing in the NBA right now." Nicola neither confirms nor denies this point, but she does deny that there was bad vibes. "We have a very good relationship, his career is excellent and that he has been under so many years with the pressure that Madrid has, shows his ability as a coach and group manager. A coach is always on the edge of the knife and it is difficult to find projects where there is continuity. If there is in Madrid it is because Pablo has earned it all the time ".
Match against Madrid
Acunsa is coming off a tough loss at home to Obradoiro, which has left him closing the standings alone with six wins in 26 games. "We continue with the conviction that we must continue to the end, we must continue fighting. There is no other choice, we knew them from the beginning, this has not ended. I have always promulgated it: you cannot look beyond the next game", sums up the coach. Nothing stands in the way of the man of the impossible, not a leader in the antipodes with 20 more wins and a single defeat in the entire ACB campaign, "Madrid is a very complete team, with many players who come from a week It lasts for the two Euroleague games, but they have a lot of talent, you have to be prepared to fight and go without fear ".
The departure of his compatriot Campazzo has been noticed in the Whites, "it has been an important blow, in two years Doncic and then Facu have gone, two bases of the best at European level, with a very great career; the team He was a bit unbalanced. Alocén is young but he still has to mature and do it in a team with the demands of Madrid, it is difficult, you have to do it at forced marches ", Nicola ends, to finish Laso with new flowers:" It is Pablo's merit competing with injuries, rotations, casualties, exits ... they have been very intelligent in maintaining the block of players who identify with the club and the team. Pablo's continuity gives strength and also that of players like Llull, Rudy , Carroll, Thompkins, Taylor… that makes the group solid. "

Photos from as.com