The art of Darder and Melamed brings Espanyol closer to Primera
A goal from almost 50 meters at 25 seconds opened a victory marked by VAR and by another marvel, against a Leganés who found Miguel's goal.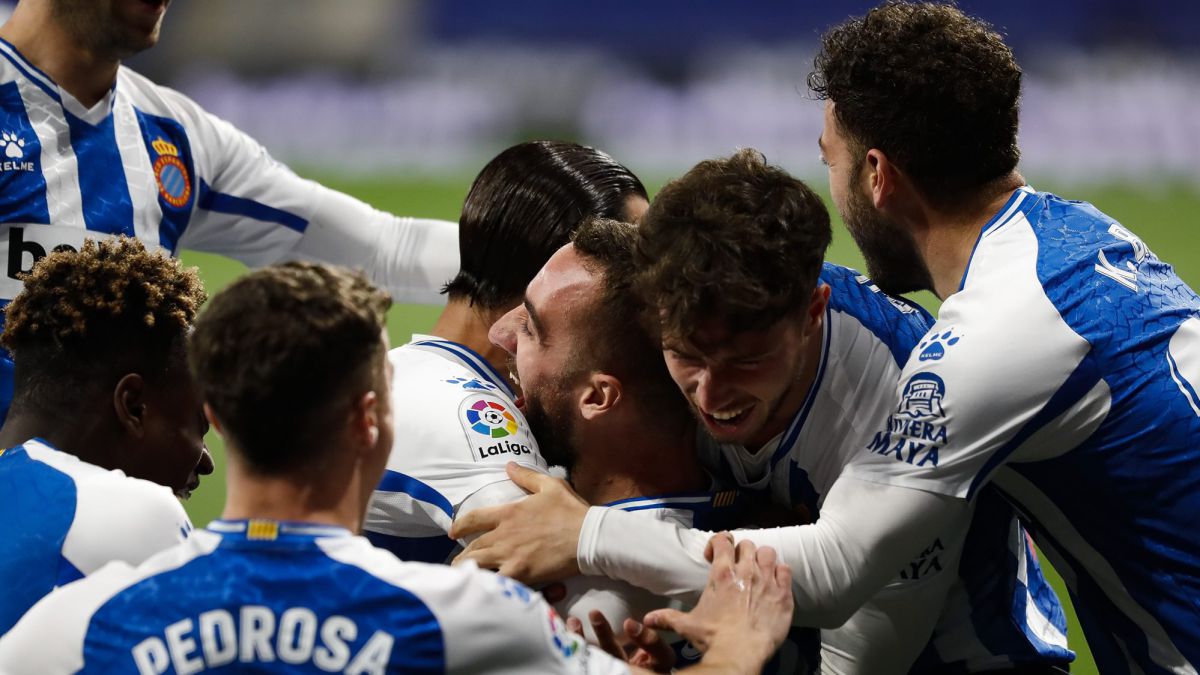 Espanyol feels so much desire and need to move up that he did not wait half a minute to score, in a genius of Darder, and that lately he rebuilds himself from adversities until he achieves victories that are non-negotiable, this with another huge goal from Nico Melamed. And they have already gone 11 days without losing. The VAR and a Leganés at the height but who missed the opportunity to be third were the other actors of a night in which the leader distanced himself ten points from the playoff with only eight days left. One foot in First.
Players usually admit that the gestures of their hobby reach them. They give Espanyol wings. In the first lap, before taking on Almería, hundreds of motorcycles accompanied the coach on the way to Cornellà and Raúl de Tomás scored a goal from 53.5 meters. This time, they were greeted with scarves and a giant Curva banner ("we saw you go down, we'll make you go up"), and it took Darder 25 seconds of the game to score another anthological target, from the core already rejects Risk, which He remembered that of Villa in the Spain-Chile World Cup in South Africa, here without even bouncing the ball.
A another epic moment of the World Cup, but in 2006 and with Zidane as the protagonist, minutes later De Tomás evoked when Panenka launched a penalty, by the hand of Omeruo, who crashed on the crossbar. This one did not enter. Hypermotivated were the parakeets. But it was not, by far, a recital by Espanyol. Between Diego López and his namesake Dídac, occasional right-back, they saved two goals from Arnáiz and Javi Hernández for a plugged Leganés.
Poetry was countered by the irruption of an incomprehensible VAR. First, when, at the restart, Miguel de la Fuente took advantage of a rebound to score the 1-1 with Rober Ibáñez in a more than likely offside - he did not touch the ball, but intervened in the play - which, however, was not contemplated. The one who was seen, shortly after, was David López, who left replaced, feeling the hamstrings of his right leg.
And the VAR also ignored Espanyol in the second, an impressive volley by Nico Melamed, on his twentieth birthday, who again invoked Zidane, the one from the Champions League final in Glasgow, although with a previous 'offside' of Embarba that was not considered as such.
Juan Muñoz had the tie, but Diego López's right-hand goal post preferred lyrical to epic. As it seems that football prefers for now that Espanyol returns to Primera on the fast track. The next day, in Almería, can be crucial for the parakeets. Although, with his determination, Leganés de Garitano is also buying a multitude of ballots to go up even in the playoffs.
Photos from as.com