Supernova in Madrid: Vukcevic graduates from El Clásico
The Real Madrid youth squad launches the Whites to victory in the game against Barça, with 11 points and 3 triples, and sits in Pablo Laso's rotation.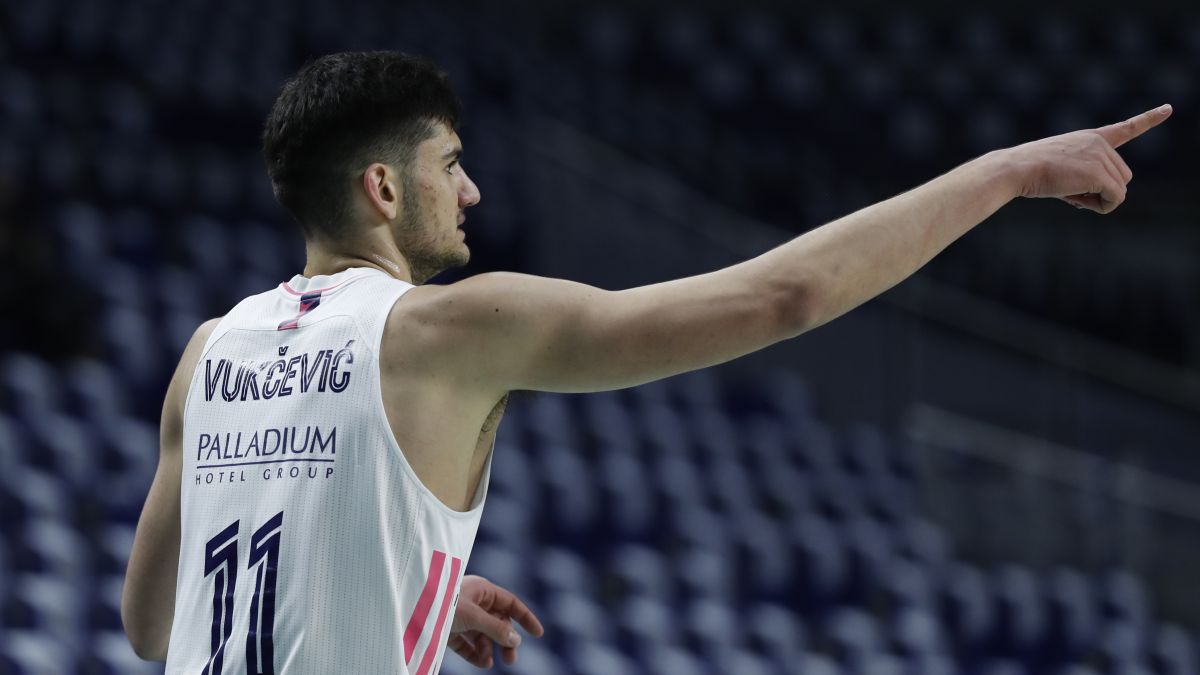 Hearing 'Vukcevic' in Real Madrid narratives no longer sounds weird. The white youth squad, at 18, is one more within the discipline of the first team, both in training and in games, where it costs more to be. He seems to be touched by the wand of precocity, the one that also rested on his partner Usman Garuba, previously in Luka Doncic, and that, now, points to Eli John Ndiaye, Juan Núñez or Matteo Spagnolo. A priori, leaders of another promising litter: from May 27 to 30, in Cologne, they will defend their European crown in the final eight of the Junior Euroleague. A tradition whose roots are increasingly consistent.
The talent factory is inexhaustible. In the Pablo Laso era, there have already been fifteen players who have had the opportunity to debut with the first team. Among them, Luka or Usman themselves; but also Dani Díez (Lenovo Tenerife), Willy Hernangómez (New Orleans Pelicans), Jonathan Barreiro (Casademont Zaragoza), Dino Radonic (Acunsa GBC) or Boris Tisma (Coosur Real Betis). The fifteenth, Tristan Vukcevic, who against Barcelona, in the Spanish Basketball Classic, added his seventh game in a row, accumulating minutes in ACB with Real. And what minutes. A controlled progression, made in Laso, which has accelerated in recent performances. If in his debut in the ACB, on October 10, he added 3:43 minutes, against the Catalan team it was 21:04. Between one date and the other, two well-defined stages. The first, composed of the matches against Herbalife Gran Canaria, Betis, San Pablo Burgos, UCAM Murcia and TD Systems Baskonia, marked by the contact with professional basketball. In that period, 23 total minutes, 4:36 on average, for 1.2 points and 1.4 rebounds; without assists and with only one attempt, failed, in the triple. Nothing to do with the second, emboldened by 14 brilliant minutes against Betis, in which he accumulated 11 points, 4 rebounds, 3 assists and 2/3 in triples for 16 PIR credits. Your letter of introduction among the elders.
Actions of all colors with an explosive start: a 3 + 1 frontal, after a pass from Laprovittola and a foul from Ndoye. Subsequently, good movements under the rim, with solutions for teammates or for the direct route, and a more than wide shooting card, as required by the new basketball canons. "I have seen a very big improvement in him," said Laso after the game, also highlighting his ability to contribute from now on to the team and his vision to understand what he demands at each moment. Since then, more minutes, absolutely deserved and no less used: against BAXI Manresa, 5 points, 3 1/2 rebounds from long distance. Against Acunsa GBC, 7 points, another 3 rebounds and a +11 in the plus minus. The latter, in addition, a confrontation in which, as happened against Betis with Boris Tisma, he saw the faces with Dino Radoncic (19 points and 25 valuation), the soul of a Gipuzkoa, bottom, who could do little against him Leader. Rivals during the game, but great friends outside of it. "Tristan Vukcevic, remember his name," Dino posted on his Twitter page amid this maelstrom of positive appearances, in which he averaged 17:38 minutes, 8.5 points, 3.5 rebounds and has scored 7 of his 13 attempts at triple (54%). He was right.
Classical graduation
In case there was still someone who did not know him, Tristan decided to monopolize a good part of the many spotlights that illuminated a Classic to remember. It was the Pau Gasol Classic, the Post Deck Classic; but it ended up being the Vukcevic Classic. Because yes, Laprovittola was the architect of the victory, the one who dealt the blow and conquered, when he made eyes to Mirotic, the epic; but in the explosion the star tends to blind, no matter how grandiose everything else may be. Supernova, they call it. And it has its space-time coordinate in decisive moments, when only experience or talent are usually worth. Of the second, Tristan has plenty. Already in the last quarter, after assistance from Rudy and several flashes as a warning, triple to stretch a needed marker. He is not a traitor. And the best was yet to come. One minute from the end, with 74 to 78 in the light and after three excellent defenses, a new success from long distance; the same one that, according to Pablo Laso, made them celebrate too soon.
The five fouls, the result of an invaluable defensive delivery, denied him the end of a match he deserved. And Pablo usually gives everyone what they earn. 11 points, equaling his best record so far, 4 rebounds, 3/5 in triples and a +15 in the plus minus (the oldest of the team) looked at that time on his locker. "I'm not surprised by what Usman and Tristan have done, because I see them many days," Laso said after the game. Chance or causality, it is a perfect metaphor: supernovae are generated by nuclear fusion and, along with Vukcevic, Garuba could not be absent. Together, the youngest inner couple in a Classic and the one that, although it does not remain in the record books, made forget a Tavares loaded with fouls. Yes, their 11 points will remain (from both), being Tristan ahead and Usman behind, along with Roger Esteller and Doncic, the youngest players (18 and 19 years old respectively) to reach this figure in a match against Barcelona. One of the many records they still have to break, if no one - read NBA - stops them.From Olympiacos to Felipe Reyes' lessons
Vukcevic landed in Madrid in 2018, aged 15, from the Olympliacos quarry, where he spent two years. It was not reaching unfamiliar territory, far from it. His father, Dusan Vukcevic, also wore the white jersey. Specifically, in the 2001-02 season and, furthermore, following the same path: it also came from the Greek team. A proven shooter at the time, he did not have the best fortune in a project that tried to incorporate talent from the Balkans (Dragan Tarlac, Zan Tabak ...) without success and that needed an exterior after the departure of Marko Milic. Becoming very different from what his son wants to write, heir to the success from a long distance, but with a different profile.
With his 100 kilos and 2.08 meters of height, Tristan can move between the interior positions (power forward); Without abandoning, of course, that external success that has become so necessary today. In fact, shooting, as he has shown in recent performances, is one of his greatest virtues, a quasi-natural relationship that makes him an ideal prototype to perform from now on. However, his ability to play with his back to the basket is not to be waived. Felipe Reyes knows this well, whose role on the track has fewer and fewer minutes; But that of captain, in a squad that, at forced marches, has been forced to give chevrons to the youngest, is almost more important than ever.
Y has wrapped up Vukcevic, showing him the secrets of the low post, the same ones that have made Real fans vibrate so many times. "It was not only today that Felipe Reyes has given me classes, he has been teaching me every day for seven months (not only on the court, outside as well). An honor to be able to learn from you," the young man wrote to the veteran for his 41st anniversary. "It is a pleasure to work with kids who want to learn and who go to train every day to give their all and you, Tristan, are a clear example of all this. If you keep working just as hard and with the same humility that now you will get to where you propose, "replied the second. Captain's Word.
Photos from as.com