Stoichkov, the effective 'Bulgarian'
The Sabadell striker has already eight goals and is the top scorer of the Harlequin team. He signed a double against Girona and his goals have yielded 11 points.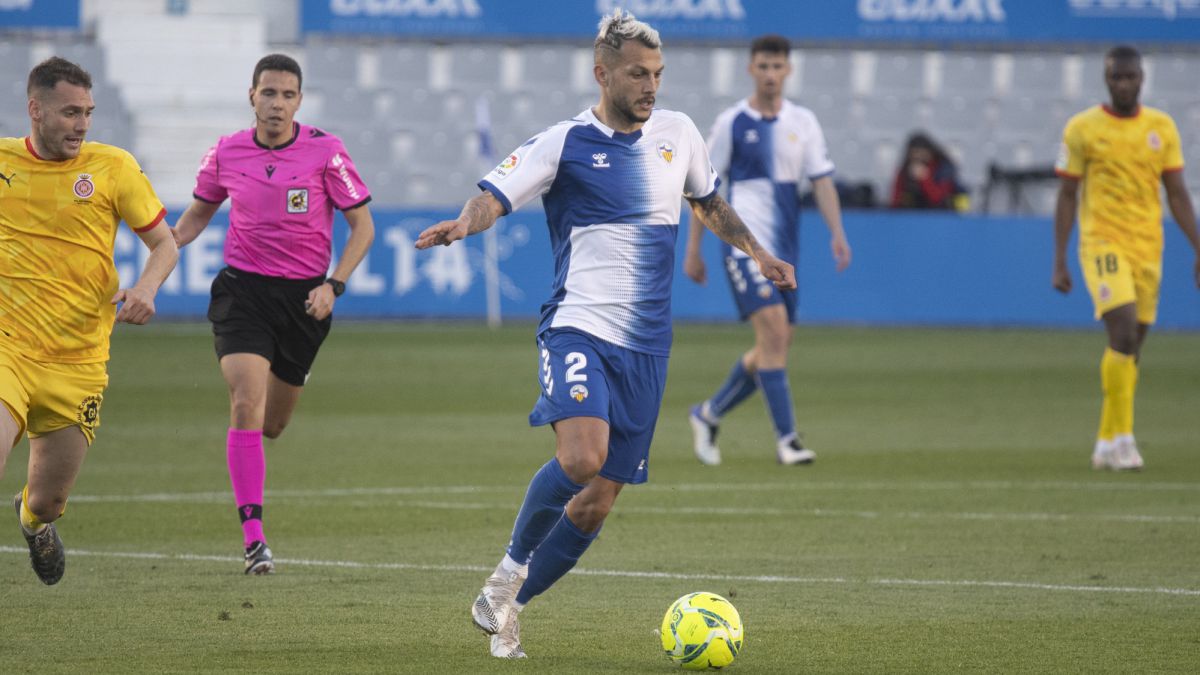 The Sabadell dances to the sound of Stoichkov. The player on loan from Mallorca is undoubtedly the best signing from Harlequin in his season back to Spanish football and he is meeting expectations. He has already been signed to be a differential footballer and he is not going unnoticed. He fell on his feet in the Catalan club and his goal is to leave him in professional football. Sabadell's sports management made a great bet to sign him last summer to help them stay in Second, Stoichkov accepted the challenge and, for now, he already has eight goals and one assist. Last year, at Alcorcón, he scored 16 goals and became Zarra in the silver category of Spanish football.
Antonio Hidalgo, Sabadell coach, knows that he is a differential player and is that, thanks to his goals, the Harlequin block has added 11 of the 32 points they accumulate. This day they have returned to the places of descent, but the desire for salvation remains intact. And with Stoichkov even more. With his left foot, he has dazzled the Harlequin fans and they have placed many hopes in him to continue in professional football. On this day, against Girona, he signed, for the first time this year, a double and although it did not serve to win, it does keep them in a preferential position to leave the relegation places. Stoichkov's course is being a roller coaster because he has passed sections in which Hidalgo had to 'give' a touch and show him the bench, but he is untouchable. In addition, when he has been needed the most, he has been there and, since he missed a penalty in the Nova Creu Alta against Almería (last November), he has a pending claim.
Stoichkov is called, in truth, Juan Diego Molina, he is from Cádiz, but that is how the player has been known since he was a child in homage to Hristo. His father was in love with the Bulgarian and despite his mother's struggle, the current Sabadell footballer has confessed on more than one occasion that "if someone calls me Juan Diego, I ignore him. More people like Stoichkov know me. "His father nicknamed him that, first for idolizing Hristo and later because of a meeting with the real Stoichkov in his bar. Since then he promised to name his son this way and that is how he is known. now.
The 'Bulgarian' of Sabadell is trying to consolidate the Harlequin team in professional football and in the ten remaining games he will play a leading role. His greatest desire is to reach the First Division, but first he has to play in the mud. He does not seem concerned because his football does not understand categories and this course, as in the previous one at Alcorcón, has a maxim: to help the team continue in the Second Division. At the moment he has eight goals and only one, the one achieved against Almería (1-2), has not served to score. In addition, in this last day he has found his best ally: Aarón Rey. He assisted him for the 2-1 against Girona and the mobility of one blends perfectly with the verticality and punch of the other.

Photos from as.com