"Simeone said that I could not leave, that there were 20 more and I"
Diego Godín has given an interview to AS in which he reviews his career at Atlético, how and why he left the club, and talks about the present at Cagliari and his future.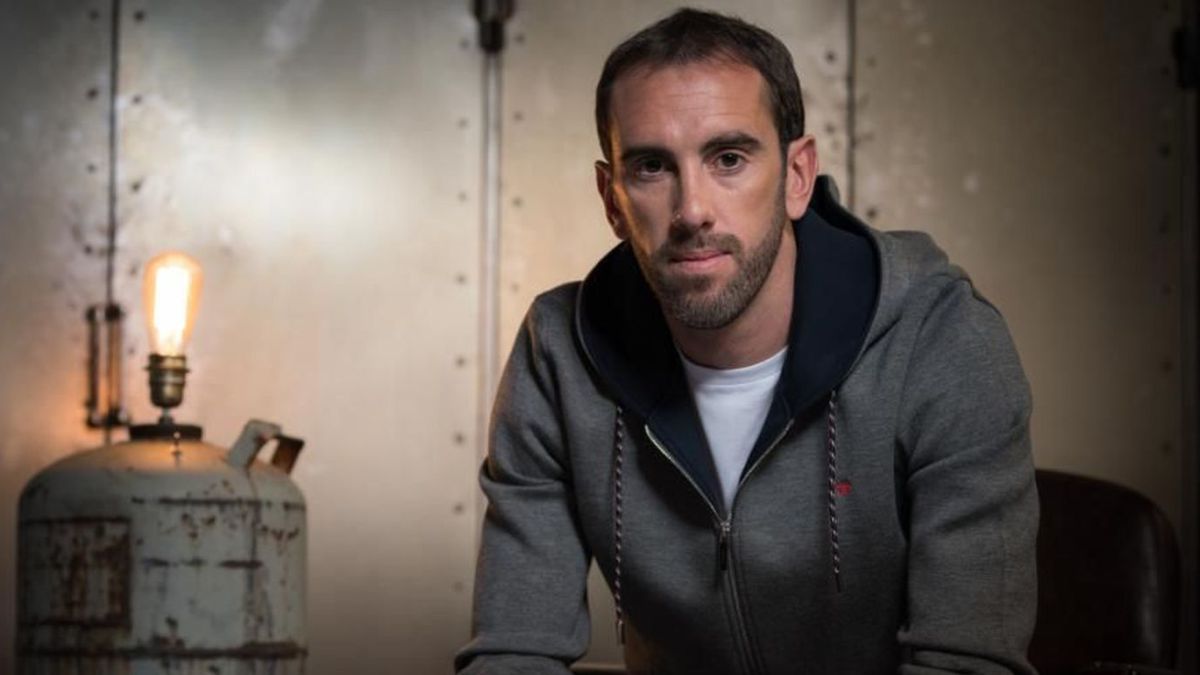 Diego Godín (35 years old) attended AS through La Futbolería de AStv. The football talk with the Uruguayan surrounds you. His goal in Lisbon, his goal at the Camp Nou that gave a league and his entire stage at Atlético, in which the key was to have a group of friends who fought like brothers on and off the pitch, goes with the same intensity and emotion. . Thus, with Simeone on the bench, they won so many titles.
How is it to play to avoid relegation with Cagliari for one of the best center-backs in the world?
When I started in Cerro, in Uruguay, I experienced similar situations, I was younger, my naivety was different. After so many years in Europe fighting titles, it is more difficult because I came to Cagliari to try to lend a hand, the idea was to help Cagliari to fight for the Europa League positions, to take a step further, which was what the president wanted . And we entered this situation that generates a little anguish, a little nervousness and for me, who am one of the veterans of the team, it generates a lot of responsibility. The responsibility is assumed and I live with it. Until the end they will be final and they will be moments of tension until the end of the championship.
How is Giovanni Simeone as a teammate and as a forward? Could he triumph in LaLiga, at Atlético, at Sevilla ...? 444 444
Gio is a great boy, very good, a piece of bread. He has a very good attitude, he trains well, he is always positive, he is always trying to improve, he talks to the coaches to see what he can improve, to find out where he went wrong. And he has a physical strength which is what gives him that plus near the area, he is a great finisher. He told me that in the Italian league it is more difficult for him because he has to play many times on his back, the defenses are very tight, they are very tactical teams and he with spaces, reaching the area to define or running into space, he feels more comfortable. He has conditions, of course, to be able to try in another league like the Spanish, in the English league ... I see conditions for him and he also has a lot of will. You will continue to grow and pursue your career.
How was your experience at Inter Milan?
I thought I was going to play on the back lane in the middle, which is where I was most used to, and I felt more comfortable covering, playing behind and directing a bit of defense. But I had to make a great effort to change my mentality and my physique, but it was a tremendous effort, already at 33 and 34 years old. And I did and ended up playing and doing good performances. I have messages of affection from the Inter fans and that cannot be a coincidence. Earning that respect was not easy. I did not continue by decision of the technician.
He has just turned 35, like Sergio Ramos, who says that he is sane until he is 40. How long is 'Pharaoh' left sane?
I don't know if I have two, three or four years left. I go year to year. And my big goal now is to help Cagliari save themselves. I came for a family decision. It is a great club, Uruguayans love us here and my great short-term objective is to achieve salvation. In the medium term is to be able to play the Copa de América, be able to win it and be able to qualify Uruguay for another World Cup, because in one year everything is defined, because the Copa de América is played, the World Cup qualification is played and we will know if Uruguay will to be in the 2022 World Cup. As captain and as leader of my team is to be able to take Uruguay to one more World Cup event and to be able to play my fourth World Cup. And this is in a year and a half. It's not that much, but it's a lot, because a lot of things happen in football in a year and a half. Once we achieve these goals, we will continue year by year and we will see how my career continues, but I do not set a limit that I will play until 40, until 37 ... I will take it and see how the body responds. And have the desire, because the head rules.
Why did you leave Atlético?
No agreement was reached for the renewal, plain and simple. It was nine years old, a cycle had been completed and I was bitten by the bug of living another experience. But I can't have bad words with Atleti, with anyone. What I have are good memories, memories of the fans, my friends, the people who work at the club, good memories of everything and everyone. No agreement was reached and it was difficult. At the time I cried because it is difficult when you leave your home, when you leave the place where you always wanted to be, the place you love, where you have people who love you and that you love. But I will always have beautiful memories of the Atleti.
Couldn't Simeone press more to keep him at Atleti?
I don't know. El Cholo will have done his job. Nor can I depend on what Cholo does or what he doesn't do. At that time no agreement was reached and it was between the club and me. Simeone was the coach and he publicly said a lot of times that I couldn't go, that it was Godín and 20 more. With the Cholo always words of gratitude.
It was said in his previous renovation that Simeone even said that if Godín was not renewed, he would leave ... Was it like that?
Yes, that was the summer of 2015. Manchester City came and paid more than my clause, because I wanted to do it on good terms. And I was negotiating with Atlético and City was pressing, Cholo found out in Japan, because the team was touring Asia, although I was in Madrid because I had returned later from the America's Cup. Everyone closed ranks, I remember Gabi, Raúl García, Tiago, all my teammates and Cholo too and he said: "If Godín goes, I'll go." That's what Cholo said and the next day he was renovating. They are gestures that I have to thank. Actually, that shows what group there was. Within that group I had and have friends. Soccer happens, but what you have left are the friends and the people who love me to this day.
That group of players led Atleti to be the most important in history. Godín, as leader, transferred the entire philosophy of Cholo. Explain how that wardrobe worked ...
To have a successful team you must have a good locker room. There was a group of men and a group of friends and Atlético de Madrid was above any individuality. There were no egos. Gabi was the captain, I was a captain without an armband, as was Raúl García, as was Tiago, as was Juanfran, as was Guaje Villa when he arrived. Everyone had their role and knew what to do, but we all pushed for the same side. We achieved something that over the years will be valued even more, such as winning a league after 38 days, reaching a Champions League final and doing it at the time of Cristiano's Madrid and Messi's Barça, who dominated football for ten years. We achieve that by the strength of the group, through the idea of the Cholo, through the idea of the team. And we defended ourselves to the death, because we were like brothers outside and it was seen on the field how we fought,
Are you following the season? Is Atlético going to be the league champion?
Yes, always, I watch all the games. Atlético generated a cushion of important points. Madrid and Barcelona had a rather irregular first round, with ups and downs, and Atleti was a solid and regular team. Even so, they have already cut points and we all know that Madrid and Barça are going to be fighting until the end, they are going to keep pushing. I see Atleti well because I see him with variations and because he has a goal, every time he arrives it hurts, with a few things, against Alavés in the last game they did not have a good first half, they came from the elimination of the Champions League and they were thick , and in the second half they entered, a couple of centers to the area, Luis arrived and pin, goal, and he won the game with a center and a header. Trippier's center, Suarez's goal and the game was over. That is what we had in the league year, we created an opportunity, we scored a goal and then it was difficult to score. Then Oblak appeared. I see Atleti well, solid and strong.
Were you expecting the great performance of Luis Suárez?
Yes, I expected it. I always knew that both Suárez and Edi (Cavani) were players who were made to play for Atleti. Yes, I expected his performance. Luis came from the end of the season with Barcelona that had not been good and it had not been easy from the point of view. It was seen when he arrived, in the first months Luis was not fine, nor physically well, today he looks fast, explosive, he always arrives in the area, he has the strength to put his body and generate problems. Luis near the area always manages in one way or another to hurt. He is having an impressive season. In less than a year he has won over the fans and earned the respect of all.
Giménez, Savic, Hermoso, Felipe ... Does Godín have a successor at Atleti?
Since you name Savic, it is worth noting. Little is said about Stefan's season. He is the best player, the most regular, of Atlético de Madrid. It is true that Marcos Llorente has played great games, like Koke, Suárez, Oblak, but Savic has had an impressive consistency. He has only lost two games. He has supported the defense because he has had the losses of Giménez and Felipe and Hermoso have played something else. Savic's season is impressive. And about the successor, it is difficult to say. I said, who is going to replace Gabi, Juanfran, Filipe? They are players with different characteristics and in the first round they played something else, with a line of three, with more advanced lanes, with more offensive people, they are different teams and different players.
Were you expecting Marcos Llorente's explosion?
The truth is that I did not expect its explosion. It was a surprise for everyone, first because of his position on the field, because no one expected the position on the field that made him explode, playing closer to the goal, breaking into space, reaching the second line and it was what made him explode as player, together with the power and physical virtue that he has, which makes him make a difference.
Would João Félix perform more with another coach, with another style?
How can we know that? It is difficult to know. I am left with one thing that Cholo said: "I don't have to give you confidence. You, you have to give me confidence. You have to show me confidence to make you play and perform." João has had a chance and he is going to have it. Every time he touches it, you see that he has something different, but he still has not entered the team dynamics. It is seen that he is different and that he needs something more to free himself, to be the different player that is expected and that we know him to be.
Have you watched the Lisbon final again? His goal made Atleti champion of Europe for almost an hour, from minute 35 to 93 ... 444 444
I have not seen the final again. I have seen images, I have seen the goal. The Lisbon final is a memory, neither good nor bad, it is a great memory. It was Atleti's best season in recent years and reaching a Champions League final is not easy, go down that road and win the League. It was painful because we were close to being able to win it and they tied us in the last minutes, and we no longer had physique, with Diego's change at five minutes, the team lost the strength we had during the year. We knew that with Diego at the top in any play we generated something. After the goal, we practically did not pass the half of the field, we arrived by dropper and we were very bad physically. And in overtime it was already impossible.
And the one in Milan? Were they too conservative to get to the penalty shootout? 444 444
The Milan final was different. The game started and no one took control, the goal came quickly and it was the other way around, we took control of the game. We freed ourselves, we carried the weight of the game, we made chances, we went on the attack, we generated plays. If Antoine takes the penalty, we would have had more minutes within 90 to have sought the second goal. Then there were cramps, fatigue in the extra time in teammates, and that led to the penalty shoot-out.
Are you planning to return to Atlético? There is talk in Madrid of a project to return to the club Filipe, Juanfran, Gabi, Godín in different tasks.
(laughs). That sure is Juanfran. We always talk to each other to do something together, but Juanfran is the one who gets his head blown the most, the one who wants to do things. I am focused on Cagliari and Uruguay and I have not stopped to think about that. But we did talk about it since we were together. When we retire, we have to get together: you are the sports director, the other coach, but that is very much up in the air. Juanfran is closer because he really wants to do it and be a sports director, he is closer to that role.
The Mono Burgos has started his career as head coach at Newell's, what future do you see for him? Would you like to play at your command?
I keep talking to the Monkey, we write to each other. The other day I was laughing at the video of his debut with Newell's. I wish the Monkey the best, he is a great person, he is an authentic person, who makes himself loved. He began this path of first coach in a difficult league like Argentina, he took a team that was in need. El Mono has everything to win, he has everything to do well. I wish him the best and see if the years give me and see where the Monkey is and gives me to be under his orders, I would love to.
Haaland or Mbappé? Who would you sign?
I would sign Haaland for my team.
Photos from as.com