Rossi looks with "more potential" than to finish twelfth
Since he returned last year from having Covid-19, 'The Doctor' has been stuck in that position for three races, the last one due to the fall of the rear tire.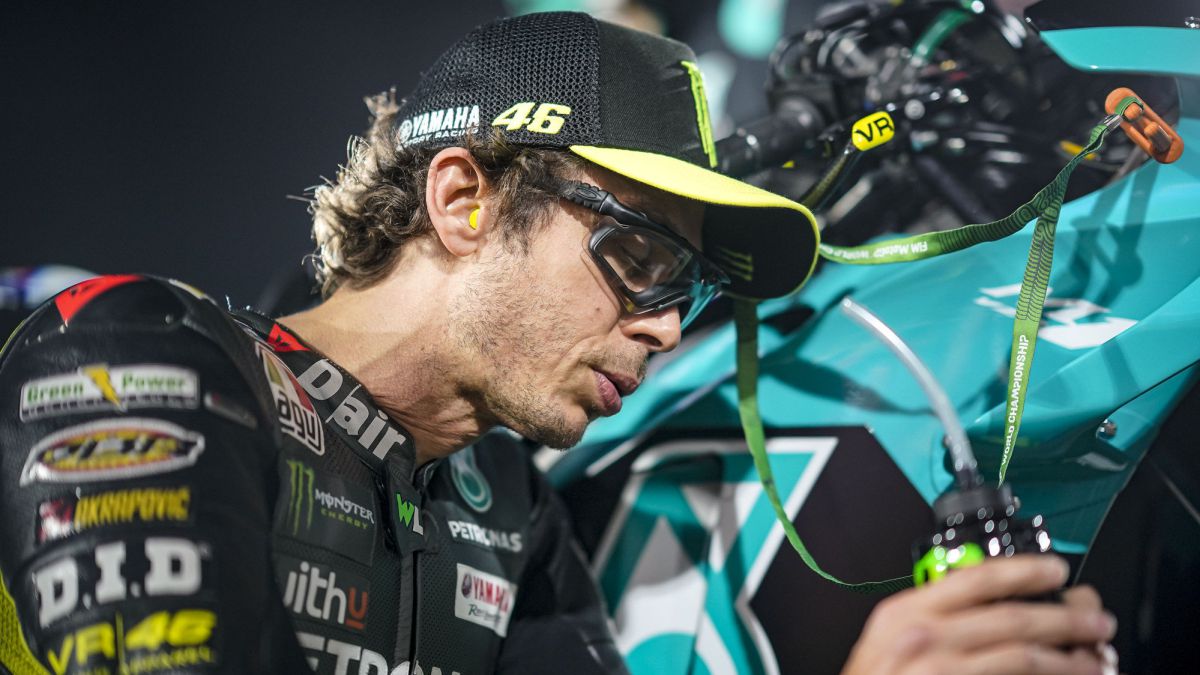 Valentino Rossi's twelfth place in last Sunday's race fell far short of the expectations created by his good performance in Q2, taking fourth place for the Qatar GP grid. His subsequent position in the race is the same as in the last two of last year, with which he is anchored in twelfth place, a bar that he needs to overcome this Sunday at the Doha GP.
-Feelings before this Doha GP?
-We have to try to be stronger and faster compared to the first race. In that race I was not as fast as I wanted and we are going to try to change some things in the set-up of the bike to improve the life and grip of the rear tire. We will look at the data to improve.
-Something to learn from Maverick to improve in that regard?
-It seems that Maverick uses something different in the set-up of his bike and in the electronics. It is very difficult to put the bike exactly like him, because each rider is different, but during this weekend we will try to follow another path and we hope to be stronger in the race.
-Is your personal feeling better than what your last three results say, with three twelfth consecutive?
-No, because as you say, since I arrived last year after Covid-19 I have finished twelfth three times and surely that is not the result we want. Everything is difficult, because there are many strong drivers, but twelfth is not our potential. We can be stronger and that is the goal. Results are what make the difference and we need to be stronger.
-Have you talked to Quartararo about the problems he also had with the rear tire?
-I spoke to Fabio after the race and he had a problem similar to mine. Fabio is also different compared to Maverick and that is an important piece of information to understand this. Fabio had a similar problem to mine, but he was able to be stronger and finish fifth. We have to work from this point of view, because I had problems very early. All our work will focus on this, on the rear tire, because you have to be faster than last Sunday.
-It is 25 years since his debut in the World Cup. Do you feel that you respected the elderly more than the young respect them now?
-When I was young, it was different and we young people had more respect than they have now for veterans, but that is the general line all over the world, not only in MotoGP. 25 years ago you had to show a lot of respect and now it is not exactly like that. I raced against very experienced pilots, like Kazuto Sakata, Ueda or Raudies, and I saw them as my heroes.
-The other day he fought with Binder. Is the fight for the tenth or twelfth place different than for the forwards?
-For me, it does not depend on the position but much more on the different drivers. Many drivers are cleaner and ride with respect towards their rivals while other riders like Binder ride harder and care about the rivals. If you try to close the line, they release the brakes and if you don't move they hit you and take you out of the circuit, but now it's like this. The word respect is too much in this case. It is difficult to understand the limit, because in the past, normally, sometimes you would touch another pilot but you did not try to touch yourself. Now some drivers only think about their careers and not those of others.
Photos from as.com