Rosberg celebrates the first with Cristina and Loeb on the podium
The German's team with Kristoffersson and Taylor won the desert test ahead of Andretti's car and Hamilton's car with the Spanish.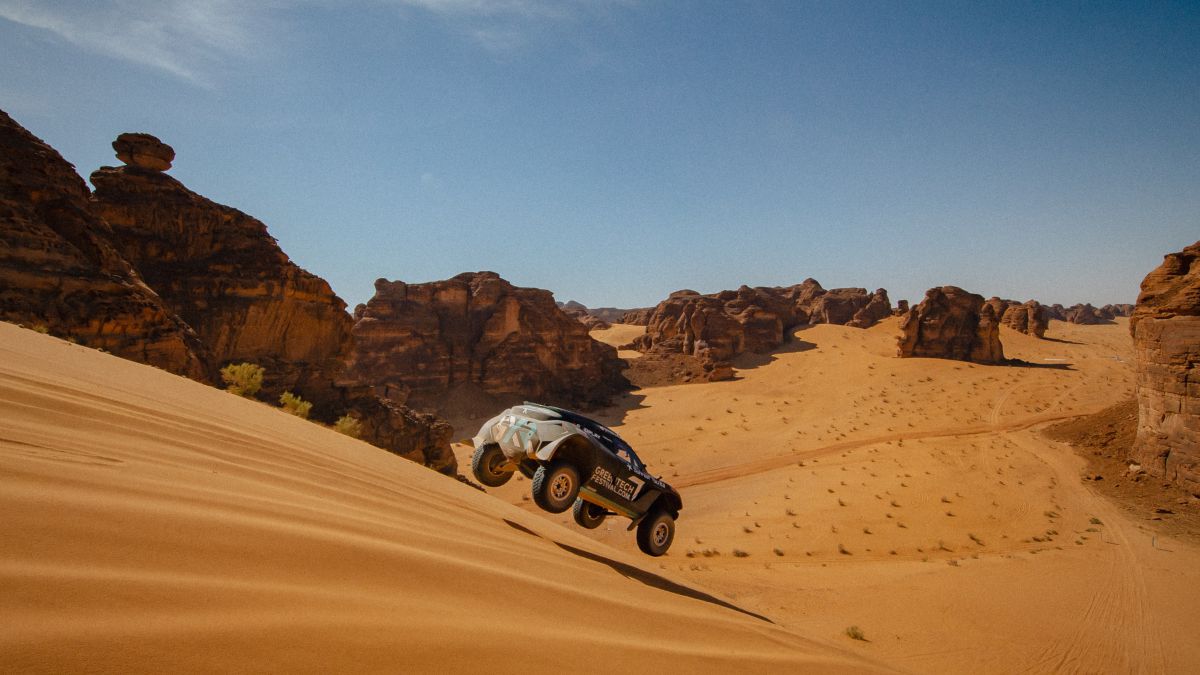 Extreme E is a visual spectacle, that was clear in a desert landscape in Al Ula that falls in love, which is already known to Dakar fans and in which 'Star Wars' fans could well imagine a pod race . But no, cars run here, electric and committed to the environment, driven by women and men, and they can also put on a great sporting show, but not there. Too dusty to be able to have face-to-face fights. The car that took the lead had everything won and that was Rosberg's.
Three were the teams that reached the final and, therefore, made sure to step on the podium of the first X-Prix of the five that make up the season: Rosberg's aforementioned and Hamilton's with Cristina and Loeb through the semifinal , and Andretti's after winning the Crazy Race. Hansen came out like a bullet with the Andretti, but right away, and copying what he did in the semifinal, Kristofferson took the lead and the mystery was over. Loeb was third and Cristina could do nothing afterwards to get closer to Taylor and Munnings, but at least the Burgos celebrates her first race on the podium.
Before, on the way, Sainz and Laia were left, whose Acciona car was the protagonist of the highlight of Sunday with a short but intense duel between the Madrilenian and Loeb in the semifinal. Carlos took the lead at the start after a great maneuver and then Seb returned the play with a small touch included that would leave the Spanish third and without end. Thus, it was shown that for future occasions it may be convenient to bet on qualifying for the Crazy Race, where there is only one ticket for the final but it is cheaper to get.
It will be a strategy to take into account because with this very different racing format, the fastest do not always benefit. Who had no options to fight for the final was Hispano Suiza, although Christine GZ complied and were faster than Button's car and also Cupra and Chip Ganassi, who collided in their consolation race when Leduc hit Hurtgen rolling in the dust. . That, the dust, was what marred the premiere of Extreme E, but it is only the beginning and it points ways.
Photos from as.com