Paulino, Iñaki and Nano Mesa: a trident for salvation
The wingers and the striker are decisive for Logroñés. The Cantabrian is in the top-10 of dribblers, the captain scores and the canary generates.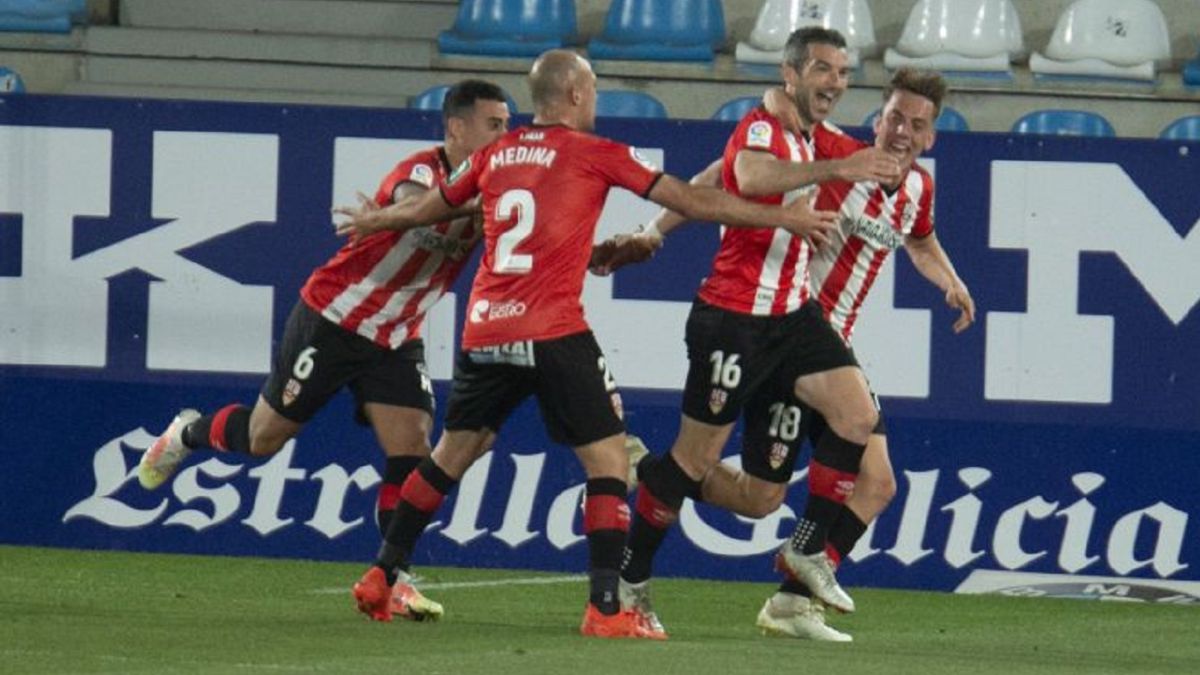 Despite a catastrophic streak of twelve games without a win, without knowing the victory in the entire second round until the visit of Tenerife and achieving 10 points out of 57 possible, Logroñés has been out of relegation since matchday 10. The white and red are now taking two points from Cartagena, and three players will be essential to aspire to permanence: Paulino de la Fuente, Iñaki and Nano Mesa. The two ends and the front. In a team with little goal (24, the third least) and widely distributed (Andy leads the section, with seven, five penalties), and that bases its strength on the strength of the group, the three are called to define the sprint end of Second. With Bogusz and Leo Ruiz in a secondary role, Pacheco, touched since his landing, must enter into the dynamic of producing.
Paulino was the most outstanding player in the worst moments, and maintains his good level in this phase of take-off, with draws against Zaragoza and Ponferradina and the victory over Tete. The 23-year-old from Cantabria scored and assisted Ander Vitoria against Mirandés, the last time the La Rioja players added three at a time until they beat Tenerife on Saturday. The right winger is seventh in the LaLiga SmartBank dribbling ranking, with 93. It has an efficiency of 51% and an average of two good dribbles per game. In addition, it helps in defense and travels 11.7 km per crash. He has provided five clear scoring chances and 19 shot passes. In his first professional experience, his contract ends in June, and thanks to his performance his name is on the agenda of the leading clubs in the category and also abroad.
Iñaki, absent due to injury in eight games, when things turned out worst for Logroñés, has scored three goals in the last two games, which has meant four points. He has accumulated four goals and two assists, and on the far left he has found a way to free his attacking spirit, without neglecting the help behind. Another roadrunner, like Paulino, above 11 km. At 32, the Calagurritan renewed until 2022 and leads the team from his captaincy. Nano Mesa, 26, arrived in the winter market on loan from Cádiz to relaunch his career, rushes every minute to create spaces, uncheck, press and stick with rival defenses. He scored against Albacete and caused the penalty against Zaragoza. Ambitious, he demands "more success in the face of the door". And for the trident to work up, the Olaetxea, Andy, Petcoff or Sierra have to pitch in in the middle, as the defensive line squeeze behind. The objective, the permanence, will demand the best of all so that the Unión Deportiva Logroñés plays a second season in the Second Division after its premiere in the category.

Photos from as.com