Odegaard and Thomas are saved from the great Arteta purge
According to 'The Sun', only six Arsenal players are safe from the roster restructuring that plans on Emirates at the end of the season.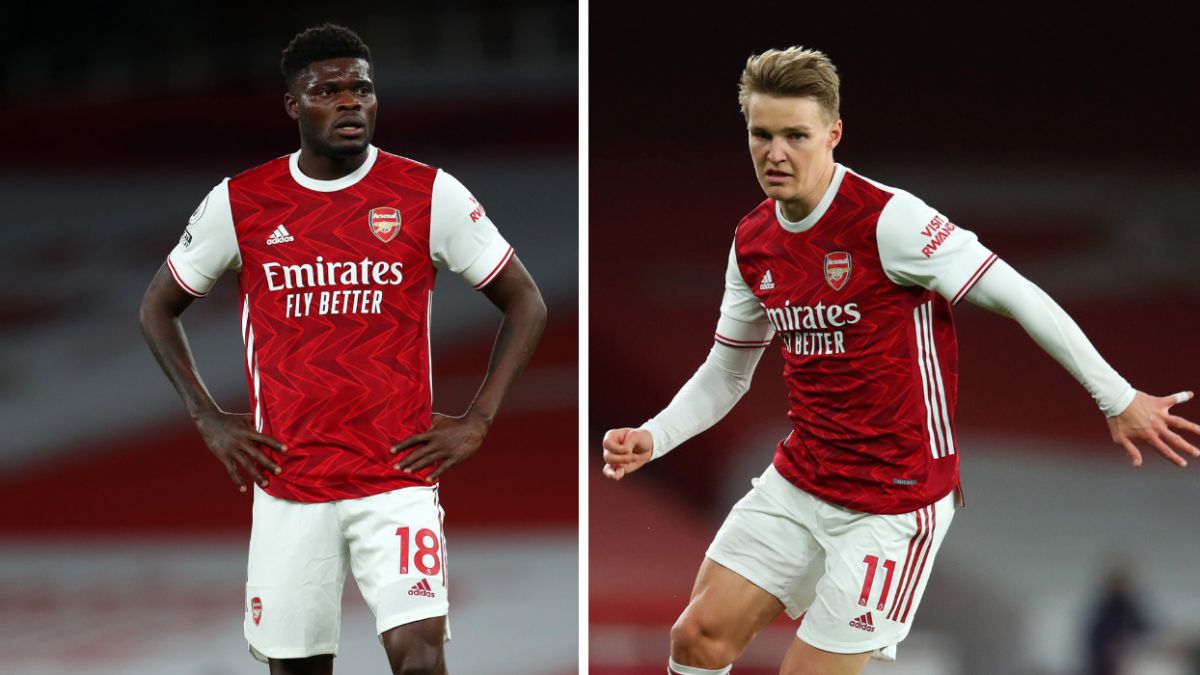 "We still have a lot of things to do, but I hope we get to the point, hopefully, where there are only a few things to do," Mikel Arteta told Sky Sports in March when asked about Arsenal's activity in upcoming markets. In that same press conference he alluded to the latest movements made: "We are no longer 32 players, something that was impossible to manage. We have some players who have given us a great boost."
With these two sentences as context, the information shared by The Sun, Edu and Arteta have work in the summer: "Only half a dozen Arsenal players are safe from the end-of-season purge that Mikel Arteta will carry out." It seems that, according to the English newspaper, the point that you only have to make small adjustments is far away. Thus, only Martin Odegaard, Thomas Partey, Bukayo Saka, Kieran Terney, Gabriel Martinelli and Gabriel Magalhaes will be able to face the summer window opening without cold sweats.
Six footballers who save from burning due to the irregular season carried out by Arsenal, but who should not be taken at face value, since it is tremendously difficult for footballers like Aubameyang, renewed in summer and star of the team, to change their scene. However, it is a clear sign that the irregular season carried out by the team is far from fulfilling what was desired when the season dawned.
Two guarantees signings
That "some players have given us a great boost" points, precisely, to the players included in The Sun's list. Thomas arrived in the summer and, despite certain injury problems and some performance problems, Arteta has considered him essential whenever he has been available and he understands himself as a fundamental part of the future gunner. As well as a Gabriel Magalhaes who landed in the same window as the exrojiblanco and has established himself as the most solvent center-back of the team.A loan
While Martin Odegaard, on loan from Madrid due to his pressing lack of minutes under Zidane's orders, has earned the right to have the Emirates fight for him. "We'll see what happens in the summer" the Norwegian midfielder slipped when asked about his future. Arsenal want him, either with a loan extension or a transfer. In Madrid, yes, they do not consider getting rid of him definitively.
And three very real promises
The other three protagonists represent the Arsenal of the future. Although Martinelli was the first to emerge, an injury has caused him to miss part of the flight he caught last season, but no one doubts the potential of the 19-year-old Brazilian forward. Tierney, meanwhile, is the owner and lord of the team's left back at 23, while Bukayo Saka (19 years old) is the brightest diamond on the squad. In fact, Saka is the attacker who accumulates the most minutes throughout the course, despite his age, and is the most valued by Transfermarkt, with 60 million euros of valuation (ahead of 45 million for Thomas). Defeats like the one suffered against Liverpool (0-3) show that Arteta's project is far from complete.

Photos from as.com