"The moment finally comes" for Cristina's dream with Loeb
AS speaks with the Burgos and the French, the drivers of the Hamilton team, before the premiere of Extreme E. "It is something I will always remember," she says.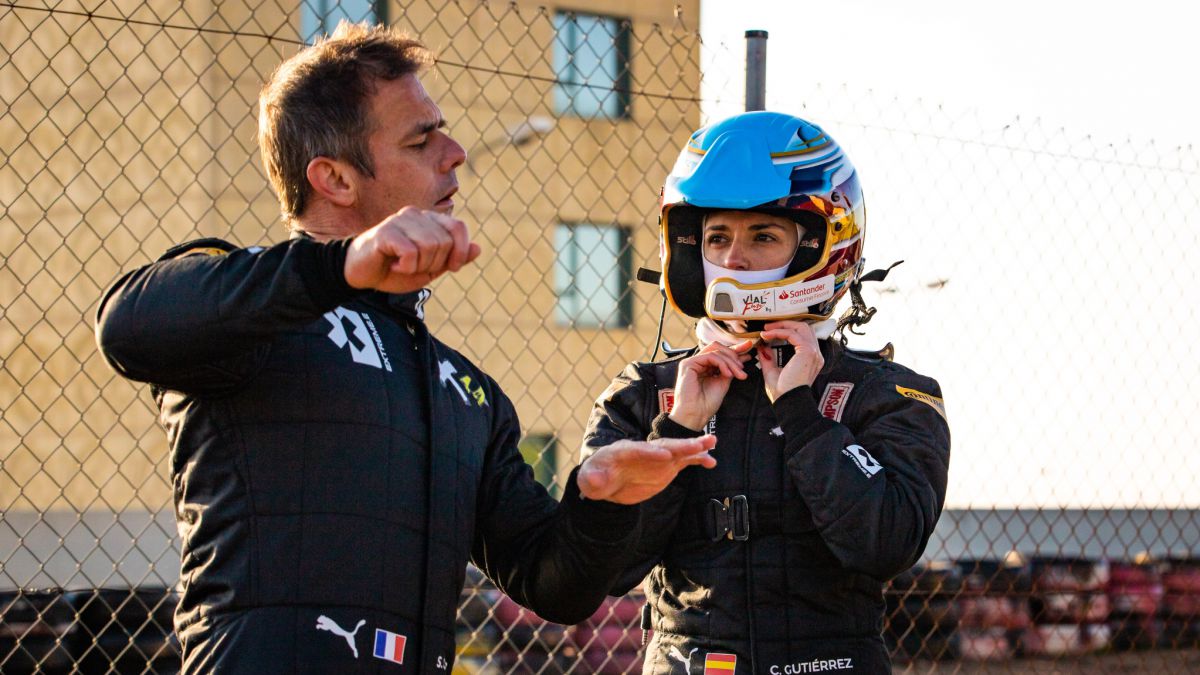 Extreme E is an unknown competition that brings together big names. Regarding the first, it will begin to cease to be this weekend when the electric championship discharges all its energy in its premiere in Al Ula (Saudi Arabia), and regarding the second, AS has been able to speak with two of those names that They will surely be protagonists during the season because they form one of the dream teams on the grid: Cristina Gutiérrez and Sébastien Loeb, the drivers of the X44 team, yes, Lewis Hamilton's. A quality trio.
"The time has finally come", he says with the same enthusiasm with which Cristina is read. You will make another of your dreams come true, because that is what it was like when you were offered this project back in October. "On the first day of the Andalusia Rally I received a message from the team and it was formalized. I didn't believe it, it was like a dream. It didn't take long for me to decide, they made it easy for me." And it is that it is not every day that you work for a seven-time Formula 1 champion: "Lewis has always been a figure that I have looked at as a driver and as a person because of the values he transmits. It is something I will always remember."
"He has told us that he will try to be in a race, but we are continuously in contact to talk about what he wants to convey in this championship. I appreciate the ease he gives in his conversations, his presence is noticeable," he adds. The 29-year-old from Burgos is surrounded by titles. "Almost as many as my age," she jokes, but feels comfortable with each other: "They are great champions and you learn a lot, I'm in sponge mode, it's a great opportunity. Respect is there, but they don't impose on me, once you talk to them. they lend themselves to everything, they don't look down on you ".
Above all, his relationship with Loeb will be important, with whom he will share the wheel, and they have "hit it off quite a bit": "He makes everything very easy, he has a spectacular gift and that helps me a lot to change things of my style. In addition, he remembers that he did the last Dakar thanks to him: "He was the one who put me in contact with Red Bull and I will always thank him." So she feels ready to compete with him despite the fact that "if you think about each team you say: 'What monsters there are here!'. The difference will be made by the ability to adapt, because there have been very few kilometers of preparation."
But he is confident in his possibilities: "I usually go from less to more and the team is very strong, Loeb is one of the best in history, no matter what he takes, he is good at it. We can be at the top, reaching the final would be a good result". But Extreme E is more than competition, and Cristina is "very interested" in fighting climate change ("doing little things, we can globalize the problem to change") and being part of a mixed sport: "It's a change and a success, it gives many women the opportunity to compete at the highest level, it will be very beautiful ".
Loeb: "I wanted to be a part of this"
On its masculine side, the X44 has one of the stars of the championship with Loeb, how did the Frenchman decide to race here? "I had different offers of teams, they wanted me for my experience in rallies, rallycross and cross country. I decided not to compete in the World Rally Championship because my plan is the Dakar, that left me free time and I love discovering disciplines, and this is very different: we are going to compete alongside women, go to incredible places ... In addition, there are more and more electric cars on the street and motor racing must continue that evolution. Being here was interesting, I wanted to be part of it. "
Among so many offers, he settled on the one from Hamilton and his team, it's easy to guess why. "I am very proud and happy that Lewis wanted me to compete for him, I will do my best. The relationship is good, I did not know him very well, we met at some FIA awards gala, but now that we have decided to work together we have I've done some videoconferencing and it's nice to talk to him. He's happy that I'm running for him and I'm running for him, "he says about his British boss, and also, of course, we asked him about his partner.
"One of the difficult things for the team was finding competitive women because there are not many in this type of race, but we saw some of the times that Cristina did in the Rally of Andalusia and she was really fast. I know the speed of Sainz and of other riders, and when I saw that on some stages she was only five or six minutes behind, I thought she was good. When we did the first test, I sat down with her in the car and saw that she immediately had a good feeling and was pushing hard. great potential, I am happy to have her in the team ", he assures about Cristina.
He also trusts that they will blend in well and be "competitive, although it is difficult to know": "It is very different from what we know, there are pilots from many disciplines, many big names and that makes it very exciting. It will be interesting, I am looking forward to it. run the first race to see where we are. " As Cristina pointed out, the key will be to adapt quickly and Loeb believes he can do it: "I hope my experience helps me to do that." In addition, he is clear about what would make him "very happy" in Arabia: "To be first, but the main thing is to be competitive. A podium would also be good" .
Photos from as.com